Loft Windows -Velux Or Dormer
The type of roof Window you choose for a loft conversion will greatly affect the amount of light in the new room along with the total cost of the conversion. Choosing the right kind of window can be difficult but it is an essential part of the project. The two main types of windows used in loft conversion projects are VELUX windows or Dormer window conversions. Both types of Windows come with their own advantages and disadvantages, but both can work really well improving not just the overall amount of light but the ambience too.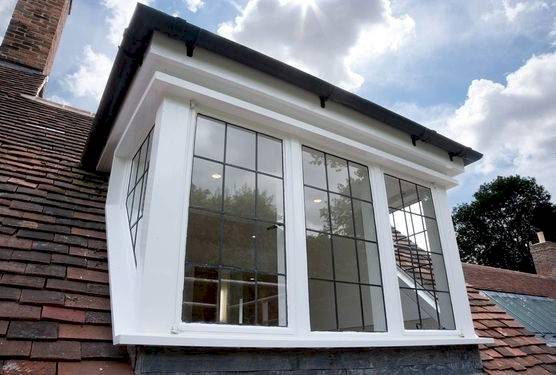 VELUX windows are much easier to install than dormer Windows but they still provide a decent amount of light and will also work well in most loft conversion projects. The costs in terms of both practising and fitting are much lower than dormer windows so this type of window is more popular with those who are working on a tight budget. However, it should be noted that adding VELUX windows will not add match in terms of value to your home should you come to sell it. VELUX windows are available with electric opening and closing plus hundreds of various blind and shutter options. You can also have VELUX balcony windows which reach close to the floor with the top half of the window becoming a canopy. The additional head height achieved is limited and the extra space can only really be used comfortably in warm weather.
A VELUX or other similar Roof Window is a very cost-effective option and does not normally require planning permission. However, a dormer conversion is an actual extension of the existing roof providing additional floor space and headroom within the loft conversion itself. A dormer window conversion is a much bigger job and will likely require planning permission. In either case, it is recommended that you speak to an architect and also visit the local authority planning office to check whether or not you need permission and to find out about building regulations and any applicable fees.
As usual, it mostly comes down to personal preference and budget. Dormer conversions are much more expensive but you also gain much more in terms of improving your property value and usable space. Whereas VELUX windows are simpler and cheaper. Both will offer similar amounts of light and both can look great. If money is no object and you want the maximum space, then choose a dormer conversion. If money is tight, choose a VELUX window!
Last updated by MyJobQuote on 19th April 2018.