Lighting Ideas For Your Garden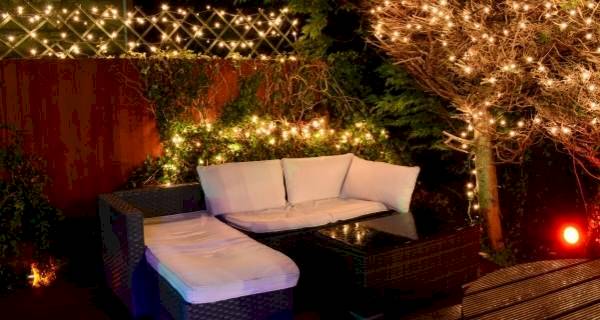 Garden lights help create a perfect mood for outdoors. Adding lights to your garden doesn't have to be complicated. The addition of lights will mean you get to spend more time enjoying your outdoor space when the sun goes down. How do you go about adding lighting to your garden? What type of lights should you add to your garden?
We've spent some time researching garden lighting options, so you can decide which ones are best for you and your garden.
Spending time in the garden over summer is how many of us like to get outdoors and relax. Be that of a weekend or after a long day at work and you want to spend some time outdoors.
Should You Install Garden Lighting?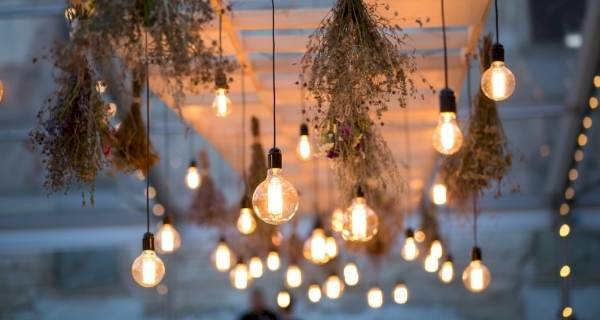 When it comes to adding lighting to your garden, anything that isn't plugged in to an outdoor socket or at the end of an extension cable that runs inside should be installed by a professional.
Either adding an outdoor socket or more permanent lighting options, should need to be installed by a qualified electrician. Electricity is not something you can see, hear or smell, so installing it requires specialist equipment to make sure that it is installed correctly.
An electrician will also be able to sign off the installation for you as safe. See our post on installing Electrics at home for more on why it's best an electrician carries out this or any other electrical work in your home.
Types of Lights for a Garden
The types of lights and how they are installed into your garden is the fun part. Here are the main types of lights that you can add to your garden, that help create the right feeling of a relaxed atmosphere. Making having friends or family over for a BBQ a more relaxed enjoyable experience.
With most of your garden lighting, you're probably better off to look for something that has a warming glow. Warm lights will help create a more relaxing space. It's best to keep white lights to flood lights or where you need a stronger light. e.g. to see the main space in the garden or over a BBQ.
1. Garden Flood Light
Okay, adding a flood light isn't the chilled vibes you're looking for, but if you don't have one, you will be thankful you added one. A flood light will light up your garden and help when it comes to home security.
Another benefit of a flood light is that you will clearly be able to see when you are in the garden and need the extra lighting to be able to see what you are doing. Just remember to also turn your brighter lights off if you want a more relaxed atmosphere.
2.     Decking Lights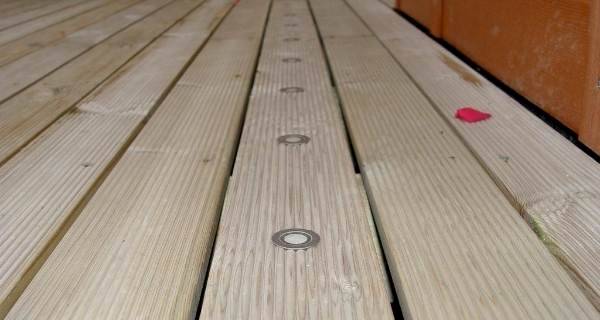 If you have a wooden decking area, you might want to add lights to the edge of steps or the edge of the decking area. This will help line the edges of the space, so your guests are kept safer. These smaller lights will also add an element that creates a more relaxed feeling, as they are not as harsh as other lighting.
3. Solar Lights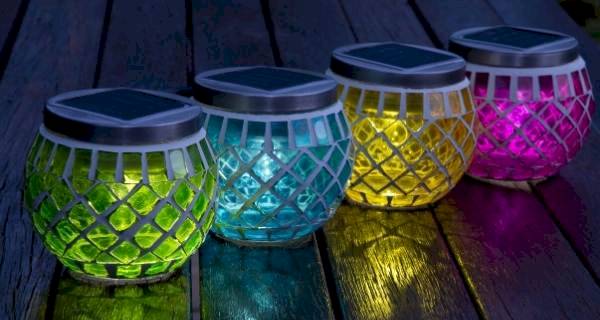 Adding lights that are powered by solar is less reliable, as it will depend on the amount of daylight they have received during the day. But solar lighting doesn't require any additional work and they can normally be moved about easy enough.
Solar lights are not just on a stake in the ground, they are also fairy lights, that you can string around a tree, inside a parasol or along a fence panel.
4. Use Candles as Lights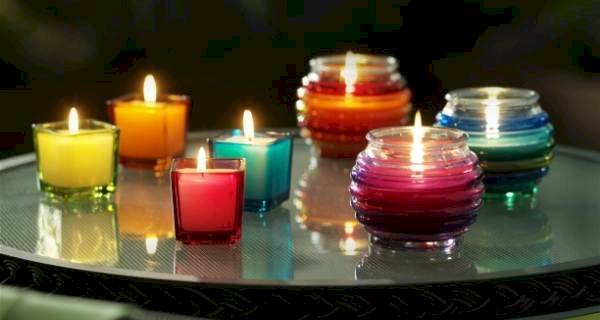 Placing citronella candles around where you will be sitting will help keep the bugs away. Just the smell of these candles can bring back memories of sitting outside on a summers evening.
They also add a natural warm glow to your table, which is enjoyable when entertaining outside. Be careful if there are small or young children visiting, as they could harm themselves on the flames.
5. Standing lamp
This might seem like a strange idea, but bring a lamp from indoors to outdoors. There's no reason that you can't do this on a dry evening and it can help add light to the corner of a garden that needs it most.
You can use a lamp with an adjustable head to light the BBQ or outdoor bar area. This way your guest can better see what they are doing.
6. Fairy Lights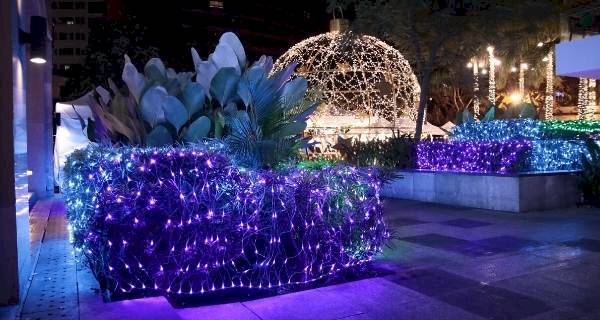 Fairy lights are a great way to add a warm glow to an area of your garden. Small and flexible they can be wrapped round a tree, along a fence panel or as we mentioned above, the inside of a parasol.
You can get fairy lights that are solar powered, but a more reliable option is to get some that plug in to a USB port. A great idea for USB lights is to plug them in to a rechargeable power pack. This means that you don't need to rely on there being enough sun to charge them up.
7. Path lights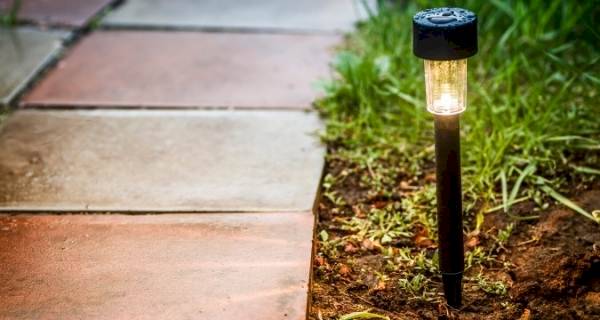 Built in lights around the edge of your path or patio area are is a way you can light up the ground. This helps you and your guest to be able to see where they are walking. This type of lighting will be best installed by a professional, as it will normally be attached to the mains power.
8. Multi-Colour Lights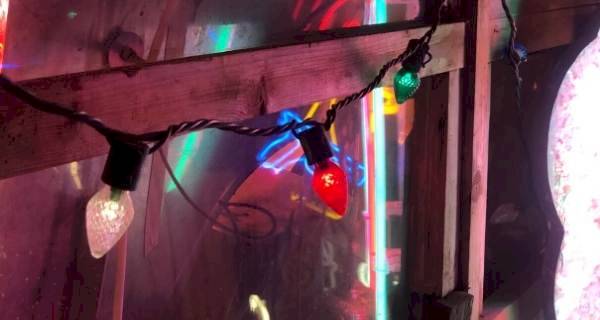 Lighting in a garden can all seem white or orange but be bold and add something a little different. We don't mean disco lights, but if you want to, then go ahead and add them disco lights.
Adding lights that are colourful or have a novelty element to them can be fun for your children or younger guests. Maybe you can decorate an area in your garden for your younger ones?
Not Just a Flood Light
Whichever lights you choose, have fun and remember to choose ones that are waterproof. Some lights you don't mind putting out each time you need them. Some lights are better suited to being out and ready for you to use without hours of setting up.
Mix the type of lights you have to create a welcoming environment for you both you and your guests. Think creatively over where to put your lights to create the overall feeling.
Think about the lighting that will also help you during the autumn and winter months. Add the lights now and you'll be able to enjoy a winter BBQ.
Where to Put Lights in a Garden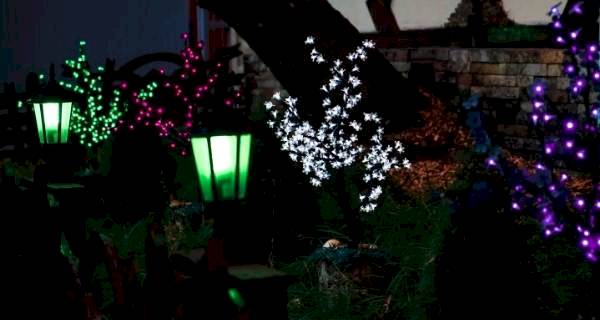 Here are 10 ideas of where you can put your lights in your garden. These ideas all help create the perfect mood lighting in your garden:
In or around trees
Around shrubs and bushes
Along a fence
The eves of your house
Around your garden shed
In your decking
The edge of a patio
Lighting the path of a driveway
Inside a parasol (battery operated are ideal)
Around flower beds
Remember, if you need help installing an outside socket to power all your lights, you'll be best to contact a local electrician who will be able to advise you on how many sockets you need.
Last updated by MyJobQuote on 5th August 2020.