How to Build the Ultimate Man Cave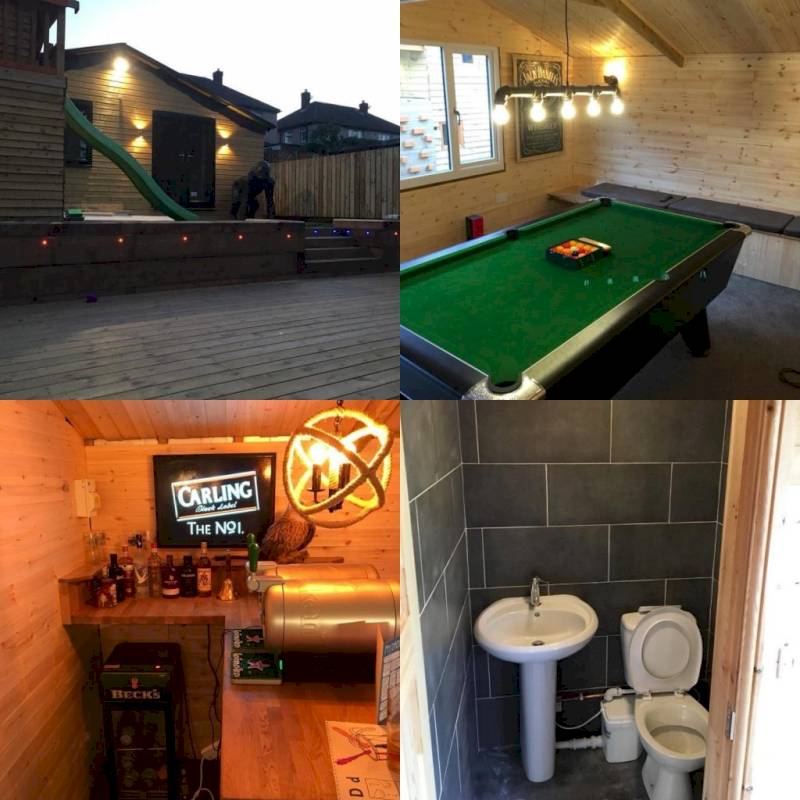 What is a Man Cave?
In the past the 'man of the house' often went down to the potting shed to have some time to himself, but more modern man caves can be found inside the home. The idea of the ultimate man cave is more than just somewhere in the home that a man can go and be alone with his thoughts. A man cave is now seen as a place to relax, hang out with male friends to watch sports, practise hobbies and to do this without disrupting the rest of the family and vice versa.
When you are designing and choosing what to include in your man cave will be totally up to you, it's your space to do what you want. You and only you choose what to include in your man cave. On your head be it if you let your other half help you design it, that's what the rest of the house is for. Unless you have some say in how the she shed is designed (yes, this is the female version of a man cave).
Where to Build the Ultimate Man Cave?
The idea of a man cave is that it should be part of the home, it's not about being away from your family, it's just a space to call your own and do what you want in there. Often the space designated as the man cave is a spare room, basement or a garage conversion. Another option is to have a purpose-built cabin in the garden (garden room).
Depending on your budget for your man cave will depend on where you build it, but areas to consider include:
Spare room
Extension
Garden room
Loft conversion
Garage conversion
Having Enough Power
Having enough power sockets for all the gadgets, TV and games machines is important. One thing you don't want to do is to overload a socket with too many devices or your man cave will not be around for long. Hire a professional electrician to add additional power point and maybe some additional lighting to your man cave.
If you are converting or adding a purpose-built shed in the garden, this is an ideal time to add additional power. Make sure you leave space for additional items like charging cables etc. You could even include a bank of USB ports for your mates to charge their phones while watching the match.
Don't forget WiFi extenders or adding additional TV services like sky to your man cave. The last thing you want is a dodgy connection on match day or a slow connection for gaming nights. Contact an aerial specialist that will be able to help you with the best options for your ultimate man cave.
What to Include in a Man Cave?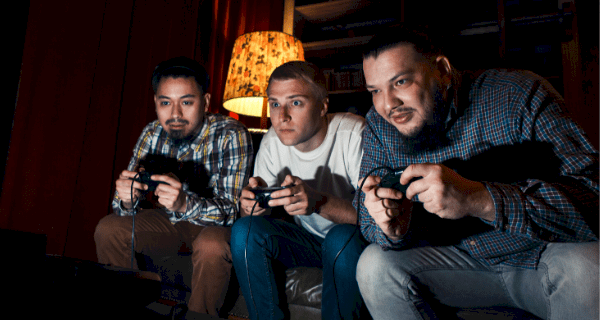 It's your man cave, so you get to decide on what to include in there, it's your space and your rules. Some ideas of what to include when you build the ultimate man cave are:
Large LCD TV
Plenty of fridge space to keep your beer cold
Arcade games machine (retro)
Pool Table
Console system
Dartboard
Pinball table
Surround sound system
Football table (no spinning Dave)
Neon sign
How to Decorate the Ultimate Man Cave?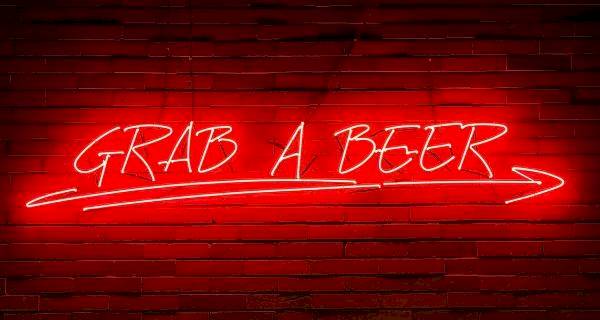 Do you have a favourite sports team, hobby or bar you'd like to style your man cave on? Having the walls filled with your teams' memorabilia in the style of a sports bar is always a classic look for the ultimate man cave buildout.
Other man cave decoration ideas include: log cabin, casino or lounge area that is decorated in more masculine colours. Giving your man cave character with wall decoration, lighting, memorabilia or collectables.
Seen a design you like, but not sure how to create it yourself, you can hire a professional to get the job done right. Meaning you get to enjoy your man cave quicker.
Giving You Man Cave a Unique Look
Have a look on places like eBay and Facebook for things for sale in your area. For bigger buildouts it's worth looking at local reclamation yards for unusual items to include in your design. Find things like old fireplaces, old signs to reclaimed wooden flooring.
If you are not sure how to include something you like the look of, contact a local tradesperson for help installing and design ideas.
When looking for ideas on this, we found some very unique items for sale at Wells reclamation yard in Somerset, but worth visiting your local option, as many items are not listed online.
Building a Budget Man Cave
You don't have to spend thousands on building the ultimate man cave, you can start with some basics and build up over time. Whichever room you are planning to designate your man cave clear the room and get to work.
Improvise with garden furniture for seating
Visit car boot sales for second-hand memorabilia
Include items you already have in the home, but not used on a regular basis
Garden furniture is ideal as a starting point, as it's designed to be lounged on. It might not be as comfy as a reclining chair, but will be comfy enough to sit on for a few hours. Alternatively, you might be able to pick up a second hand sofa that you'll not have to worry about drinking or eating on.
Lighting Your Space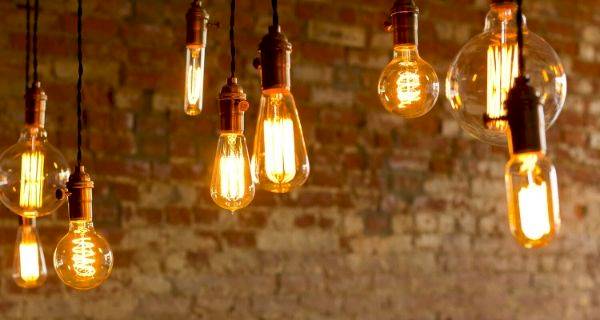 Let's be honest, the more LED lights and neon signs you have the more it becomes a man cave. Even better are colour changing lights to change the atmosphere of your cave from games night, poker night or watching the latest game with your mates.
You can place LED in many places, but lights behind the TV, bar, memorabilia etc to create a great glowing soft light.
If you need help building, decorating or adding power to your man cave? Contact our local tradespeople for a quote today.
Multi Use Ideas
A man cave doesn't have to be limited to game nights with the lads. You can include an area that is an office during the day or even a home gym. If you include a home gym workout area, you can cancel your gym membership add your savings on to your budget for your man cave.
Man Cave Example Ideas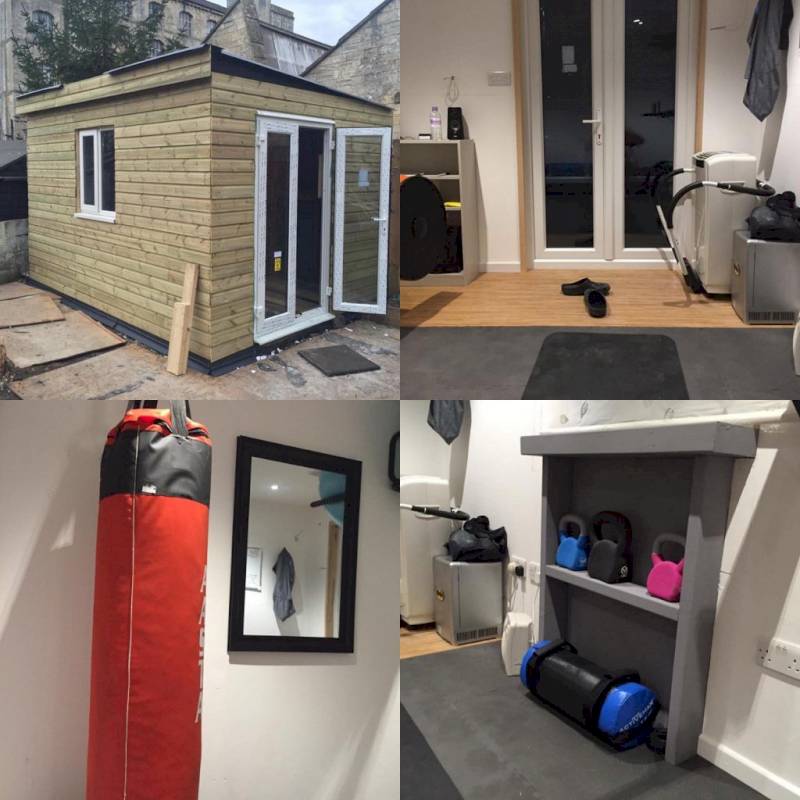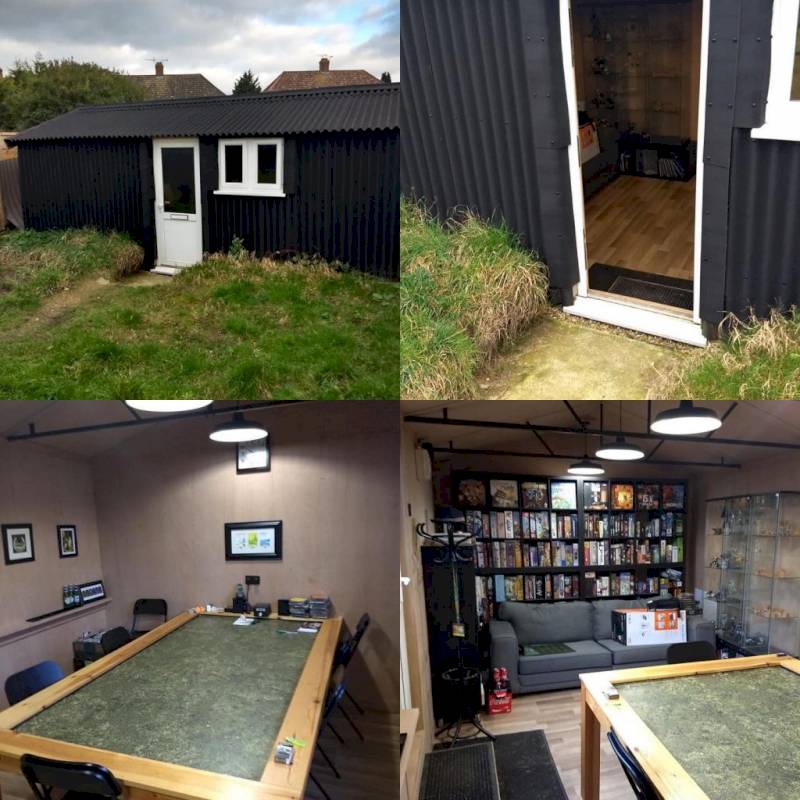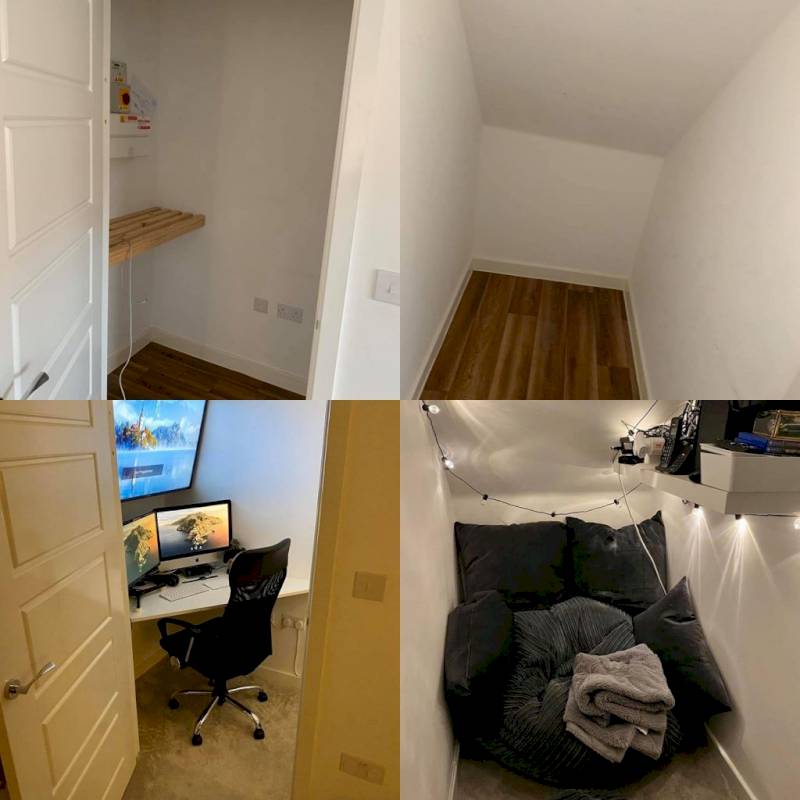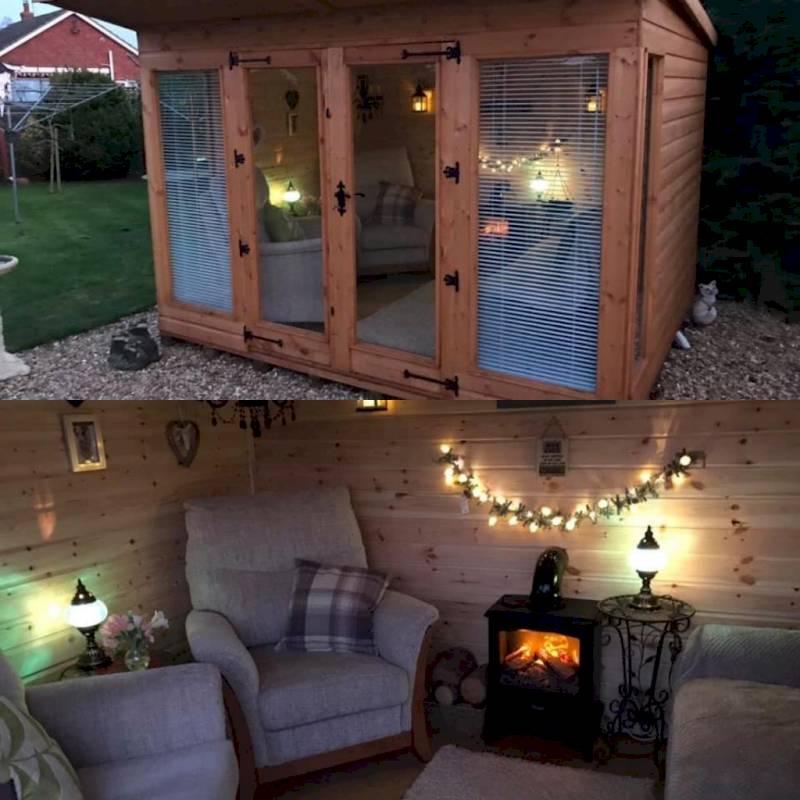 Source: DIY on a Budget
Last updated by MyJobQuote on 16th March 2020.