Ideas For Decorating Your Child's Bedroom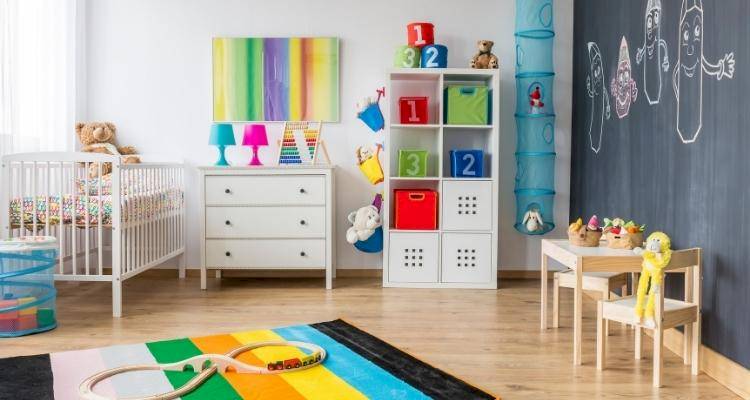 Children like to keep their bedrooms up to date with what they are into. What might be unicorns today might be dinosaurs next week. Or is that my children? The best you can do is decorate the bedroom on a budget, and that way, you will not break the bank.
If your children are old enough, get them involved and instantly regret it (sorry). I'm saying that there is no one way to decorate your child's bedroom. Here are some ideas that will help inspire you, keep the room organised and mean your child enjoys spending time in their bedroom.
Basics of Decorating a Child's Bedroom
It took me a few attempts at decorating my child's bedroom to realise bright, in your face colours are not the best idea. Updating or painting over bright colours in a year's time is not fun and takes extra time and coats of paint with the next colour.  
On the other hand, children's bedrooms don't need to be magnolia, dull and boring though. Add colour in clever ways to make it easier to update them in the future.
Decorate or Paint Only One Wall
Bright pink was one of my daughter's colours, and we would later come to regret it when painting over it. Paint only one wall in colour and go for more of a pastel shade than a shocking highlighter style of colour.
Muted Tones
Choosing muted tones can also help focus and get to sleep when the daytime is longer. It can also help with mood swings and stay relaxed when using muted tones. It is ideal for children of all ages, as it can also help older teens focus when studying for exams.
Themed Bedrooms
If you don't mind redecorating in a few years, you could choose a themed bedroom to fit your child's interest. Here we've found bedroom ideas based on themes.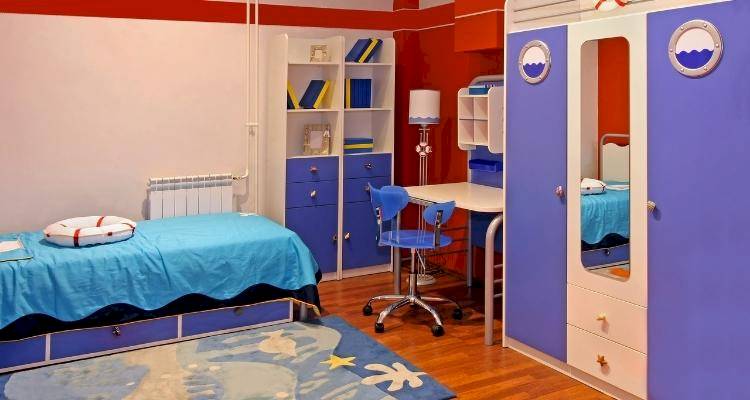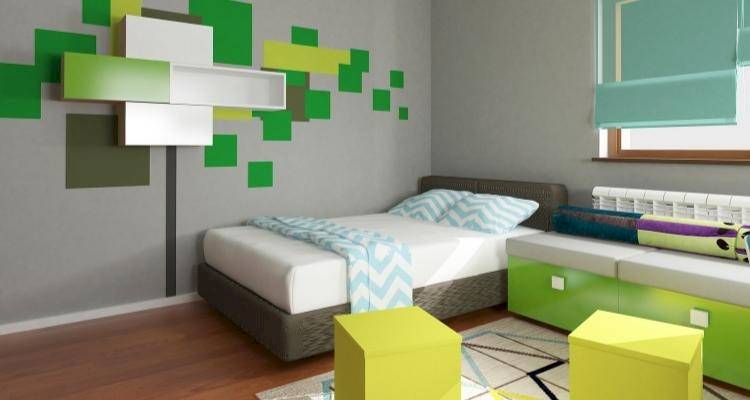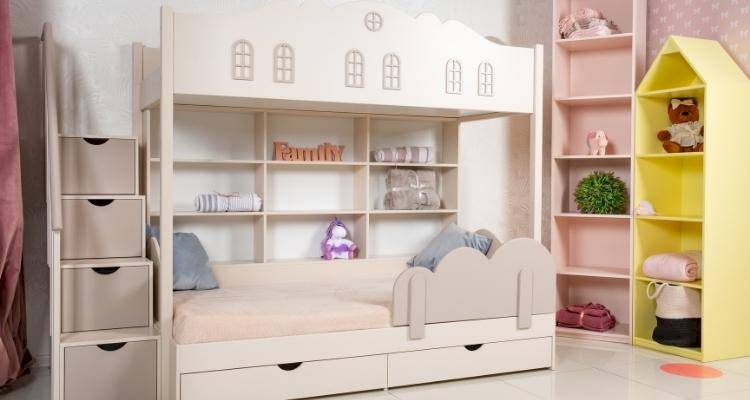 Storage in a Child's Bedroom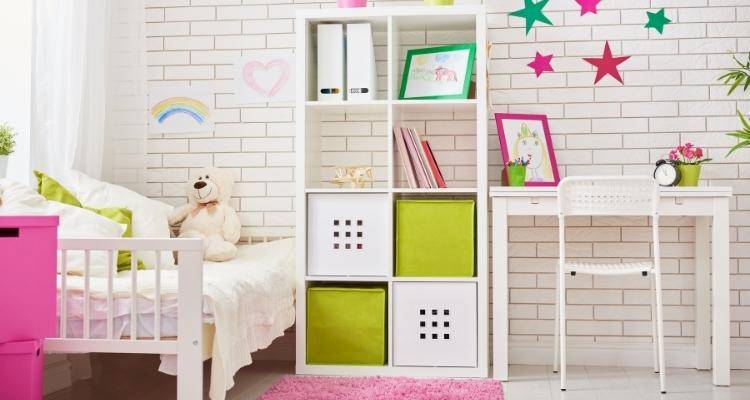 As a parent, have you ever walked into the bedroom and not been able to move on the floor for all their toys and games? Although now, my son only ever seems to want to spend time with his iPad or Xbox. So, in theory, it should be empty apart from his bed. I sometimes wonder if he would even notice.
Depending you your child's age and height, try to keep storage at their height. This will discourage the need to climb to reach things. Where storage is kept higher, make sure it is secured to the wall and less likely to fall over.
It is possible to keep things organised and tidy with these practical ideas:
Crates that stack side by side or modular
Underbed storage boxes (frees the floor space)
Storage Benches (seating and storage)
Baskets that stack (don't stack high)
Draws that fit under the bed
Children's wardrobe for them to be able to reach
Coat pegs to hang coats and school bags
Floating shelving is great for less frequently used items
These are just a few ideas, but if you can't find what you are looking for, you can always have some built-in storage built by a local tradesperson. Please keep it simple as you might want to paint it or repair some parts later.
Space for Homework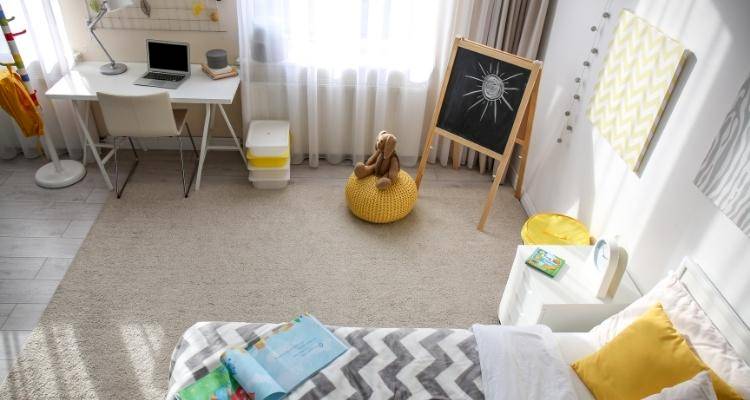 Encouraging homework to be done in the bedroom is good, as it gives you some space and helps them with focus. However, it's not ideal for them to do the work on their actual bed, as this can lead to a lack of focus.
Create an area of their bedroom for a desk that will help keep focus. The area should be comfortable for them, as this will help them retain the information they are learning.
If you can have the desk near a window, natural daylight will also help with focus. If it's not possible, add a good desk lamp with a focus mode option.
It's important to encourage them to let you know if they feel focused and to try different solutions if needed. It can take a bit of moving around to get things just right.
It's also good to discourage them from having their mobile nearby, as this can cause distractions that lead to frustrations.
Children's Bedroom Furniture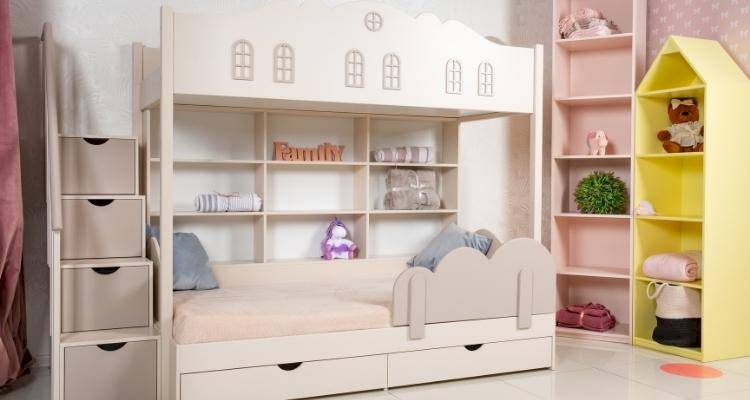 Bedroom furniture grows up as your child grows up. A small chest of drawers might look out of place and a little small in a year or two. This is where my wife found her love for upcycling second-hand furniture.
If you have not had a go at upcycling, check out our post on trying your first upcycling project. We include ideas of how you can bring new life to what someone else would throw away.
Upcycling is a budget-friendly way of being able to upgrade your child's bedroom on a more frequent basis and doesn't require a weekend trip to a local furniture store.
Seating Areas for Children
Creating a relaxing and welcoming seating area for your child is important, as it will allow and help them have some personal space. This post from Socially Skilled Kids says "Personal Space is a very important social skill for children in elementary school to learn, practice and grow."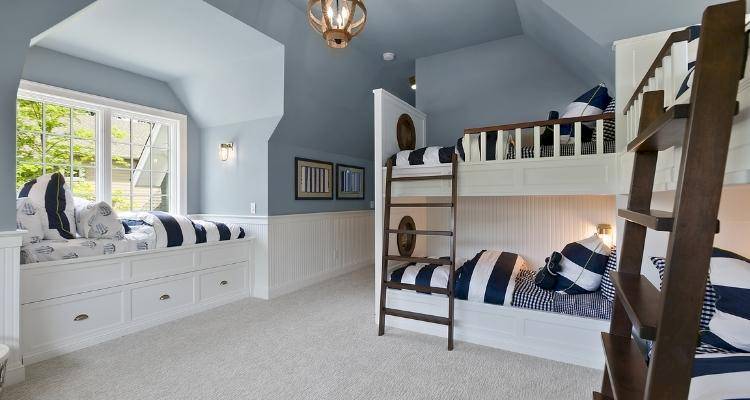 It gives them space to explore and learn to be creative with their own thoughts. Space to read a book at their own pace or listen to music and let what they have learnt for the day be processed.
A seating area can be comfortable and practical for them. A window seat makes a great place to relax, as it has natural light and comfortable cushions and can be used as storage.
If your child is of an age where there are sitting at a desk to do their homework, make sure that the chair supports them where they need it. Sitting in the wrong posture can have long term effects. Think of it the same way you would if you were setting up a home office of your own to work from. You can read our post on home office ideas here.
Safe Place to Learn and Relax
As with other areas of the home, it's important to create a relaxing environment that your child wants to spend time in. Somewhere that they feel safe and secure and be themselves. A space for them to learn and be creative to help them grow.
Last updated by MyJobQuote on 23rd May 2022.