Reducing The Cost Of Hiring a Mini-Digger
From the outside looking in, you might believe hiring a mini digger is extremely low cost. However, when you step back and start to compare a few quotes, you are going to learn that it is not as cheap as you might have originally anticipated it to be. With this in mind, there are things you can do in order to reduce the costs of hiring a mini digger. These are a few things to consider when you're ready to do so, in order to ensure the most affordable prices when the time comes to hire the mini digger for excavation, clean-up or other special projects you plan on using it for.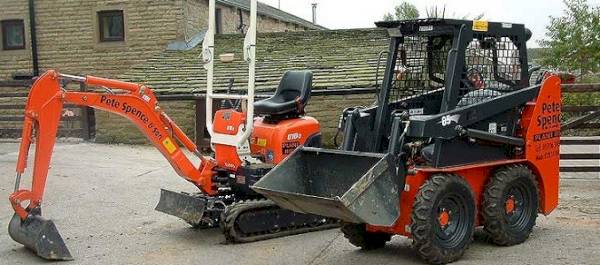 Stay local and know their terms –
Choose a local company where you live. This can limit the delivery rates, high costs for pickup and drop off or other taxes/fees and rates which a long-distance company would charge. Additionally, inquire about rates. Find out about daily use rates, if there are limitations on use. The daily cost for a 5-ton digger might be £60-100 per day. So, compare the local costs, up front fees, and other rates you'll pay, to find the right company to hire from.
Know your sizing needs –
Sure, a 5-ton digger sounds great but what if you are doing a small DIY job outside the home? If a 1.5 to 2-ton digger will do the job, why are you going to pay more for the 5-ton digger? You have to understand the capacity, capabilities, how they work/operate, as well as daily rates based on size of the digger. You can easily save £15-30 per day going with a smaller digger.  Make sure you inquire about the size options, their capacity and capabilities, how much they can dig, and what the smaller diggers can be used for, to ensure you make the right decision when the time comes to choose what you are going to hire and the size of the digger which will work best for you on the job-site you're working on.
Consider a contractor –
You also need to consider environmental issues, such as drainage problems, underground deviations, stones, or heavy items, piping/plumbing you can't get through, or don't know how to deal with? When working with a mini digger all of these are a possibility. Hiring a local contractor to do the digging might end up costing £150-250 for the day.  It may cost more up front but it is also a simple way to avoid unexpected surprises and costs for those unforeseen situations you are going to run into when doing work outdoors. Make sure you compare a few contractors rates like you do when comparing the cost of the digger to ensure you hire the right person who will do the work properly and in a timely fashion, to avoid additional costs associated with the outdoor project or work you are performing with the mini digger.
Consider insurance/other fees –
This is going to be the case with any equipment hire including the mini digger. In the event something goes wrong, such as damage, it breaks down during a job, you should be covered. Insurance shouldn't cost more than £5-10 per day, but it is worth investing in, especially if you are doing heavy or deep digging, and plan on using the digger exhaustively for the time you rent it. You never know what can go wrong, so it is a smart move to protect the investment when you choose to hire a mini digger for any project.
Understand the capabilities/limits –
Make sure you know what the digger can/can't be used for. Also, make sure it is capable of the power you require for the digging work you plan on doing. It might be worth investing in something a bit costlier for a larger job rather than running the risk of breaking/damaging a digger which isn't capable of the job, then incurring much higher penalties and costs to repair or replace parts after returning the digger.
Know the costs –
Not just the up-front deposit you will have to pay but also inquire about late returns, damage to the digger, how it works (discounts) if you need it for more time than you originally hire the mini digger for. Make sure you ask all questions before you choose a company to hire the mini digger from. Up-front you can expect a deposit to run between £75-100 on the lower end. For major projects or jobs where you're renting the digger for several days, some companies are going to require more.  Some companies are going to require you to purchase insurance through them, in addition to having your own insurance policy, in the event of damage. The only way to find out about costs and find the most affordable hire pricing is to compare the local companies which offer these services before you decide where to hire the mini digger from.
Refundable and non-refundable –
This goes hand in hand with the deposits and fees. You want to inquire about the fees you are paying, what is refundable when you do return the mini digger, and which fees will not be refunded. Also, in the event of damage, do you have to pay additional fees? will these be charged to your account directly? or is the insurance going to cover you from these fees? Make sure you ask as every company has a different policy, so you want to compare the term and find the ones which work best for you when deciding where to rent the mini digger from.
Consider alternatives –
Hiring a mini digger is not cheap even if it is only for a couple of days there are quite a few fees which are associated with hiring one. Therefore, make sure you understand the alternatives. For some it might be cheaper for you to hire a contractor and forego hiring any equipment whatsoever. They will do the work for you and they will use their own equipment on the job site they are hired to work on. If, on the other hand they charge fees for equipment as well as their services then you might want to compare the cost of hiring the mini digger. It is worth comparing a few companies to ensure the best prices are found when you are ready to choose a company. Like anything else, when you are comparison shopping, you typically find the most reputable companies and you typically find the most affordable pricing for the rental fees for hiring the mini digger for work to be completed on a job site.
Research companies –
It's not simply about the cheapest price so make sure you hire from a company with a solid reputation. One that guarantees their services, their equipment and won't arbitrarily charge you fees that you should not be paying when hiring the mini digger. There are many companies which offer this type of rental service. So, it is up to you to compare them, learn about their service option, and understand their fee structure in order to ensure you choose the right one from which to hire the mini digger and any other equipment you might need when doing work on a job site local.
You have many options for hiring a mini digger as well as other excavation equipment you might need for any job. Know your options, the prices and how their rental terms work. This ensures you will find what works best for you, the best prices and a reputable company which won't overcharge you for the renta, whether it is for one day of use or you require the equipment for longer periods of time for projects you are working on.
Last updated by MyJobQuote on 19th April 2018.