How to Fix: A Tap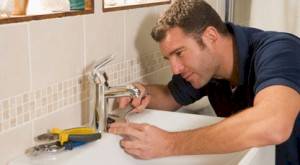 When it comes to knowing how to fix or replace a leaking tap, there are a few crucial aspects that need to be taken into consideration. When a small leak in your tap happens in the kitchen or bathroom sink, you may have to deal with the incessant sound of the drip until you fix it. While the sound can be quite irritating, a slow leak in the tap can also cost you a lot of money due to water wastage and damage. By repairing your leaking tap, you not only prevent the wastage of water, but also save yourself from the annoying sound of a constant drip.
There could a variety of different reasons for a leaky tap. One of the most common causes is an unfastened screw. In order to deal with problem, just take the faceplate off of the faucet knobs. When you do so, you must be able to see a screw on each of the knobs. Tighten both knobs by using a screwdriver. Most often, this will resolve your issue. But, if problem persists, you might need to take a different approach that requires in-depth effort.
Another common reason behind leaky tap could be related to a damaged or broken seals and washers. If tightening the screw does not give you any relief, you must consider stopping the water supply to the sink. You can do this easily by finding out the knobs, which are located under the sink. Remove the faceplate as well as the screw underneath the faceplate. By removing the cap, you will be able to see the seals and washers. Make sure to inspect them carefully. If they seem to be dirty or grimy, you can clean them up by soaking them in white vinegar. After that, scrub them lightly. If they are in good condition, they can be repaired. But if they are not, you will need to replace them. You can find common types of washers and seals in most stores that deal in faucet taps.
There are two most important and common techniques available to fix or repair your leaking tap. In most instances, one of these techniques will be sufficient to address the problem. These two steps can help you start enjoying the benefits of a fixed tap. If these two techniques does not offer any help, you will have to call up a plumbing professional, with advanced repair tools and equipment. Choosing the right plumber requires research
Last updated by MyJobQuote on 29th October 2013.