How To Build: A Shed
Building sheds, playhouses or other outbuildings are popular tasks nowadays as they can transform garden space. But, whether you are building a basic garden shed to store tools or furniture, or are building a top of the range summer or playhouse, the building principles are the same you need a foundation, walls and a roof .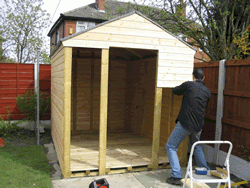 Sheds, playhouses and other outbuildings are classified as temporary structures so do not normally need planning permission, unless you live in a conservation area. They are relatively simple to construct for the DIY enthusiast (actually enthusiasts as they are difficult to build on your own) and can be placed just about anywhere in the garden as long as you have a firm and flat surface.
Planning a Shed or Outbuilding
Before you begin building a shed there are some issues to consider such as the size, accessibility, placement, lighting, power, running water and versatility. Depending on the usage you may need power for tools and/or lighting, you may need water for some projects, you may also have to construct a path and it is useful to also consider future usage, for example a children's playhouse can later be easily made into a workshop or storeroom when they grow up, as long as you have this in mind.
Building The Shed
Garden sheds are actually fairly simple to build. Start with laying a base slab which should be 25mm smaller than the shed floor for drainage, the slab should also be slightly tilted to allow for water to drain off. Once the slab in place you need to center the shed floor on it then lift the rear gable panel and put it in the correct position using poles to prop it up. Then lift any of the side panels onto the base and offer it up to the gable end panel and connect using framing battens where they meet by drilling 3 pilot holes and fitting 50mm countersunk screws to join the panels at the top, middle and bottom.
After tightening the screws between the gable end panel and your first side panel, the other side panel can now be fixed then front gable to create the basic framework. Then fit the door (if it's not already fitted) and check that the door opens smoothly. The roof support beam should be fixed next to give the shed some rigid stability and to fix the roof to. Lay the roof panels on the ground one at a time and lift into place and secure with 30mm screws along the roof support beam. Then make sure the shed is square for fixing to shed base. To felt the roof cut the felt to size and extend at least 75mm over each roof panel using 3 pieces.
Lay the first piece of felt over one side panel then repeat the process for the other roof panel, finally put the third piece of felt over the gap at the apex and nail it down using closely spaced felt nails. finally tidy up the felt at the corners and fix on the gable end facial boards. Some shed kits come with prefabricated plastic panels which can be slotted into place and screwed down with out the need for felting.
Hiring a Tradesman to Build a Shed or Outbuilding
If you are not confident in your DIY skills, or simply do not have the time to devote to the project, there are plenty of reputable tradesman that will be happy to quote for the job. Simply complete one single form, using our gardener or handyman page to start receiving quotes from local tradesman in your area. For larger custom sheds you may want to contact a carpenter or bricklayer depending on the materials you would like them to use.
Last updated by MyJobQuote on 3rd April 2014.