How to Build a Greenhouse
Building your own greenhouse?
In this guide, we discuss what tools, safety equipment, and materials you'd need, as well as the steps involved in building a greenhouse, among other relevant subjects.
In this article, we focus primarily on how to construct a lean-to greenhouse. Other types include attached, detached, and ridge and furrow (gutter connected) greenhouses.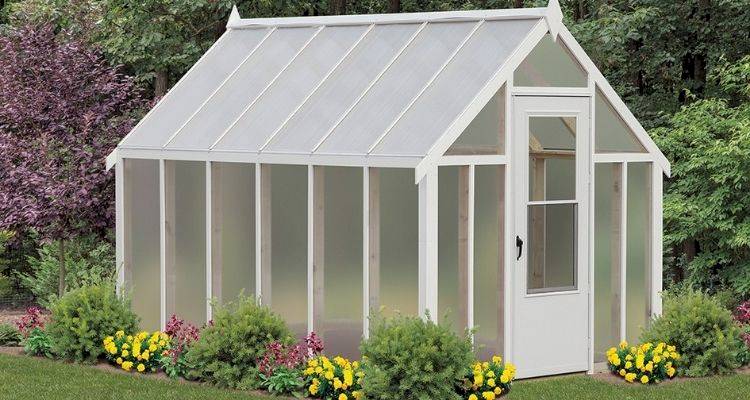 What is a Greenhouse?
A greenhouse is a structure usually comprising a greenhouse glass roof and walls. In some cases, they are made with another translucent material like polycarbonate. In fact, that is the roofing material we will consider for this article.
Either way, the purpose of the transparency of the structure is so that light energy can be converted into heat as light rays entering the greenhouse are absorbed by plants and other objects.
Here's another thing…
You should construct a greenhouse in a convenient spot, with level ground, offers sufficient light, and has lots of space surrounding it. Greenhouses are a popular way of growing crops while shielding crops from pests and extreme temperatures.
What Tools Do I Need to Build a Greenhouse?
These are a range of tools you'd have to buy or rent (assuming you don't already have them) in order to create a greenhouse build.
These are the tools you would require:
Circular Saw Track
Circular Saw
Framing Nailer
Jigsaw
Drill & Driver Combo
Miter Saw
What Safety Equipment Do I Need to Build a Greenhouse?
There is some safety equipment you may wish to use for the process of constructing a greenhouse. Such equipment can reduce the risk of injury or even death. For example, protective gloves will safeguard your hands when using a saw or drill.
This safety apparatus may or may not be necessary, depending on your confidence at the task and level of experience. If you are unsure, you should err on the side of caution.
Here is the safety equipment you may want to use:
Protective gloves
Safety glasses
Ear protection
What Materials Do I Need to Build a Greenhouse?
Let's now discuss the materials required to build a lean-to small greenhouse. The items listed in this section are necessary to ensure you build a high-quality greenhouse, even if on a budget.
Here are the materials needed:
Polycarbonate Sheets
Panel Siding
2 x 4 Timber
6mm H Channel
Spring Hinges
Outdoor Cleaner
Wood Screws
Greenhouse Shelving Unit
Ventilation Register
Indoor/Outdoor Digital Thermometer
Flex Tape
Planning Your Greenhouse
Before constructing a greenhouse, you'll want to layout the design to a certain degree of detail. In the following subsections, we'll look at various planning stages.
Best Place to Build
There are many ways you can maximise the utility of your greenhouse by picking the right location. Of course, you'll want to make sure the greenhouse has access to lots of sunlight.
Ensure your greenhouse will not be blocked, such as by walls or trees. It is also best practice to avoid constructing a greenhouse on a slope.
But that's not all…
The structure's ridge should run east to west, particularly if you'd like to amplify light in the winter months.
However, if you plan to grow crops during the summer only, then a north to south ridge is better suited. This will help lower the risk of overheating.
With sufficient space surrounding your greenhouse, it'll mean you can enter and exit with ease as well as perform any necessary repairs without unnecessary obstacles or difficulty.
Design of Structure
What design options should I consider? After choosing the spot where you'll build your greenhouse, you should come up with your design. In this article, we are focused on lean-to greenhouses, but other options exist.
Though you could simply follow the steps laid out in the 'How to Build a Greenhouse Yourself' section, you may want to consider consulting a professional designer or architect, especially if you have specific preferences that need to be taken into account.
Of course, a sloped roof is something you'll also need to take into account when drawing up the design.
Choosing the Materials
The materials listed earlier are a good guide to those needed for constructing a greenhouse.
However, alternative options exist, and even if you do choose to employ the same materials on our list, you'll want to consider what brands you'd like to purchase from and what quality of materials you're willing to pay for.
It's worth doing a bit of looking around online before jumping to a conclusion. With a little research, you can improve your odds of maximising value for money when making purchases on any given budget.
Preparing to Install a Greenhouse
Before we get to the steps involved in a greenhouse installation, let's look at some important preparations needed on the day of construction.
This is essentially the first phase of building a greenhouse. Here, we are describing the preparations for a lean-to greenhouse at the side of a property.
Cleaning the Area
You'll first want to apply an outdoor cleaner to the grass and property walls. If the area is uneven, you could grade the area as a means to level it out.
Alternatively, you could use timber 2 x 4s, which would act as structural feet to hold the greenhouse level (more on that in the next section).
Foundations
Greenhouse foundations may consist of timber or concrete, among other materials. We describe the steps involved in adding the floor base in the following section.
Measure the Area
Depending on the size of the greenhouse you'd like to construct, you'll need to measure the area to confirm that your greenhouse will fit, or you may wish to measure the area first to act as a guide for deciding on the dimensions of your greenhouse.
How to Build a Greenhouse Yourself
In the following steps, we lay out how to build a 12 x 6 ft greenhouse (about 22m²). You could scale up or down your greenhouse using these steps as a guide. Don't forget that to make it a true and effective greenhouse, and the roof should be sloped.
Step 1 - Creating the Floor Structure/Base
For starters, you will need to have all of your timber pieces ready to assemble the floor-holding structure.
Lay out timber pieces with a length of six ft each. Place the longer timbers at the top and bottom of the smaller pieces, and with a pneumatic framing nailer, nail everything into place. Two to four nails for each connection will do the job.
Next, place the floor base down at the installation area.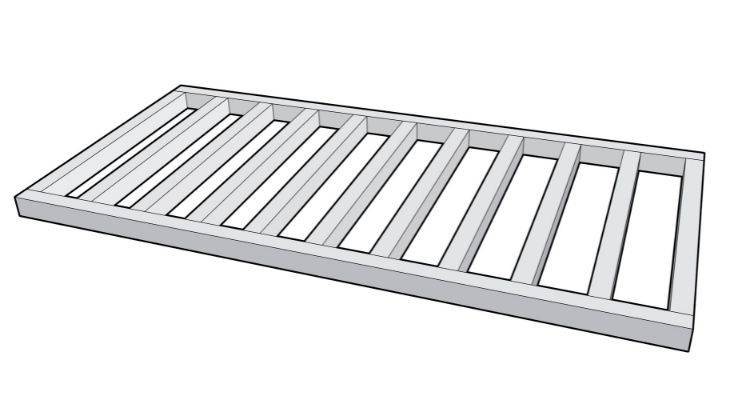 Step 2 - Adding the Inner Vertical Timbers
Next, with the base kept a sufficient distance from the house wall so that you can work properly, fit the vertical timbers.
The first timber piece should be nailed (again with two nails) to the end sections of the floor with two in the middle to match timbers three and six (counting from the first to eight across) or pieces two and five if you only count the inner timbers.
The vertical timber pieces on the left and right edges should be provided with an additional support timber and nailed together.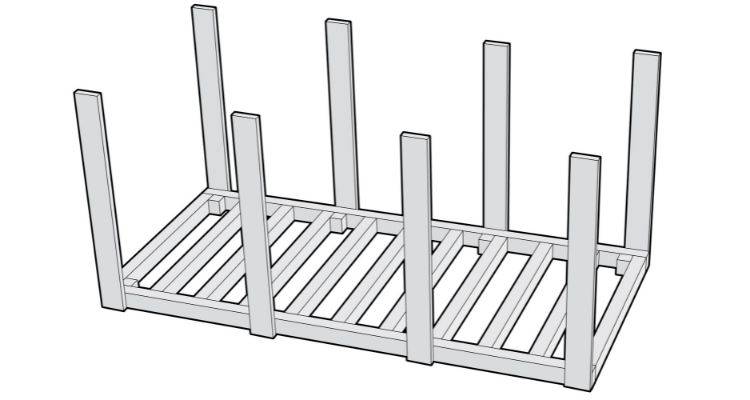 Step 3 - Connecting the Vertical Timbers
Next, connect all existing vertical timber sections with a single 2 x 4 timber and with four nails, nail it to each of the other four vertical pieces.
Assuming you do not choose the grade the ground and that it is not already level, you can add eight 2 x 4s acting as feet, slightly hammered into the ground beneath.
There should be four on each long side of the structure. Four nails will suffice for each of these levelling 2 x 4s. Once these feet are in place, cut off their tops to remove excess wood.
Step 4 - Building the Outer Frame
How tall the vertical frames on the outer frame should be will depend on a) the height of the adjacent vertical pieces and b) the angle of the slope. The timber pieces used on the outer frame will need to have a small section cut off at the top in order to meet the angle of the top timbers at a later point.
Nail the timbers at the edge. Only screw the middle vertical timbers for the time being. The vertical timbers designed to connect the two timbers nailed at the edges may be installed and nailed into place to connect both sides of the greenhouse structure.
Two timber pieces may be added to achieve the same thing with the two middle vertical timbers of each side.
Make sure to keep using your set square ruler as you proceed. You should add a few more connecting timbers in between the existing connecting timbers. This will help give the roof the structure and stability needed to hold the roof.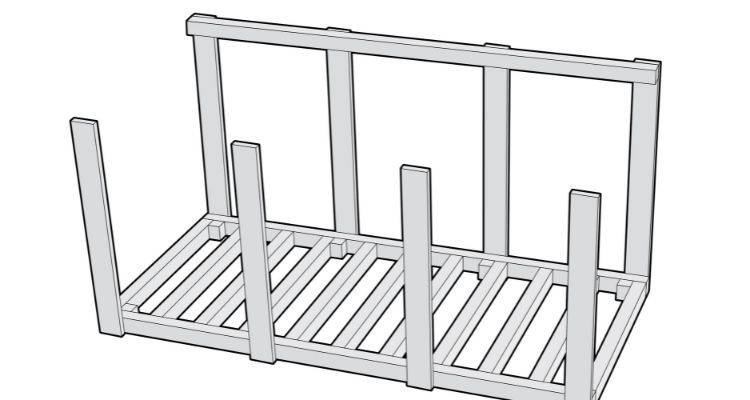 Step 5 - Installing the Floor Panels
The flooring will comprise two layers. First, you'll want to cut three half-inch pressure treated plywood panels to size. Notch it around the timber pieces and cut off small square pieces at the edges to fit in with the additional timber pieces at the edges of the structure acting as support.
The plywood panels should be nailed into place. Next, add the uprights on the greenhouse's sides. To ensure that the uprights are parallel with the vertical timbers at the edges, add some spacers at the bottom and top. Slide into position and nail them. Side-angled nailing will be necessary for the top spacers. Repeat this on both ends of the greenhouse.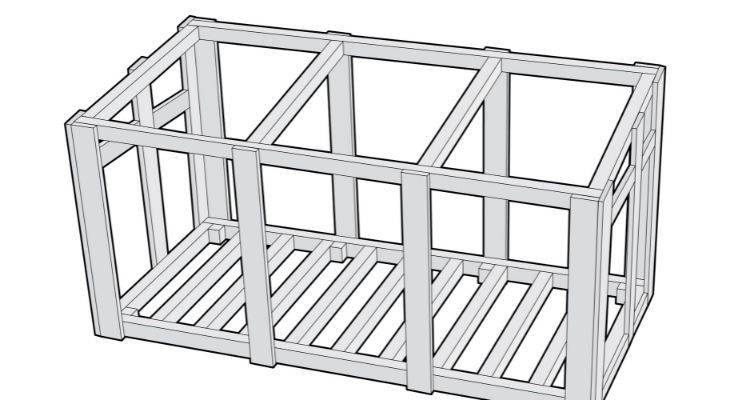 Step 6 - Fit the Front and Side Panel
Panels should be added at the lower position of the greenhouse. Panel one, along the front of the greenhouse, can cover the first vertical timber, second vertical timber and half of the third timber, with the next panel covering the other half of the third timber as well as vertical timbers four and five.
Some additional vertical spacers will help secure the structure. Then add some small panels along the left and right sides of the greenhouse also. Once more, add some spacers.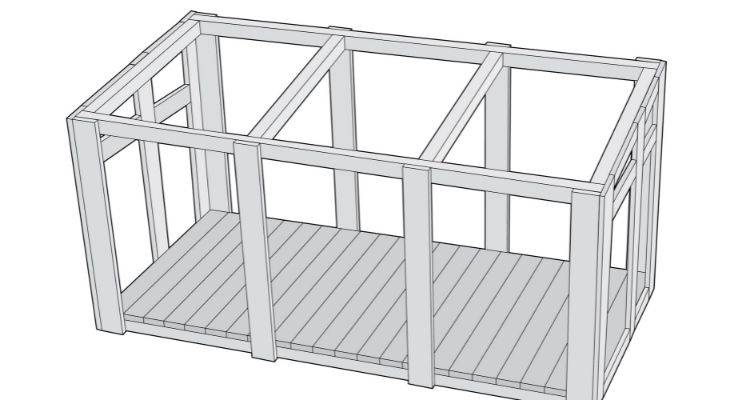 Step 7 - Adding Plastic Covering
Now, you may fit the plastic greenhouse covering, whether that is clear polycarbonate sheets, white polycarbonate greenhouse sheets or cheaper plastic sheeting roll.
You should now have three square openings at the front of the greenhouse with timber outlines. You'll want to have a mini trough at the bottom of each of these openings so that you can easily slide the plastic (when cut to size) into place.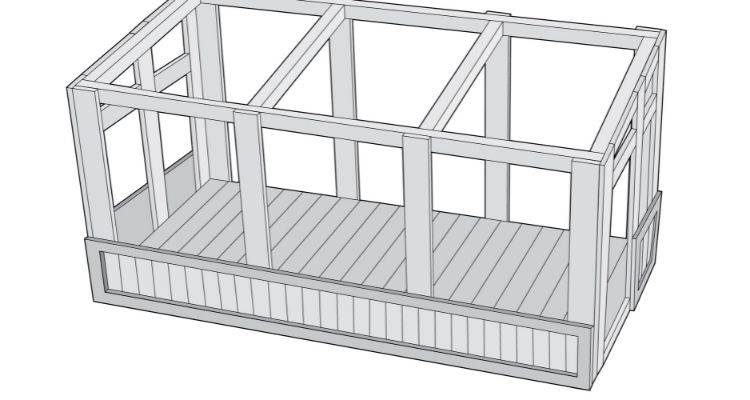 Step 8 - Finalising the Plastic
Employ a circular saw to remove the excess plastic covering at the top. Additional vertical plastic pieces should be laid over the plastic sheet and directly atop where the plastic covering covers the two timber pieces of the now plastic covered square.
Roofing screws with washers and gaskets should be screwed over where the plastic covers the vertical timbers.
From there, add the plastic covering and cut it to shape and size where necessary before screwing into place with a sufficient number of screws over the timber pieces.
The only spot you don't want to cover with plastic is the side entrance where the door will be added. Lastly, add the plastic covering to the roof and screw it into place.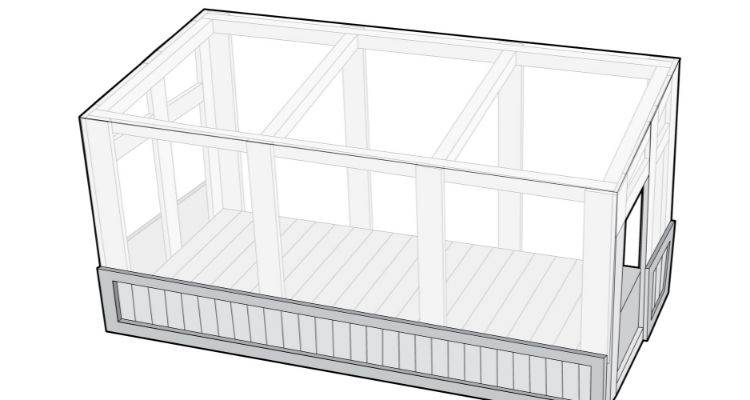 Step 9 - Installing the Door
Use four timber pieces to create the door. A horizontal piece of wood should be added to the middle of the door before the lower part is covered with a square section of wood.
Then add a plastic covering for the top part. To fit the door into place, don't forget to add a hinge and, lastly, a handle.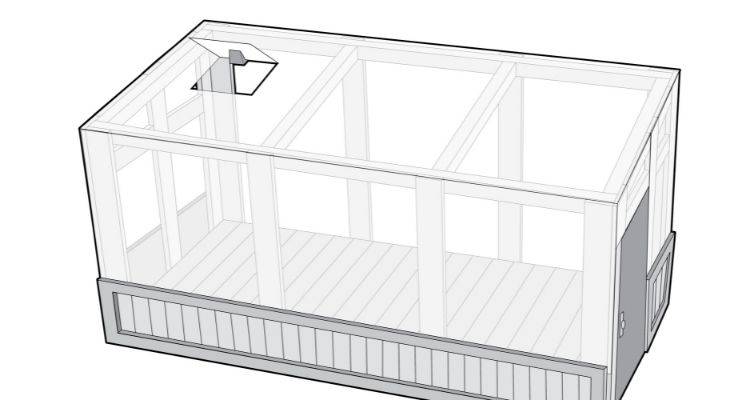 Step 10 - Ventilation
An essential part of building a greenhouse involves adding vents. Add two vents on the roof of the greenhouse (one on the left and one on the right).
To add the roof vents, cut out two plastic pieces; one to match the square hole size that will be made and one (slightly larger) to act as the vent flap. Place the first plastic square atop the roof, trace over its outline with a marker and then cut through using a circular saw.
Add the flap and use flex tape (at the top of the flap) to keep it in place. Suitable wood pieces that can be clipped into position can be used as a way to keep the flaps open temporarily.
This now allows your vent to be opened and closed with ease. If there is any excess plastic on the roof, this can be cut off with a circular saw.
The vents described above allow air to leave the greenhouse, but you'll also need vents to let air in. A/C registers will suffice for this job. Getting ventilation right and having them open is an important part of health and safety for a greenhouse.
Along the sides of the greenhouse, cut out a hole along the middle of the bottom wooden panels. Screw the A/C registers into place before manually opening them.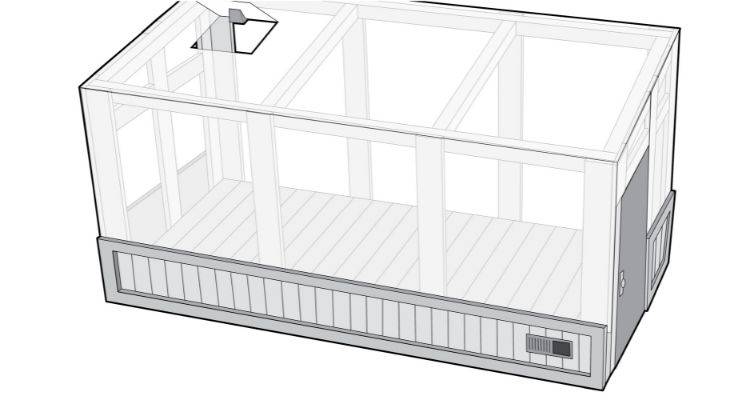 Step 11 - Extras
This greenhouse construction does not include a back wall, but you may prefer to add this. Assuming all is well with the construction, you are now free to add plants and other accessories. You may also want to add a greenhouse heater, especially for the winter months.
Types of Greenhouse
Let's look at some of the different types of greenhouse available. Whether it be fruits, vegetables, or flowers, a greenhouse is a fantastic way to grow crops indoors.
Traditional
The most common option is a standalone greenhouse. This features a full gable or hip roof design. This differs from a lean-to greenhouse which essentially has half of such a roof structure. A traditional greenhouse could be made from timber, metal, or PVC, among other materials.
Lean-to
This type of greenhouse differs from a traditional design as it leans against the house. The roof is basically half of a regular hip or gable roof. Once more, this type of greenhouse may comprise metal, timber, or PVC, or other materials.
Mini
A mini greenhouse is more or less the type discussed in this article (which, of course, is also a lean-to and timber greenhouse at that). It is simply smaller than your average greenhouse and can usually be constructed on a smaller budget than a mid-size greenhouse.
Metallic
Though a wooden greenhouse is cheaper, it's possible to construct a greenhouse using metallic materials. For instance, the pillars and reinforcements/supports could be made of aluminium, iron, or galvanised steel.
The same materials could be employed for the straps, beams, and arches. Galvanised steel or aluminium may be used for the canals and crop wire too. Several metallic materials may be used for each part of the greenhouse.
FAQs
How long does it take to build a greenhouse?
With the right experience, it's possible to build a greenhouse as described in this article in just several hours. However, you may find it takes 2-3 days altogether.
What can you grow in a greenhouse?
There are many crops you could grow. In the summer, you may want to grow tender crops like tomatoes, peppers, cucumbers, aubergines or chillies. For some further examples, autumn is a great time to grow the likes of French beans, salad crops, or calabrese.
What plants may I grow in a greenhouse during winter without heating?
Even in these conditions, plants like spinach, kale, cabbage, winter lettuce, garlic, and onions can still be grown.
What causes too much condensation to appear on crops in a greenhouse?
This can happen if the leaf surface temperature goes below the dew point.
Can seeds germinate in a cool greenhouse?
Seeds need a suitable environment with the right amount of light in order to germinate, meaning that a greenhouse that is too cold may simply prove insufficient for seeds to grow correctly.
Sources
https://www.gardenersworld.com/plants/siting-a-greenhouse/
https://aggie-horticulture.tamu.edu/ornamental/greenhouse-management/greenhouse-structures/#:~:text=Generally%20speaking%2C%20there%20are%20three,the%20most%20popular%20among%20hobbyists.
https://www.novagric.com/en/greenhouses-apr/greenhouses-supplies/greenhouse-materials

Last updated by MyJobQuote on 17th August 2021.