Loft Conversion Guide
Are you considering getting a loft conversion done at your home? There are many great benefits to converting a loft. Although it is a big job, it will add an extra room to your home and increase the value of your home by a substantial amount.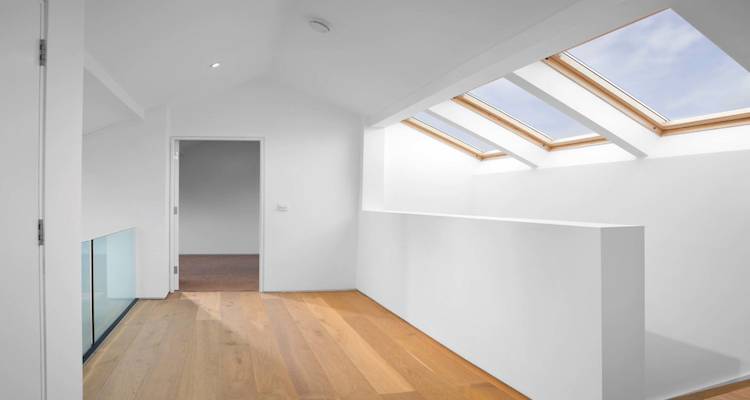 In this guide, we will take a look at the steps involved with building a loft conversion, the cost to convert a loft, and we will provide a number of loft conversion ideas for you to ponder.
If you are at all interested in adding a loft conversion to your property, this guide will provide you with all of the information you need.
What is a Loft Conversion?
The term "loft conversion' describes the process of transforming your empty loft space and turning it into a fully functional living space. Loft conversions are typically used for an extra bedroom, an office, or a gym. However, they can be transformed into pretty much any type of room you choose.
The process of completing a loft conversion is a very timely and difficult job. With this in mind, most people choose to hire a team of contractors to complete the work.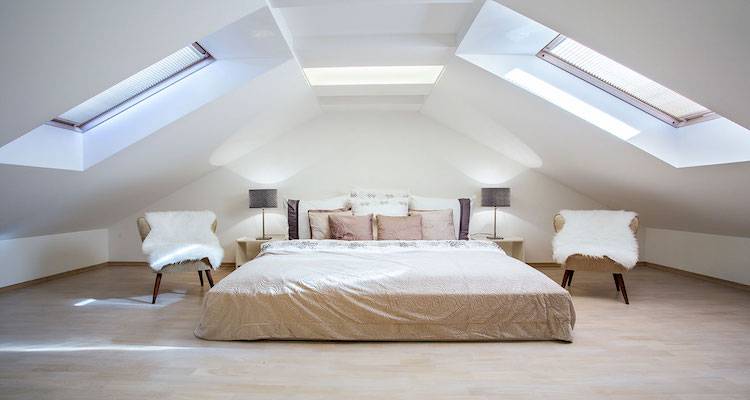 There are many different steps involved, and certain rules must be followed during the building phase. For most people, it's considered to be too difficult and extreme to complete as a DIY project.
Types of Loft Conversion
There are several different types of loft conversion, and the type that you choose to install at your home will depend on a number of factors, including the type of room you are building, the size of the space, the style of your roof, and your budget.
Below is a list of the different types of loft conversion for you to consider:
Roof Light Loft Conversion
A roof light loft conversion is the simplest type of conversion. During this type of conversion, no changes are made to the roof. This conversion is as simple as adding some windows to allow light to come into the loft space.
Pros:
✔ Not much disruption to the rest of the home
✔ Cheapest conversion option
Cons:
✖ It can only be completed if there is already a lot of headroom
Dormer Loft Conversion
During a dormer loft conversion, a window is added, and this window changes the shape of the roof, allowing more headroom. This window will create a box shape and doesn't tend to require many structural changes on the property.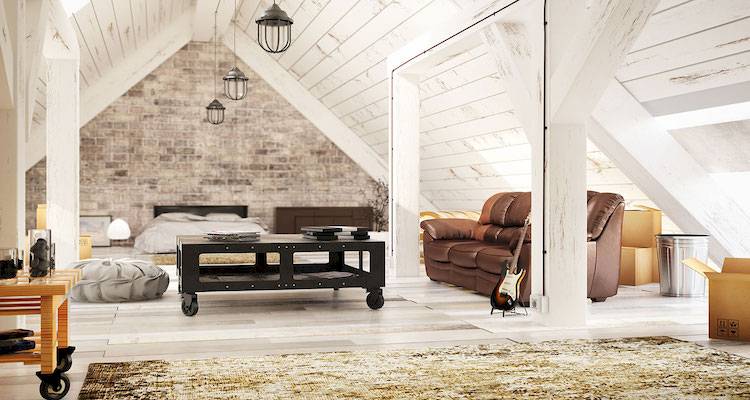 Pros:
✔ Creates more space
✔ It can be built on any home
Cons:
✖ More expensive than a simple roof light conversion
Hip-to-Gable Loft Conversion
During a hip-to-gable loft conversion, the shape of the roof is altered quite significantly. This conversion involves changing the sloping roof at the side of the house and making it vertical instead.
Pros:
✔ It creates a lot more space
Cons:
✖ Very big project
✖ Much more expensive
Mansard Loft Conversion
During a mansard loft conversion, the roof of the home is changed to become pretty much flat. Mansard loft conversions tend to be much more aesthetically pleasing and suit period homes such as Victorian properties.
Pros:
✔ Allows as much extra room as possible
Cons:
✖ Most expensive conversion option
✖ May require planning permission
✖ Very big job
Loft Conversion Ideas
When it comes to a loft conversion, the possibilities are endless. The only limit to what you can achieve with your loft conversion is your imagination.
It's a good idea to take a look at the measurements for your loft conversion before deciding what you're going to use the extra space for. In many cases, you may end up moving the rooms around in the house. Some of the most common uses for a loft conversion are listed below:
Master Bedroom with En Suite
A loft space can provide a great area away from the rest of the house. This is what makes it an appealing choice for a master bedroom with an en-suite, as it provides you with your own little living space away from the other parts of the home.
Loft conversions can be quite large, so you can build a nice large bedroom and still have room to install an en suite to go with it.
Children's Bedroom
A loft conversion also makes a great children's bedroom. If the loft space you end up with is quite narrow, it may be a better space for a child's bed.
Also, some loft conversions have sloped roofs, which could be an issue for adults but won't be as much of an issue for small children. Many children also like the idea of having their own space at the top of the house where they can get away from the rest of the house.
Playroom
As your family grows, you may want to consider turning your loft space into a playroom. Providing children with a whole room dedicated to toys and games is often a dream come true.
If your loft conversion has a sloping ceiling, this can provide a lot of opportunity for building forts or hiding. You can create a space where your children's imaginations can truly run wild.
Gym
Another popular option when it comes to a loft conversion is to create a gym. You can create a space dedicated to working out that is completely closed off from the rest of the house.
You will no longer need to worry about distractions during your workouts. You could also put a shower up there so you can get clean and dressed before re-entering the rest of the home.
Guest Room
A loft conversion is a great space to put a guest room. As a guest room is not always used every single day, the loft provides a great area that can easily be closed off when it's not in use.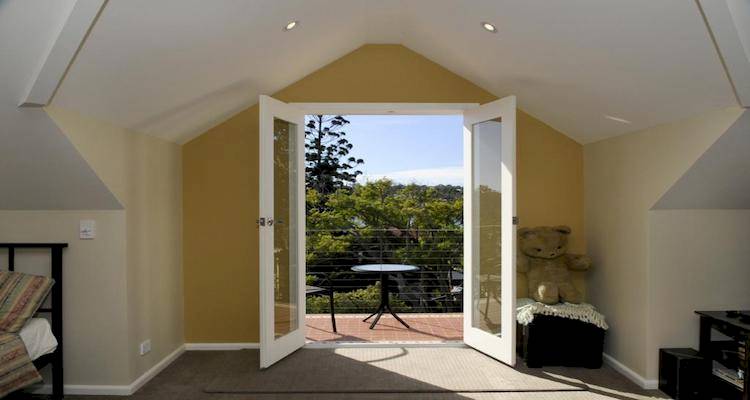 Plus, your guests will feel like they have their own special place in your home whenever they come to stay, making them feel much more comfortable.
Office
A loft conversion can also make a great office space. As the room is tucked away at the top of the house, you'll be in your own space away from the rest of the family and away from home life.
Distractions can become a thing of the past, and you can easily differentiate between your workspace and your home space. This can help to create a much healthier work-life balance.
Bathroom
With your loft space, you can easily create a luxury bathroom retreat. You'll have a lot of space to work with, so you could create a gorgeous luxury spa space that is spate from the rest of the home.
You won't need to worry about disturbances while you soak in the tub, as you'll be tucked away right at the top of the home in your own space.
Home Cinema
Another great use for a loft conversion is a home cinema room. This can add a luxury and unique touch to your living space. Going upstairs to watch a movie in a special dedicated area can make it into a fun and special experience.
What Are the Pros and Cons of a Loft Conversion?
There are several advantages and disadvantages that you may need to consider when building a loft conversion. Below is a list of the major pros and cons that come with adding a loft conversion to your home:
PROS
Extra Room and Space
As your family grows, the extra space that a loft conversion can provide is a real blessing. Also, if you have a small home, the extra space can open up several new room possibilities.
If you're happy with where you live but just want a little bit of extra room, then a loft conversion is the perfect option for you.
Cheaper than an Extension
A loft conversion will usually work out slightly cheaper than an extension of the same size. This is because there is not as much structural work involved with a loft conversion as there is with an extension.
You won't Lose Outdoor Space
If you choose to build an extra room in the loft rather than as an extension, then you won't need to worry about losing any of your outdoor space. Extensions tend to take up a chunk of the garden or driveway, leaving you less room outdoors. Alternatively, a loft conversion won't extend out from your normal property line.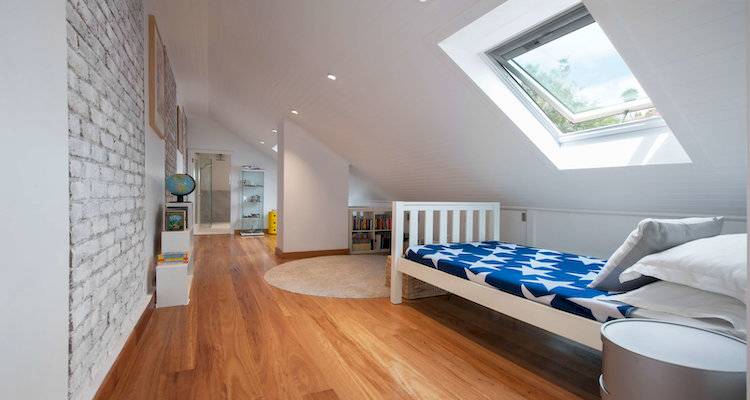 CONS
May Not Be Appropriate for Living In
Many loft conversions will feature sloping ceilings. This could be an issue if you're planning on spending a lot of time up there. This could also cause issues with space as you may struggle to fit certain pieces of furniture around the slopes.
Risk Losing Storage Space
If you currently store many items in your loft space, you will need to find somewhere new to put these things once your loft conversion is underway. This may mean that you will have to use up space in other rooms of the house to store all of those items that were once tucked away in the loft.
Not Suitable for All Properties
Some houses cannot have a loft conversion due to the shape of the roof. In these cases, the roof may need to be remodelled, which can come at a very high cost.
There are also tight regulations around changing the structure of the roof, so this is something you may need to be aware of.
How Much Does a Loft Conversion Cost?
Loft conversion prices will differ depending on many factors, including the type of extension, the size of the area, and your location in the UK. With this in mind, the average costs for loft conversions can be quite wide.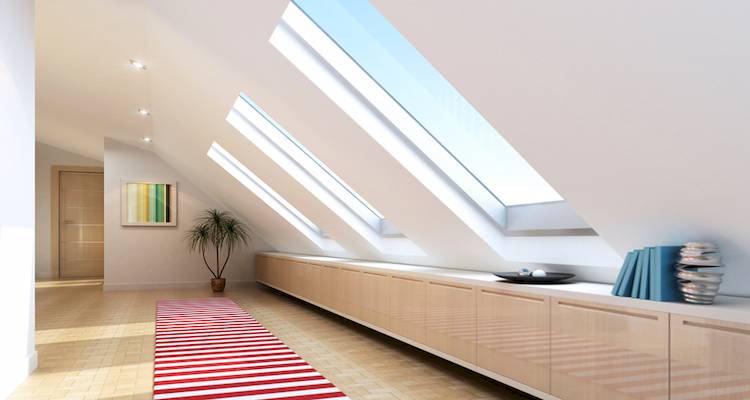 The average cost for a loft conversion will usually fall somewhere between £15,000-£45,000. If you have an idea of the type of loft conversion that you are planning to build, you can take a look at this article for a better idea of the cost of your particular loft conversion.
How to Build a Loft Conversion
There are many steps involved with building a loft conversion. Below is a brief overview of each of the steps that you can expect when it comes to installing a loft conversion at your home:
Week 1
During the first week, once your loft conversion has been completely planned out, your contractors will erect scaffolding ready to start the work. All of the materials for the job will also be brought to the site, and the roof will be opened up.
Week 2
If your loft conversion plans include changes to the roof structure, this will happen during week two. If needed, extra supports will be installed to support the roof and upper portions of the home during the construction stage.
If you are getting a roof light conversion, the windows will be installed during this week. For a dormer conversion, the dormer will be constructed during week two.
Week 3
During week three, all of the external work that's needed will be finished. Any construction on the roof will be finished, and all tiles will be replaced. Insulation will also be added to the roof during this stage. Internally, the loft will be ready for any electrical or plumbing work that needs to be completed.
Week 4
If there are any windows left to install, these will be added now. The floor will be laid at this point, and any ventilation that is needed will also be incorporated. Plasterboard will be fitted, and all internal walls will be built.
Week 5
On week five, the staircase will be added that leads to the loft conversion. If you are having a bathroom fitted, this will also be installed at this time.
During this stage, you can also expect all of the electric work to be completed. Towards the end of the fifth week, doors will likely be hung, plaster will be skimmed, and the skirting boards will be fitted.
Week 6
In the sixth week, any jobs that have been left unfinished will be completed. Any decorating that needs to be done will be completed this week, and the scaffolding will be removed.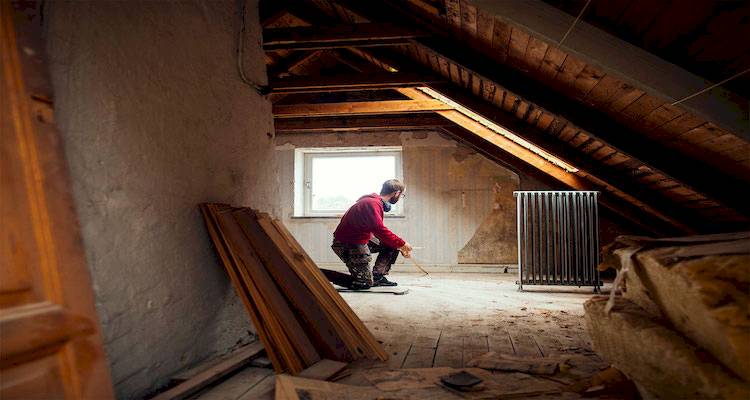 It's important to note that the schedule above is an estimate and won't be accurate for every job. This guide assumes that each job is completed in the minimum possible time and that each job can start right away after the previous one is complete.
For a more accurate representation of timescales, you should speak to your contractor and ask for a detailed overview of what you can expect to be completed at each stage.
How Long Does It Take to Build a Home Extension?
The time it takes to build your loft conversion will depend on several factors, including the type of loft conversion, the size of the conversion area, and the number of people working on the job.
When it comes to a loft conversion, you can usually expect there to be at least 2-3 people working on the project at any one time.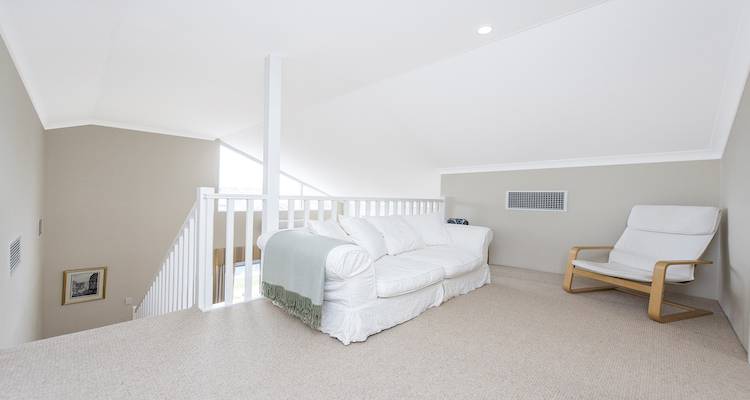 On average, you can expect a simple loft conversion to take around 4-6 weeks to complete. More extravagant or difficult jobs could take around 8-10 weeks to complete.
When you contact contractors for a quote on the job, they will usually be able to provide you with some pretty accurate timescales according to your specific loft conversion job.
Building Regulations or Planning Permission Approval for Loft Conversions
Below, we will take a look at the rules in terms of planning permission and building regulations when it comes to building a loft conversion:
Planning Permission
In most cases, you won't need planning permission to build a loft extension as it is covered under permitted development. Your contractors should be able to confirm this for you before starting the work.
However, as long as you stick to the following set of rules, you shouldn't need to worry at all about planning permission:
The conversion should not extend beyond the existing roof slope at the front of the house.
The total space created from all extensions should not exceed 40m3 for a terraced home or 50m3 for a detached or semi-detached home.
The maximum height of the home should not be increased, including the roof.
The conversion should not overhand the original walls.
Side-facing windows should no be clear glass.
You should use similar materials to the original home for the construction.
You cannot add any verandas, platforms, or balconies.
With the exception of hip-to-gable conversions, the roof extension should be set back to at least 20cm from the original eaves.
Building Regulations
Your new loft conversion will have to adhere to several building regulations. This applies whether planning permission is needed or not. Building regulations are there to ensure the new conversion is structurally sound and safe for use.
The building regulations for a loft conversion will dictate some of the materials that must be used for the work and how the conversion is constructed. It will also often determine the layout. For example, you should have doors to each room at the top of the staircase.
You contractors will be able to make sure that all of the work they're doing meets building regulations. You may need several inspections or visits during the construction to ensure everything is meeting the specific regulations.
Your contractor will usually arrange these for you during each necessary stage. However, you should double-check with your contractor to ensure they will take care of this. It is you who is ultimately responsible for making sure your property meets building regulations.
Questions to Ask When Hiring a Loft Conversion Expert
You may need to ask several questions when looking for the right contractors to carry out your loft conversion job. Below is a list of questions that you should consider asking when looking for the right workers for the job:
Does the contractor possess any qualifications relating to building loft conversions?
Does the tradesman have insurance? Will the insurance cover property damage, personal injury, and a guarantee?
Does the contractor have any evidence of previous work? Ask them for testimonials or pictures of loft conversions that they have worked on in the past.
Does the tradesman offer any guarantees with their work? Will they fix any issues that arise? What does the guarantee cover, and how long does it last?
How many tradespeople will be working on the job? What are the expected timescales?
Ask for a breakdown of costs to ensure you're not overpaying for any particular parts of the work.
Does the contractor provide all tools and materials? Is there anything that you will need to prepare or obtain before the work starts?
Does the contractor have experience in building the particular type of loft conversion that you're looking for?
FAQs
Can you build a loft conversion in a flat?
This will depend on your circumstances. If you own a flat at the top of a building with access to the loft, you will need to inquire whether you own the loft space or whether the building management company has ownership.

If the building company owns it, you won't be able to alter the loft. You must also make no alterations to the roof or the external portions of the building. If you believe that you are entitled to build a loft conversion in your flat, several building regulations must be followed.

You may also be required to get planning permission. If you are unsure about the circumstances, it's always best to check with your building management and your local council to ensure that that work can go ahead before you start enquiring with contractors.
Can I use a loft as a bedroom?
Yes, it is entirely possible to use your loft conversion as a bedroom. Most loft conversions in the UK are converted into bedrooms. It's important to consider the type of loft conversion you want and the space you have.

Will it be big enough for a bedroom? Will the roof slopes cause an uncomfortable living environment? These are all things to consider when deciding whether to turn your loft conversion into a bedroom.
If I carry out the loft conversion myself, will I need insurance?
If you plan to complete a loft conversion as a DIY project, it is definitely worth taking out insurance for the work. Your insurance will cover any damage to the property or if you have any accidents when carrying out the work.

Even if you don't believe you'll need the insurance, it's always worth taking it out anyway, just for your own peace of mind.
Will a loft conversion affect my council tax band?
Council tax bands are only ever reviewed when a property is sold or if you specifically request a review. With this in mind, a loft conversion should not affect your council tax band.
Will a loft conversion add value to my home?
Yes, a loft conversion will add value to your home. The average loft conversion can increase the value of your home by up to 22%.
Sources
https://www.harveynormanarchitects.co.uk/articles/loft-conversion-guide-in-depth-information-on-how-to-successfully-tackle-a-loft-conversion
https://www.ashbrookroofing.co.uk/blog/pros-and-cons-loft-conversion
https://www.planningportal.co.uk/info/200130/common_projects/21/flats_and_maisonettes/4

Last updated by MyJobQuote on 23rd November 2021.