Garage Door Installation Guide
Installing a new garage door into your home can allow your home to look new and improved! You might improve the resale value and upgrade the exterior of your property while also getting a greater profit when you get a new garage door installed, as it could improve your home!
This also increases the overall safety of your home and increasing your daily convenience.
Traditional garage doors are built of two pieces of wood that are fitted together with a solid band and hook hinges. They require frequent repainting, and despite their strength, their lifespan is limited since their weight led them to sink with time, causing damage to the bottom of the door from scraping against the ground.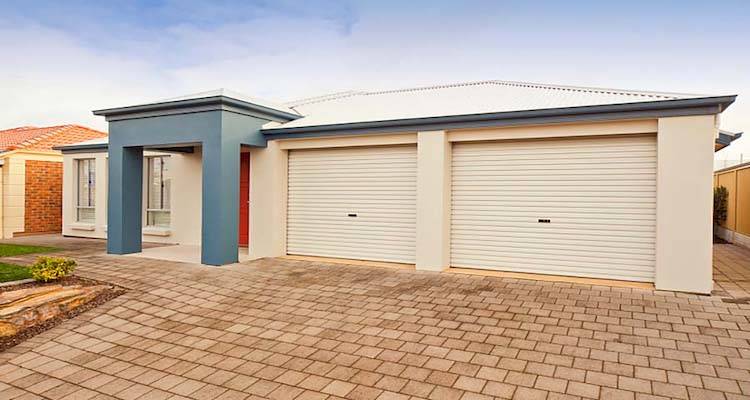 So, most people need a new garage door every few years as most of them, especially old versions, are not built to last long.
So, if you are trying to find someone to install your new garage door or want to DIY it, all the information will be found here in this article.
This includes: How much is it to get a new garage door installed? How long will it take to do so?
Can you DIY it, and will it save you money to do it yourself? What advantages and disadvantages included in garage door installation? Do they have different design ideas to make your home look more modern? What should you look out for when hiring someone to fit your garage door?
This article will break down the important information you must think about when installing a garage door.
What is a Garage Door Installation?
Garage door installation is very popular at the minute. Keeping your garage in good shape is an essential consideration for keeping your home appealing as it is likely to be on full or partial show too many guests.
Scraped paint, broken windows, and damaged doors may all harm your home's curb appeal, so staying on top of these issues is critical if you want to impress visitors, guests, or even possible future buyers.
So instead of garage door repairs, it may be time to get a new garage door installed if your current ones aren't working properly or are looking a little worn out.
It's unavoidable that garage doors will wear down over time as they get older. They may be damaged or broken due to poor weather conditions or destroyed internal elements, as well as if they've been knocked by vehicles, bikes, or footballs.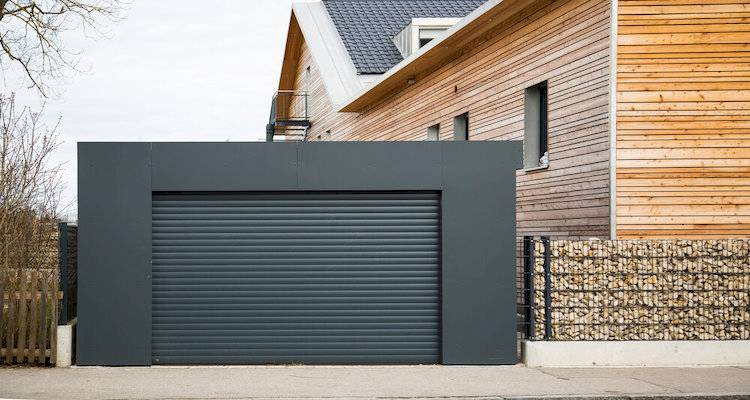 A damaged garage door not only detracts from the appearance of a property, but it may also detract from the overall appearance of your home.
So, to prevent your home from being down valued, consider looking at a new garage door to give your home a newer feeling. As your home and the surrounding neighbourhood evolve, your garage doors may begin to appear outdated.
When installing a garage door, you will have the option of selecting from a variety of brands, styles, and materials to suit the current design of your home. Simply install new garage doors to refresh your style, whether you want to change your colour scheme or think a wood finish would look great in your garage.
Types of Garage Doors
There are different types of garage doors, especially as technology is growing with time. So, you can now get all different types of garage doors with different qualities to them.
Due to the fact, there are now so many different alternatives available when it comes to purchasing a new garage door that it can be tough to comprehend the specific differences between each one and each of their benefits and drawbacks.
In this part of the article, you will see the advantages and disadvantages of different types of garage doors so you can see which one could suit you the best!
Roller Garage Doors
Roller garage doors have grown in popularity as a result of their power to fulfil needs and cover regions that other garage doors cannot. The roller mechanism is mounted behind the garage door and coils tightly around a drum. They may be installed in various garage openings in different shapes and sizes, and security systems can be added for enhanced security.
They also provide efficient insulation. You can enjoy optimum drive-through use of the doorway in terms of both height and length because they can be built without a frame.
However, this sort of door can only have horizontal lines in its design. You can still choose from various colours, and synthetic woods like laminate mahogany and rosewood can have a natural appearance.
Up and Over Garage Doors
For many people, the Up and Over garage door is considered a more traditional door style. It looks fantastic and accomplishes all you need a garage door to do! It's simple to understand why it's a common pick as one of the most recognisable garage door styles.
It opens by moving up and over in one piece, making garage access and exit simple. It is also one of the cheapest types of doors to be installed and is strong, so it is harder for this door to wear down.
The only disadvantage of this garage door instalment is because the door swings outwards, you need around seven feet of unobstructed space in front of it to open it safely.
Sectional Garage Doors
This garage door design is well-known for its ability to save space. It's made of pieces that, when opened, curve back into the garage on horizontal rails rather than opening all at once.
A sectional door is usually installed behind the garage opening, opens and closes with no effort, increasing your drive through width and enabling you to pull right up to the garage.
Sectional doors are confined to square and horizontally split panels, and they eat up garage ceiling storage space, so although they save space, it takes up a lot of room when installing the garage doors.
However, the advantage of sectional garage doors is that they are guaranteed for ten years, so you know that your garage door will last you up to 10 years!
Hinged Garage Door
These garage doors are the more expensive option, so if you are on a budget, this type of garage door installation is probably not best for you.
However, if you need to access your garage frequently for goods other than your car, such as bicycles, tools, or children's toys, this feature will come in handy. It's simple to get in and out of your garage with symmetrical and non-symmetrical side hinged doors without having to open the entire door.
They are available in a variety of elegant styles and are suitable for garages with impediments that restrict the installation of a different style door.
This is the instalment that will most likely increase the value price of your home because you are giving it a more modern look with this new garage door.
Automatic Garage Doors
Automatic garage doors are convenient sometimes in life; however, this is the new advanced way of opening your garage door and the most expensive.
This garage door can simply open and close the door with the press of a button. These doors frequently have a manual locking and unlocking mechanism.
This feature is very useful when maintenance is needed, as well as for security purposes. You'll be able to control it even if there's a power failure.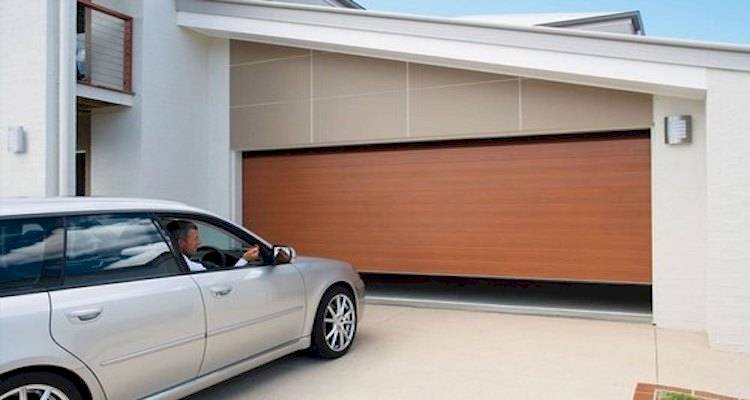 However, an electric garage door is far more difficult to instal than a manual garage door. As a result, you must enlist the assistance of an expert throughout the process, which will probably affect the price to more than it already will be.
What Are the Advantages and Disadvantages of Installing a Garage Door?
Different garage doors require different types of instalments as each door is wired differently from the others, but the majority of them are all installed with the same method.
For some doors, DIY is possible, however for more complicated and new garage doors, it is probably best to call in a tradesperson to help install your garage door correctly.
While most full-service garage door stores provide garage door installation services, such as delivering the new garage door, disassembling and getting rid of the old garage door, and installing the new garage door, you can install your new garage door yourself if you're a handyman and want to save a little money.
Therefore, if you want to fit a garage door by yourself, please be aware if there are any types of risks that surround the task!
Advantages
Hiring a professional to fix your garage door is more expensive than doing it yourself. As a result, making the repairs yourself will save you money. So, if you are already on a budget and trying not to spend as much money, then DIY should be considered as it is possible.
The value of your home rises when you replace your garage door. If your garage door is broken, replacing it with a new, modern door will wow potential buyers and improve your home's exterior appeal. Garage doors that are in good condition always sell faster.
You'll have more control over the procedure and the equipment you'll need to purchase. So, if you already have tools or need to buy more, you control what you need and how much you will pay for it. This could also save you a lot of money.
Replacing garage doors can help you cut down on the amount of maintenance you have to conduct. Once you've decided on a prefinished garage door colour, you'll see that the majority of metal doors are low maintenance. You don't have to waste time scraping off flaky paint and repainting your garage door. To clean it, all you need is a little water and soap.
DIY repairs provide an opportunity to learn new skills. It means that you can enhance your skills by attempting to repair your garage door on your own. Sometimes having an experienced DIYer in your home is needed more than you think! So just improve your skills as practice makes perfect.
A qualified garage door expert can rapidly resolve a garage door problem. So, instead of DIY, you could hire a professional and have them replace your garage door and have also had a guarantee on the garage door! So, if you do not want to spend that much money on a garage door any time soon, this is for you.
Several garage door providers provide same-day garage door repair. So, damaged garage doors can give you multiple problems, so if you hire someone, the problem will be fixed in no time!
The security of materials maintained in the garage will be improved by upgrading your garage door. Burglars are more likely to target older garage doors that aren't insulated than modern metal ones. Investing in a new garage door will make it more difficult for burglars to break-in, improving storage security.
Disadvantages
Garage doors are large and heavy. They range in weight from 150 to 200 pounds. As a result, neglecting to handle them properly might result in serious personal injury. Furthermore, some garage door components, such as garage door springs, are extremely hazardous. Replacing them safely necessitates skill and knowledge.
To install a new garage door in your home will cost a lot of money, probably just for the door itself and then the additional prices.
It can take a long time to repair a garage door on your own. To complete the task, you will need to take time out of your busy schedule. This can be awkward as you may need time off work, as if you are installing an automatic garage door, it cannot be left and carried on in a couple of days because it is electrical and can be dangerous.
A garage door is more difficult to instal than a standard door. It is not only difficult but also potentially dangerous. Therefore, risks are involved when installing a garage door, so always be careful or hire a tradesperson.
How much Does it Cost to Install a Garage Door?
The garage door price varies depending on how much and what type of door you are going for. Paying for a new garage door can be expensive depending on your budget; however, hiring a tradesperson to come out and fit the garage door for you will also change the price.
The garage door cost is determined by several factors, including the door's size, style, and materials (wood, steel, aluminium, PVC, and so on), as well as the job's difficulty. Up and over garage doors, sectional garage doors, roller garage doors, side sliding or round the corner garage doors, and side hinged garage doors are just a few of the options available.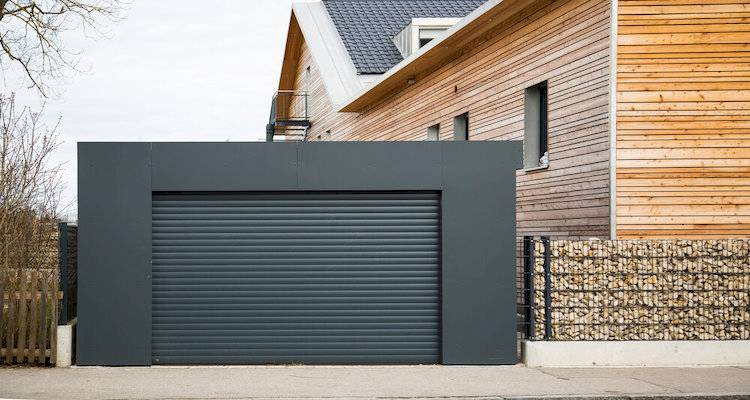 The cost of installing a garage door is between £300 to £5000 for the door, another £150 to £1000 if they are electrically controlled, and a further £150 to £250 per person per day in labour charges to have them properly installed.
Which most garage doors need to be installed by two people as they are extremely heavy. Your garage door installation should take between 3 and 6 hours on average, with electric and custom doors requiring longer to install than regular or manual doors.
Because of the nature of the work and the size of the materials, your garage door will most likely be installed by a team of two garage door installers, each charging between £150 and £250 per day.
As prices vary with the different types of doors, the instalment gets added to the price of the door at the end. However, the garage door costs, and instalment prices have the average cost of:
| Type of Door | Average Cost |
| --- | --- |
| Up and Over Garage Doors | £750 |
| Roller Garage Doors | £1000 |
| Sectional Garage Doors | £1100 |
| Hinged Garage Doors | £1700 |
| Automatic Garage Doors | £2200 |
How to Install a Garage Door?
To install a garage door, you will need all the necessary tools such as a drill, drill bits, socket bit, hammer, safety glasses and adjustable-locking pilers. When you have all these tools, you are ready to install a garage.
Remember that a DIY instalment on a garage is hard, so only try if you have experience with DIY and would class yourself as skilled. It will also require someone with a good back as you will be lifting heavy objects and help in hand to help you fix your new garage door.
Step 1
Firstly, when installing a garage door, you will need to remove the garage door tension as the weight and tension on garage door springs is significant. When handled incorrectly, they can result in personal injury and property damage. To do this, you must clamp the torsion spring shaft with your adjustable-locking pliers, then push your pliers against the header wall just above the garage door.
The spring winding cone will then have four holes that loosen and tighten the spring. One of the holes should be filled with a steel rod. Loosen the screws that hold the winding cone in place while gripping the rod tightly. So, by alternating the two rods, loosen each spring one-quarter at a time.
One rod should be used to keep the cone steady while the other is used to revolve it. This is where you will need help as it will be hard with the weight and trying to see what goes where. Therefore, if you are DIY, always have the extra help of hands.
Step 2
After this, you must disconnect the current door from the garage door opener. To do so, use the red emergency release handle, simply pull it. This will raise or lower the door manually by moving the trolley arm into a vertical position.
Begin removing the sectional door panels by disconnecting the hinges attached to the garage door panel, starting at the top panel. Start removing the hinges from each panel and freeing the hardware of the other sectional panels to detach the panel from the track by loosening the bolts from the doorframe.
Step 3
The next part is to install the garage door panels. To prevent bowing in the middle, run a reinforcing bar along with the top panel.
After that, drill pilot holes, fasten the bar to the panel with screws and put hinges on the top of each garage door panel, and axle supports are affixed to the bottom and top panels.
Keep checking that the bottom panel is level in the opening, then install each new panel on top of the preceding one, making sure the higher panel's groove is firmly seated on the ridge of the panel below it.
Step 4
After this, secure the hinges and install the tracks on your garage door. The top half of each hinge must be secured to the panel above it, the wheeled axles must be inserted into the hinges, and the top and bottom axle supports must be installed. Install the track next, making sure the wheels are properly aligned in the track to guarantee optimal operation.
Finally, connect the door wire to the hook on the bottom of the panel axle support, then secure the bottom bracket to the wall.
Step 5
Attaching the spring assembly to the track is the following step: you should assemble all spring-supporting parts and connect them to the track. Then, using the ceiling supports from the previous door, place the curved segment of the track on the vertical piece you made earlier. Connect the other end of the cable to the ceiling bracket, then bold all the tracks together.
Step 6
Then attach the spring anchors to the springs, lock the two springs to the head bracket with the spring locking cone. This can be dangerous as it is a lot to do.
Step 7
After this step, you must assemble the torsion rod by sliding it into the side header brackets' holes and attach pulleys to each end of the rod.
Step 8
Then attach the rope to the pulley wheel from below and revolve the wheel to pull any slack taut over the pulley. Put the wheel to the header bracket and tighten everything together.
Connect a pair of locking pliers to the rod on the outside of the bracket to prevent the rod from rotating while tightening the garage door springs.
Step 9
Finally, Tighten the springs with your steel rods, then consult your instructions to establish how many spins are required to tighten the spring correctly. Tighten all bolts to lock the spring in place and remove the pliers from the torsion rod once the spring has attained the desired tension. Then your garage door will be installed if it has all gone correctly to plan!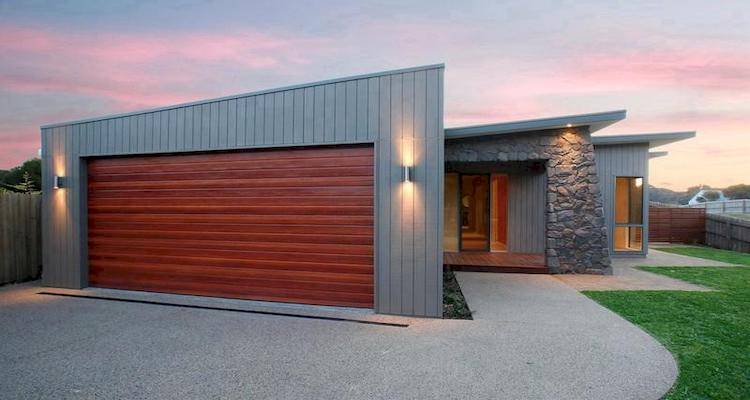 Therefore, there are not many steps, which is why it can take less than a day to install a garage door. However, it is very complicated, so it is advised to hire a tradesperson to install it. However, if you are determined and a skilled DIY, then it is not impossible to do.
How Long Does It Take to Install a Garage Door?
Before the garage door installation can begin, they must first dismantle and remove the old door. Then the time to assemble the new door is added on by the job itself.
The new garage door panels can then be installed, as well as tracks, rollers, springs, wires, and the garage door opener. The time it takes to install a garage door opener is a factor to consider since this process can take anywhere from four to six hours.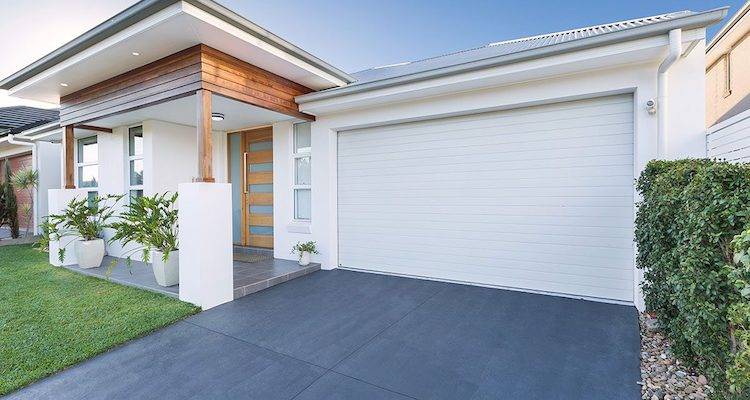 If you attempt installation without prior experience, it will take longer compared to qualified installers that can work quickly while completing the job correctly the first time. A new garage door can be built in as little as three hours by a professional but replacing an old garage door necessitates additional measures.
Other factors such as the size of smaller doors take less time than bigger doors to do as the job is not as big. However, if the door is the same size as the one that had just been removed, it will take up to about 3-4 hours to install as they are just replacing it with a better door.
However, if it is bigger than the previous one, it will take longer as they must adjust the walls for the new door.
| Garage Doors | Timescale |
| --- | --- |
| Up & Over Garage Door | 4 hours |
| Sectional Garage Doors | 6 hours |
| Roller Garage Doors | 2.5 hours |
| Average Garage Doors | 3-6 hours |
Building Regulations or Planning Permission Approval for Garage Door Installation
Building regulations are not needed when installing a new garage door as it is not being put through your home or a new building as it is just being added to the attachment to your home.
Also, installing a garage door or changing the type of a garage door does not require planning permission; it is typically regarded as permitted development. That's because garage doors don't usually modify a building's footprint or extend it in any way.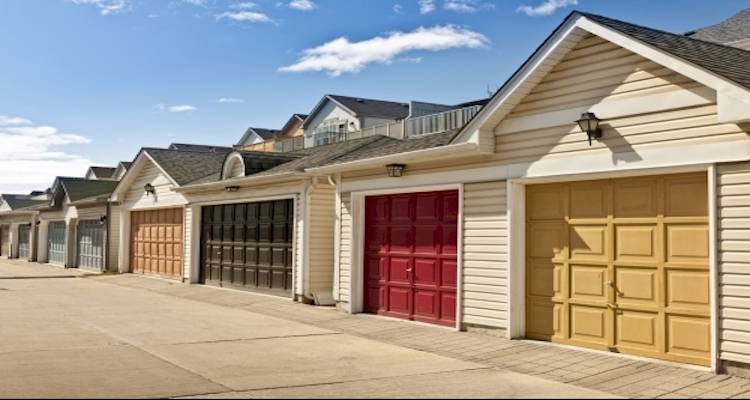 However, suppose you want a new garage door that is considerably different from the original door or the overall aesthetic of the neighbourhood. In that case, you may need to get approval from the city. This is because the new door's aesthetics may impact the aesthetics of the entire neighbourhood, which may harm property prices on your street.
If you're unsure and are worried about the risks, check with your local planning department to make sure your new garage door is legal and won't affect you badly. If your project requires planning permission, you may be directed to complete an online planning permission application, but it is an easy process to do.
Questions to Ask When Hiring a Garage Door Specialist
1. Have you been in business for a long time?
Always ask how long the tradesperson been in operation. If they can also give you proof, that's even better because you'll realise they're not "fly-by-night" types, which means they have a legitimate firm and address and are professionals.
2. Do they have any previous employment references?
It is a positive sign if you can discover a garage door installer who is prepared to show you examples of their previous work. Take the time to look at their previous work images if they have them.
Also, if they have references, ask for a copy and follow up with a phone call to make sure they were happy with the work. It also reduces the chances of you being scammed as they are showing you their past jobs.
3. Do they have insurance, and what kind of guarantee do they offer?
You must find out if your builder is covered by insurance for any potential harm to your home. Even if they've never had a problem before, mistakes do happen, so make sure they're covered if anything goes wrong while the work is being done. Therefore, if anything goes wrong, it will not affect you.
Before signing, make sure you receive a formal guarantee of work or examine their usual guarantee. It's even better if their guarantee is backed by insurance, as you'll be protected if the tradesman goes out of business.
4. How Much Will the Job Cost?
Get as many quotations as you can from a range of different garage door installers, but always make sure it's a written quote and that it's valid for a certain amount of time.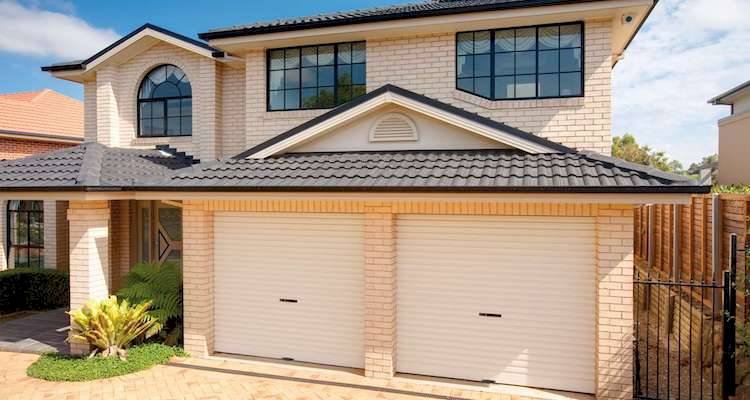 If there's anything on the quotation that you're not sure about, inquire about it and don't ever feel like you're asking a stupid question. Before you sign a contract, get all the details on how much the work will cost.
FAQs
Can you paint a garage door?
Painting your garage door is a simple way to improve the appearance of your home's exterior. You'll need a dry day, patience, and your best decorating attire.

The best garage door paint to use is exterior latex paint from a reputable paint manufacturer. This holds for both vinyl and wooden garage doors. Oil-based outside paint is preferable for metal garage doors, but exterior latex paint can suffice.
How do you secure a garage door?
Up and over garage doors are the best garage door security as they can install an alarm so when the garage has opened, the people in the home are aware because an alarm goes off.

You can also buy kits off Amazon, such as garage door locks that make your garage safer. Just maintain your door to ensure that the structure remains stiff and the panel is in good, strong shape and fix your garage door repairs.
When is the best time for installing a garage door?
The spring is the greatest time to start working. This is because temperatures do not reach the extremes of the scale when compared to the quantity of typical rainfall. Winter in the United Kingdom can be brutal, and frosty days will delay, if not halt, most construction projects.
What materials are used for newer garage doors?
The most popular materials used for garage doors are metal garage doors as they are seen as having a longer expectancy on them. Wooden garage doors are the most aesthetically pleasing; however, they do not last as long with the weather conditions.
Can you DIY garage door installation?
While most full-service garage door retailers provide complete garage door installation services, including delivering the new garage door, disassembling and disposing of the old garage door, and installing the new garage door, if you're a handyman and want to save some money, you can instal the new garage door yourself.
Sources
https://www.cornwelldoor.com/blog/how-to-install-a-garage-door-yourself/
https://www.diydoctor.org.uk/projects/fitting-a-garage-door.htm
https://www.thegaragedoorteam.co.uk/news-and-blog/garage-door-types-explained/
https://www.dimensiongaragedoors.co.uk/news/deciding-type-garage-door-right/
https://www.johnsonsgaragedoorrepair.com/diy-garage-door-repair-vs-hiring-a-pro-know-the-pros-and-cons/
https://home.howstuffworks.com/home-improvement/repair/is-it-hard-to-install-garage-door.htm
https://precisiondoorfresno.com/how-long-does-it-take-to-install-a-garage-door/
https://www.autodoorsandgates.co.uk/support/blog/how-long-does-it-take-to-install-a-garage-door

Last updated by MyJobQuote on 16th December 2021.