Furniture and Flat Pack Assembly Guide
Flat packs are the new and improved way to set up your furniture. This article will teach you and allow you to see the amazing new way to set up furniture in your home by yourself!
However, all the details you will need to know such as labour and supply costs, so the funds that go into this new way of setting up furniture.
You will need to know the timeframes; how long does it take to set up? Is it worth the try or is the old version of setting up furniture in your home easier? How to do it yourself, how hard is it to set up?
The pros and cons as although it is the newest version of setting up furniture everything has its disadvantages because it is new it won't be as advanced as it will be in the next coming years.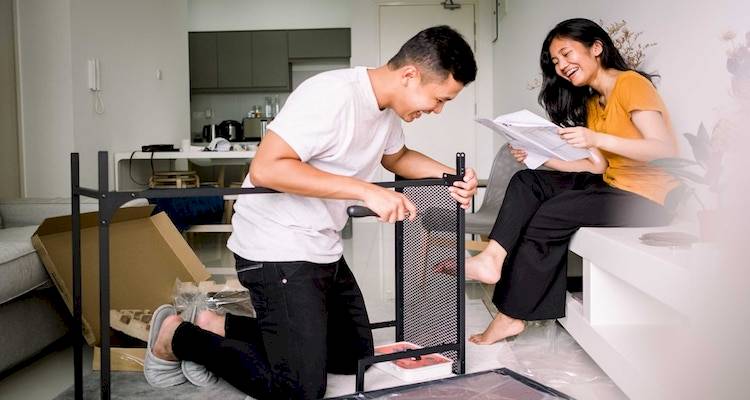 In this article, we also hope to give you design ideas for your new home to make it your dream home!
Finally, what to look out for when hiring a tradesperson, who can you put your trust in to help you with assembling your flat pack, what qualities do you want to look out for to find the perfect person to help you.
Therefore, this article will give you all the information you need to start your journey. All questions you want to answer about furniture and a flat pack will be found in this article.
We want to give you the easiest way to move into your new home as well as informing you on what you need to know about assembling a flat pack.
What is Furniture Flat Pack Assembly?
Flat pack assembly is also known as ready-to-assemble furniture, knock-down furniture, or self-assembly furniture, and are also extremely popular because of its affordable price and easy set up in your own home.
This form of furniture is made of flat sections that are assembled with no special tools once purchased. They come in individual flat-packed boxes and include all the essential nuts and bolts for assembly, as well as an instruction booklet.
They can have as few as five components to assemble or as many as 50, depending on the type of furniture you are setting up. The most popular and well-known flat pack furniture retailer is IKEA who are available in over 25 countries.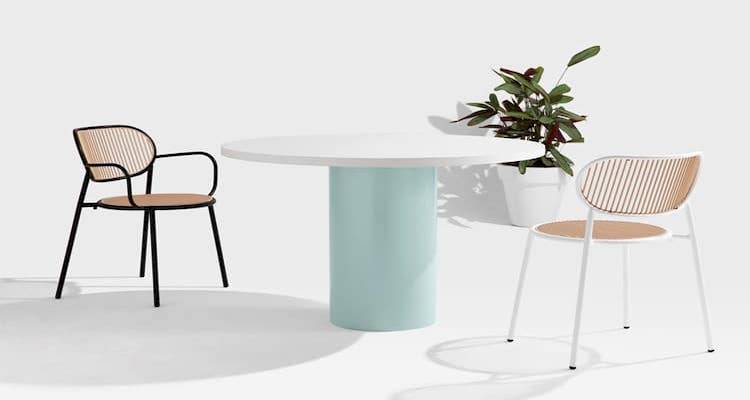 Moving in can be a stressful and busy process and choosing your furniture never helps to ease the process of moving in. The furniture you bring into your home gives each room its individuality and theme. However, with the expenses of furniture sometimes we downgrade our dream furniture to fit with the expenses you are willing to pay.
That is why flat pack furniture, the current obsession, is becoming increasingly popular. The reason for its popularity is mainly the fact that it is significantly less expensive than the typical 'ready to use' furniture seen in stores around the countries.
Flat pack furniture is the natural financial solution for any home, since it may save you hundreds of pounds on your home decor budget.
Therefore, for an easy and cheap way to put furniture in your home the new flat pack assembly is the way forward for you!
They are also needed for a lot of homes as getting the furniture inside your home is difficult as it may not fit some of the halls, for example, therefore, when you assemble flat packs, they save space and are easy to store!
Flat pack furniture makers store more on flat shelves, increasing storage efficiency, while customers appreciate the convenience of packing.
Types of Flat Pack Furniture
Furniture
Here are some of the most popular types of flat pack furniture:
Flat Pack Chest of Drawers
Flat pack drawers are popular, however, these are harder to assemble as they are harder to set up some of the draws won't open fully or shut properly. However, the process of putting them together happens by the being doors fastened to the outside shell, the drawers are manufactured independently and put on runners, like the wardrobe.
Flat Pack Wardrobes
Wardrobes all have the same basic design: an outside frame, a hard or soft backing, and doors that open out or glide along, depending on the quality. Sometimes inner shelves are placed and fixed along with the rail for hanging clothing, depending on the size, to provide additional rigidity.
Therefore, as they are all long pieces of wood to put them together is easily done however, when placing the inner shelves, you must make sure they are put in properly as you don't want them to collapse when you put items on top of them.
Flat Pack Bed
Beds are usually the hardest to set up as there are many more nuts and bolts to add when putting it together. Each bed has the same structure: two end panels, one side panel, and a base that supports the mattress and can be composed of detachable slats or a solid base.
However, with different kinds of beds, there are different ways of building them. For example, bunk beds can be flat packed in wood or metal, but they normally have the same structure as a standard bed, with the exception that the top portion is erected first, like a table, and the lower supporting rods are added afterwards for increased stability and safety.
Flat pack beds are fantastic for kids because they come in so many different styles, but if you want something truly unique, consider a customised child's bed.
Flat Pack Dining Table
Dining tables are normally harder to piece together as they are sometimes heavier than other furniture. As the tables come in a variety of shapes and sizes, with built-in drawers, pull-out portions, and other features.
However, with a conventional design, assembly is rather simple, and all tradesmen should be able to complete it. Therefore, it is a flat pack that you can assemble yourself however it might be more of a task to do.
Flat Pack Outdoor Furniture
Outdoor flat pack furniture can be harder to set up, depending on weather conditions. Outdoor furniture is priced at the same hourly rate as indoor furniture; nevertheless, there is a 'proper moment' to build these because the elements play a large role.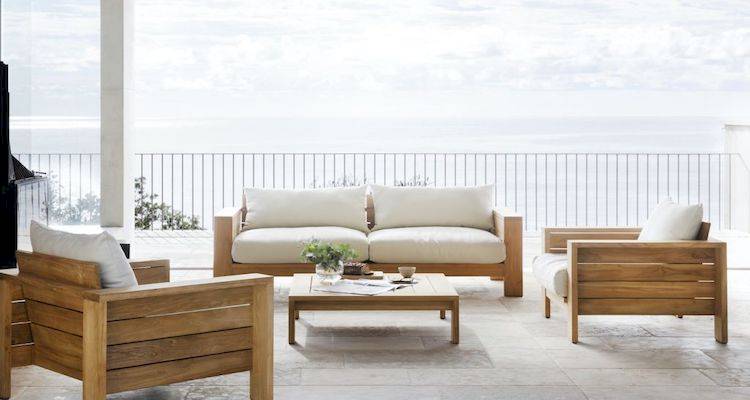 For starters, installing a trampoline in windy weather is dangerous, and no one wants to set up a swing or slide when it's pouring. Due to this, it is the timing that sometimes affects assembling your furniture.
Materials
There are multiple types of flat pack furniture, each type uses different materials. However, because it is used to be cheaper and easier to set up sometimes some furniture holds cheaper materials that they are made of.
For example, chipboard, which is usually made for countertops, is typically less expensive, but it is also fairly stable. Its main drawback is that it is more vulnerable to water damage. Solid wood can crack over time or due to environmental circumstances, but this does not happen with chipboard as it is less expensive.
Another material used is MDF, which is made from softwood and hardwood scraps mixed with wax and glued together to make a panel that is stronger than chipboard. Unlike solid wood, it is simple to mould and work with.
MDF prices vary as well, although it is far more durable than chipboard if it is of high quality. Unlike solid wood, it is simple to mould and work with. It's commonly seen in furniture like desks and cabinets.
What Are the Pros and Cons of Flat Pack Furniture?
During this section, I will break down flat pack furniture and analyse the advantages and disadvantages of the new way to install furniture in your home.
The popularity of flat pack furniture mainly grew when online shopping began to grow even bigger because people order it online and will build it when it gets delivered to their home. As you can build your home by yourself in your own time, it also comes with its disadvantages.
Manufacturers are constantly thinking of new designs that offer ease and affordability, thanks to the development of internet shopping, as spoken about before, and factory direct shipment. However, there are certain disadvantages.
We'll look at some of the primary advantages and disadvantages of flat-pack furniture to keep in mind when placing an order.
PROS
They are now less expensive than fully prepared furniture. Due to this, their inexpensive price makes up for their lack of durability. Furniture is no longer an investment in modern homes, as it was during our parents' homemaking days.
We no longer choose bulky, obtrusive furniture that takes up every inch of space and takes weeks to come. Often, we choose the cheapest option to make our homes more appealing.
They're simple to move and dismantle. This means that businesses can use fewer trucks/lorries to move goods, and you can disassemble them as needed, this is also the reason why they are quicker to get delivered than pre-made furniture.
Many people will move a few times throughout their lives, so having adaptable furniture allows you to move it around and save money by not having to hire enormous moving vehicles.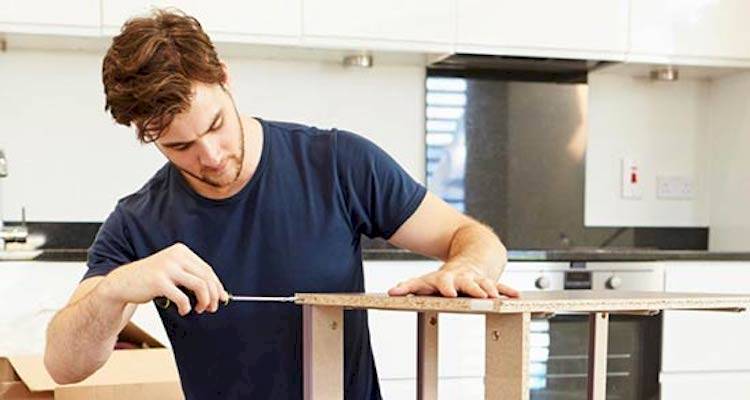 While manufacturers construct them to be small and have sliding features, they may fit into smaller places. Therefore, if you have furniture delivered but don't have enough time to deal with it, it's no problem just put it in the nearest corner and assemble it later.
Also, because they are in boxes and flat packed rather than being an awkward, set shape, they are easy to transport into your home, so they fit through every door.
They're extremely adaptable. To have them serve an entirely different purpose, simply paint them a different colour or drill a hole or two into them.
Furthermore, because it is all made available online, most designs are available in a range of colours, which appeals to you because it makes the furniture look brighter and more modern than older forms of furniture.
So, due to it mostly all being online there will be a bigger variety of colours so you may now choose from a wide range of collections to complement the decor of your home and your preferences. So, seeing more options online allows you to visualise what you can do with it.
CONS
People would say that the major downside is that assembling the parts can be difficult at times. Others may see it as a simple task, but it may require more time and work than you imagined.
Customers' most frequent complaints seem to be faulty directions and missing screws, as well as endless hours spent attempting to assemble furniture. Therefore, if you are not a DIY or hands-on type of person, flat pack furniture may not be for you.
Most of the time, if assembling flat pack furniture becomes too difficult, some people will then get a tradesman to come out and fit the furniture in.
Therefore, you can end up paying more money to have someone else come and put your flat-pack furniture together for you! This will raise the final price, something you may not have anticipated when you made your purchase!
Another disadvantage is the quality is not as good as an already put together furniture set. As they're frequently made of MDF or chipboard, they're far more fragile than solid furniture. As it is difficult to avoid the wear and tear that flat-pack furniture endures, and it's nearly impossible to restore MDF furniture.
It's difficult to change just one piece and maintain it looking new because of the designs. Due to this, dismantling the products a few times will drastically reduce their durability, and even if they are never dismantled, they will not last as long as ready-to-use furniture.
Despite the numerous shapes and colours available, some claim that every flat-pack piece of furniture appears the same since the design is minimalist, limiting individuality and uniqueness despite its modern appearance.
It might be aggravating for some people to visit a friend and discover that their home has the same or almost identical decor.
How Much Does It Cost to Assemble Flat Pack Furniture?
If you are asking a tradesman to come in and assemble the flat pack furniture for you, the cost usually depends on the time it takes to fit. However, as there are multiple types of flat pack furniture it also depends on how many people will be needed.
The average hourly rate for most tradespeople is around £20, and this is usually per person. However, a double bed could take one person two hours to construct, costing £40 in total, or two people could accomplish it in an hour for £20 each, bringing the total to £40.
Depending on the size of the furniture the average cost of assembling flat pack furniture is around £10 for 30 minutes. Even so, many tradespeople will charge for the first hour to make it worthwhile for them - £25 on average for the first hour.
There are other prices that the tradesperson will sometimes charge when it comes to assembling flat pack furniture such as the additional costs. The addiction costs sometimes include dismantling and disposal of previous furnishings, parking fees and if another tradesperson needs to come on the job. However, the cost will barely ever be more than £30.
How to Assemble Flat Pack Furniture
Assembling flat pack furniture can seem like hard work which is why some people save the stress and ask a tradesman to install the furniture into their home. However, if you are on a budget, it is possible to do it yourself.
The biggest bit of advice just follows the instructions. Don't try to skip ahead; instead, go through each step slowly and carefully, making sure you use the correct size fixes at the correct time and in the correct location.
Another piece of advice is to work in the room where you'll be utilising the furniture if you're putting together a huge item like a wardrobe together. This will make it easier when the item is built, and you will not have to pick up heavy objects and put them in another room as they will already be there.
Make sure you have enough space to work before you begin. Finding an assistant is always a smart idea as well. They have two functions. They can assist you in reading confusing instructions.
They can keep everything in place while you go about your business. This will also be an extra person to tell you if everything is going well as they will see a different perspective than you will.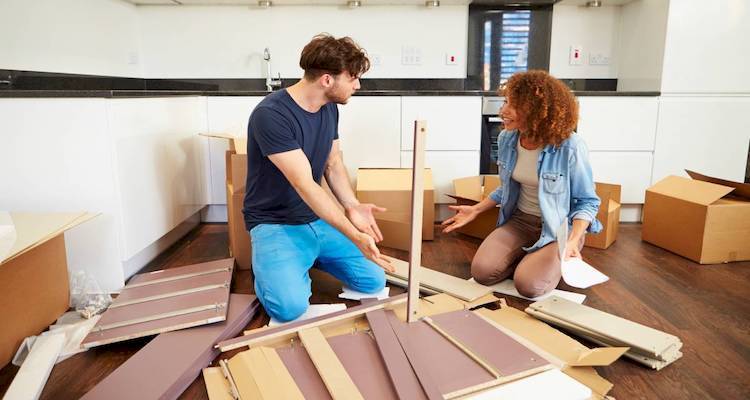 Check all the pieces before you start assembling the unit to be sure they're in good shape, as they can get knocked around during storage and delivery. This will prevent the hassle of realising something is missing or broken halfway through the process of building your furniture.
Therefore, if a piece is broken or missing the company will more than likely replace or fix the section that is broken.
As some of the parts in the flat pack may be heavy and cause you and the room to become hot therefore if the room is heated, open the window as DIY can be stressful and make you hot so always make sure you are cool and hydrated as you could faint due to overheating.
Dress comfortably and in suitable clothing, this will prevent falls and keep you safe.
Most units can benefit from the use of a battery drill/driver to assist speed up the assembly process. Simply set the speed to low and the power to low, since screws can easily be driven through chipboard.
Be extra careful when using the drill as they could create injury's or put big holes in your flat pack furniture meaning the hole will be too big for the screw.
How Long Does It Take to Assemble Flat Pack Furniture?
As there are so many different types of flat pack furniture to assemble, the time scale on how long it takes to build them varies. Also, some flat packs are harder to set up than others due to the number of nuts and bolts that are included in the process.
The timescale is one of the main reasons why people avoid buying flat pack furniture because of the fact you must install it by yourself. However, it is also one of the main reasons why it is cheaper because you must do a job by yourself instead of the company you bought your furniture from doing it for you.
When assembling a flat pack, no matter what type of furniture it is they all have the same advice such as reading the instructions, check the items, have some help if needed and have a clear space. Taking it one step at a time is the best way to go.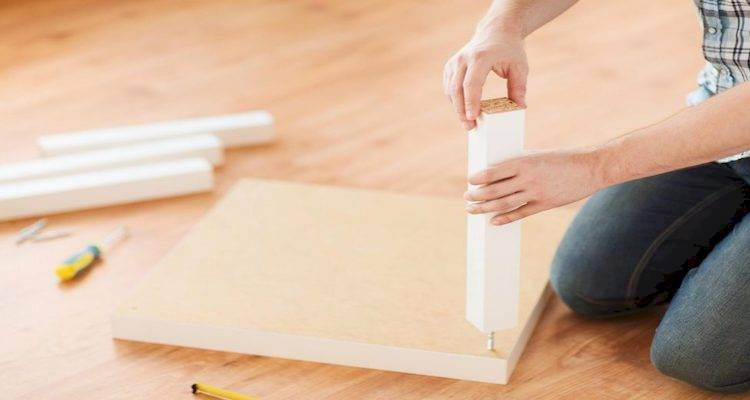 Do not rush and concentrate entirely on the step in front of you. It will go a lot faster if you follow the steps in the correct order. When you strive to hurry, you will end up taking longer.
Most of all flat pack furniture's depend on how big the furniture is as the extra help is always coming from the size of it. The average time for all types of furniture is around 1-3 hours. Therefore, when ready to assemble flat pack furniture make sure you have a big chunk of your day clear as it is not promised when you will be done.
This is a disadvantage of flat pack furniture because it can take so long to get done people would prefer to buy it already made. However, the price of it makes up for the effort spent setting up your furniture.
To help you get a better understanding of the timescales, take a look at the below table:
| Type of Furniture | Time |
| --- | --- |
| Single door wardrobe | 15-30 minutes |
| Double door wardrobe | 1 hour |
| Triple door wardrobe | 1.5 – 2 hours |
| Four-door wardrobes | 3 hours |
| Single bed | 30 minutes |
| Double bed | 45 minutes – 1 hour |
| Bunk bed | 1.5 - 2 hours |
Building Regulations or Planning Permission Approval for Flat Pack Furniture
Flat pack furniture can sometimes get in the way and will need a lot of space to set up therefore if you are in a business and you want a new desk at work you would need permission to build one.
This is because of health and safety, the dangers of building your flat pack are known, therefore the property owner may prefer it for a tradesman to come out and build it for you. However, then it includes more money and time out of the day for it to be set up.
However, if you are on your property, you won't need permission to build your flat pack furniture, as you can put it wherever you want and decide on your times. However, you will need permission to see if it is safe for someone to come out and build it for you if you are not wanting to DIY.
Considering flat pack furniture does not need to be professionally signed off, go through any health and safety checks, or require planning permission, there is a lot of potential for error, which might make things worse, especially if you make a mistake that harms your property or, worse, your health.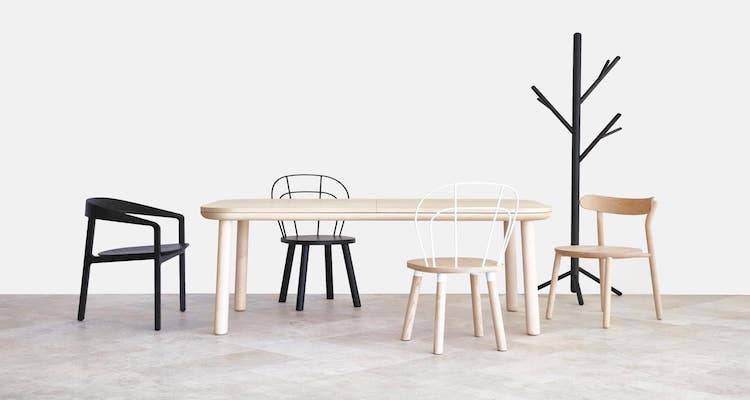 Due to this, when hiring a professional provides some peace of mind, professionalism, and a lot less effort for you to take time out of your busy schedule for the fee you pay.
Therefore, if you are building a flat pack that needs to be screwed into the wall such as a wardrobe or a bed in some cases then it is best you make sure and plan that you're aware of what is behind the wall and avoid any wires or types of material that could cause extra damage to your home.
If you are unsure, you could contact your landlord or the council to see about any application fees on your home and see if they have any information on your home and is safe to assemble flat pack furniture.
As well as this, the cost of getting a tradesman to install the flat pack into your home is probably the best option as they will have more experience and qualifications to know your home and where it can be assembled.
Questions to Ask When Hiring a Flat Pack Furniture Specialist
This section of the article will help you to be aware of questions to ask the tradesperson who will help you install your flat pack furniture. This will allow you to be more aware of what to be asking a professional.
Firstly, ask if they have enough room and will it be safe for them to set up in the room you have given them. This will ensure you that he or she will be okay building in your room, and it is safe to do so.
Ask them how long it will take. This will allow you to keep that timescale free, however, do not have 100% trust in thinking that it will be spot on because it could take less or more time than what was originally said.
Offer them drinks such as water, this will also help him stay hydrated, if they are unable to tell how long the process will take.
Make sure they have at least a valid certificate of public liability insurance. Even better, all-risks coverage is available. This ensures that any incidents are covered by their insurance policy rather than your house insurance or your finances.
Ask how long they have been a tradesman. Therefore, always inquire about the tradesperson's experience at the outset. If they can also give you proof, that's even better because you'll discover they're not "fly-by-night" sorts, which means they have a legitimate firm and address.
What types of payments do they accept and the average cost of building the flat pack? Due to this before you sign the contract, agree on the payment conditions with your tradesman. Some tradespeople would want a deposit upfront, while others will gladly complete the task and be paid later.
Some will bill you for the work, while others may need payment in cash or by credit card after the job is finished. Arrange it in a style that best suits you and makes you feel at ease, but make sure it's in writing.
FAQs
Who invented flat pack furniture?
In 1956, Gillis Lundgren came up with the concept of flat pack furniture. He attempted to load a huge table into a car boot for delivery as one of the first employees of Swedish furnishing retailer Ikea.

After wrestling with it (because of the limited area), he realised that removing the legs and loading them separately beneath the tabletop was the best method to get it into the restricted space. This is when flat pack furniture was created.
Where can you buy flat pack furniture?
Many companies now use flat pack furniture as it is growing more popular as time goes by. Now companies such as Argos, eBay, IKEA, Amazon and many other websites online.
What happens with your old furniture?
The majority of furniture can be recycled at your local recycling centre, and some local governments may offer a collection service. Or you can now sell it online such as Amazon or Facebook depending on the condition your furniture is in.

Other companies such as DFS will take old furniture from you as they state that the removal, disposal, and recycling of sofas can be handled by Sofa Rescue. They will remove your old furniture with care and dispose of your sofa in an environmentally friendly manner.
If my flat pack furniture breaks, can I replace it?
Before assembling flat pack furniture, you should always check to see if it is in the best condition. From tiny scratches to extensive structural repairs, most companies offer a wide range of furniture repair services to give the best service to their customers.
What happens if I want to return my flat pack furniture?
There is no problem with returning a piece of flat pack furniture, it is just the same as returning a normal purchase. Take everything with you, including the receipt, and they will assist you. If possible, bring it fully built. If you're not careful, disassembling it can damage it or compromise its structural strength.
Sources
https://flatpackmates.co.uk/blog/flat-pack-furniture-explained/
https://www.flatpackassemblyservices.com/what-is-flat-pack-furniture-and-what-are-the-benefits/
https://blog.fantasticservices.com/what-is-flat-pack-furniture/
https://swiftbed.com/blogs/news/advantages-disadvantages-flat-pack-furniture

Last updated by MyJobQuote on 23rd November 2021.