Chimney Repair Guide
Are you looking for information about chimney repairs? Chimney repairs can be tricky if you don't know what you're doing. This article will help to highlight everything you need to know about chimney repairs.
We will go over the different types of common chimney repairs, the pros and cons of repairing your chimney, chimney repair costs, and the questions that you should ask when finding the right contractor for the job.
We will also go over any building regulations and planning permissions required for work on your chimney and provide you with information on the best ways to clean and maintain your chimney.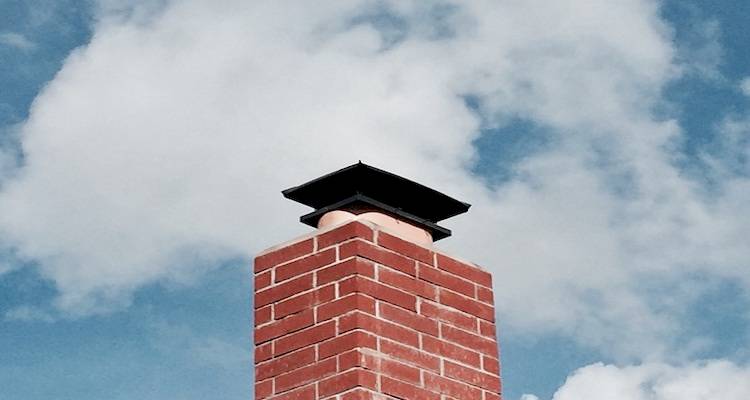 What is a Chimney Repair?
Chimneys are often neglected, especially if they are not used much and particularly in the summertime. However, it's very important to keep on top of maintaining your chimney. Regular inspections are important, and you should keep on top of keeping your chimney clean.
If you fail to keep on top of maintaining your chimney, you may encounter some problems that need to be repaired. A chimney repair will involve locating the issue and fixing whatever the problem may be. Several things can go wrong with a chimney. In the section below, we will go over the different types of chimney repairs.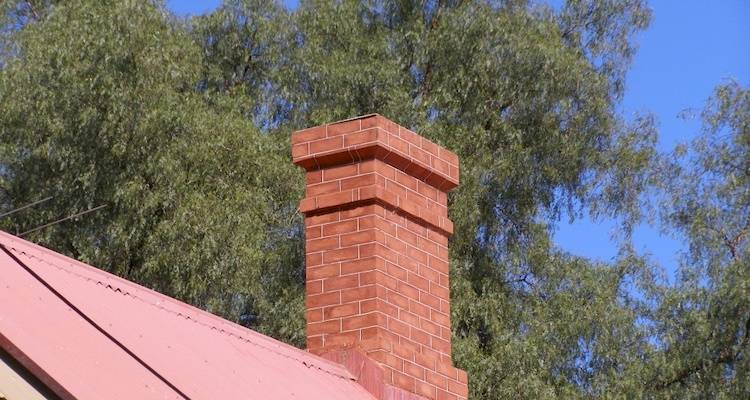 Types of Chimney Repairs
There are several different types of chimney repairs. Below is a list of the most common chimney repairs that you may need to address.
Chimney Stack Repair
The most common problem with the chimney stack is usually down the natural eroding of the pointing. This is when the joints between the courses of bricks or stone are no longer flush with the brickwork, causing it to break away. In these cases, you will need to hire a professional who will complete a chimney repointing.
Chimney Flashing Repair
Over time, the flashing in your chimney can become weak or damaged. This can cause water or moisture leaks in your chimney, which can damage the chimney stack and other areas of the chimney.
If there is any damage to your chimney flashing, the flashing will need to be replaced or repaired as soon as possible to prevent water from leaking into the chimney stack.
Chimney Leak Repair
The method of repair for a chimney leak will depend on the cause of the leak. In some cases, simply repairing or replacing the flashing will help to prevent the leak. Other times, you may need to repair or replace damaged bricks or mortar.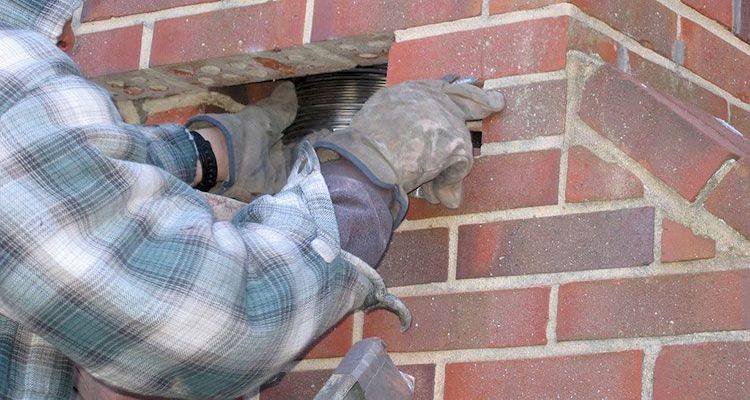 If you believe your chimney has a leak, it's a good idea to get in touch with a professional as soon as possible who will be able to identify the problem and suggest the appropriate course of action to fix the leak.
Chimney Mortar Joint Repairs
If the bricks or mortar in the chimney are damaged, the most common repair is chimney repointing. However, it may be the case that some bricks or mortar will simply need to be replaced.
Therefore, it's a good idea to get a professional to look at your chimney to determine the best repair method for your damaged chimney mortar joints.
Cracked Chimney Crown Repair
If you notice any cracks in your chimney crown, you should fix these as soon as possible. This isn't too difficult of a job and could be done as a DIY project. However, you will need to make sure you take the appropriate safety precautions.
The best method of repair is to use sealant to fill in any cracks and secure the crown. Large cracks should be filled with patching cement or silicone caulk.
What Are the Pros and Cons of Repairing a Chimney?
You may be wondering if it's worth repairing your chimney or not. To help you with your decision, take a look at the list below of the advantages and disadvantages of repairing your chimney:
PROS
Make Your Home Safer
Damage to your chimney or any of its parts could be dangerous to your home. For example, a leaking chimney could cause moisture or gases to leak into your home. This can be very dangerous for your health and could cause additional issues such as mould in your home.
By fixing any issues with your chimney, you can prevent this from happening and, therefore, make your home much safer for you and your family.
Improve The Look of Your Home
Having an old and damaged chimney at your property can be a real eyesore. By having your chimney repaired, you can greatly improve the look of your home. Fixing all issues with your chimney will make your home much more aesthetically pleasing.
Prevent Damp in The Home
A damaged chimney can cause water to leak into your home. This can cause a lot of damp, moisture, and humidity in your home. Damp in the home can be very dangerous for your health.
By fixing your chimney, you can prevent moisture from coming into your home, making your living space much safer for you and your family.
CONS
Costs of Repairs
The cost of repairing a chimney may put a lot of people off getting the work done right away. Depending on the type of chimney repair needed, the price to get your chimney fixed could end up being quite steep.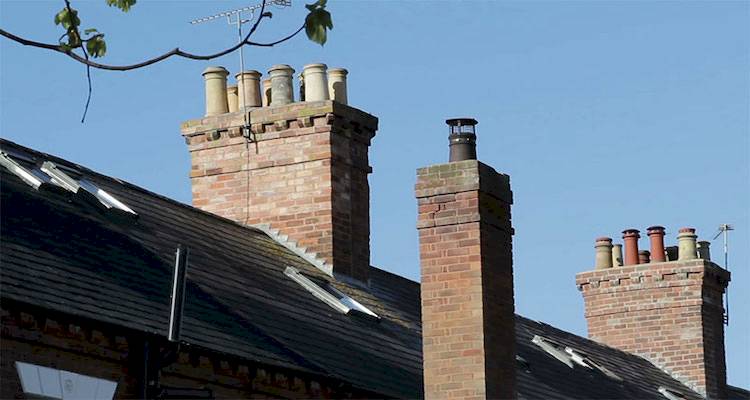 Although this may seem annoying at first, it is very important that you do get any issues with your chimney fixed as soon as possible. A damaged chimney could be very dangerous, and the problem could worsen if you choose to ignore it.
How Much Do Chimney Repairs Cost?
It can be difficult to determine how much your chimney repair is going to cost. This is because each of the chimney repairs will vary in cost depending on the type of repair needed, the level of damage, the ease of access to your roof, and your location in the UK.
For example, those based in London can expect to pay more for chimney repairs than those based in the North or other parts of the UK.
The price for replacing all four sides of your chimney flashing is around £400-£800. If you are repairing the flashing by replacing a small section or sealing up cracks, the costs may be around £200-£300.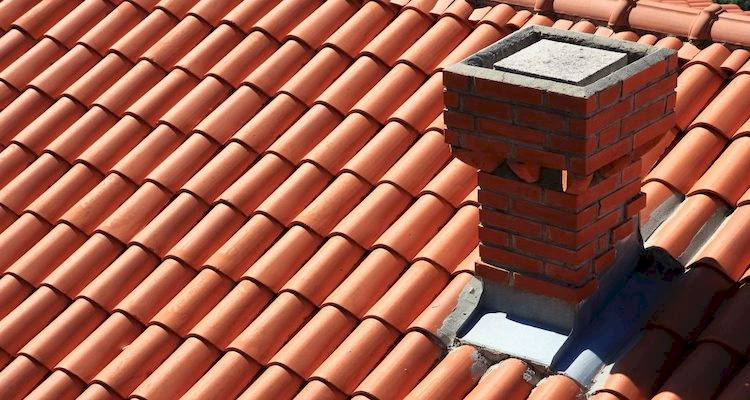 The average cost for replacing a chimney flue or lining is around £800-£1,200, depending on the size of the chimney and the grade of product used to complete the job.
If your chimney needs to be repointed, this could cost around £500-£1,000, depending on the size of the chimney and the ease of access to it.
In some cases, work on your chimney may require scaffolding. If that's the case, you can expect to pay around £200 more for the job to cover the scaffolding costs.
How to Repair a Chimney
There are several different types of chimney repair, and the method of repairing a chimney can vary depending on the issue. Below is an overview of some of the most common chimney repairs and how to go about fixing them:
Repoint Chimney
Mortar holds the chimney stack to the surrounding bricks. Over time, mortar can become loose and crumbly, which causes the stack to break away from the bricks. Repointing involves scraping out the damaged or crumbly mortar and replacing it with new mortar.
Use a joint raker to scrape out all of the loose or damaged mortar. Leave the good mortar in place. Spray down the brick with a garden hose and allow it to sit for 30 minutes. Make sure the roof is dry before you carry on with the job.
Mix up a batch of new mortar. This should be the same sort of consistency as peanut butter. Use a pointing trowel to press the mortar into all of the open joints so that it matches up with the existing mortar. Next, smooth the joints down with a tuck-pointing tool.
Caulk Around Flue and Crown
The joint between the chimney and the crown can become a problem as it can allow water to leak through and enter your home. To fix this problem, you will need to use a wire brush to clean out any debris, loose mortar, and moss from the joint.
Then, use a caulk gun and a tube of high-heat mortar to completely fill the gap with a full bead of caulk.
Patch Cracks in Crown
The chimney crown protects the chimney's masonry section and prevents water from pooling on the top. However, cracks in the chimney crown can be a big problem as water, snow, and other elements can gather there.
If the cracks on the chimney crown are large, these can be repaired with a pre-mixed cement patch or mortar. You will need to inject this mixture into the crack using a squeeze bottle or force the mixture into the cracks with a putty knife.
Patch Hairline Cracks
Hairline cracks can be fixed using a water repellent. This is a liquid substance that can penetrate through hairline cracks. The solution will seal the cracks and the surrounding areas, making the whole area waterproof.
Use a putty knife to scrape away any loose particles but try to avoid making the cracks any larger. Next, apply the water repellent to the area undiluted using a brush. Two coats should be enough to completely seal the area.
Repair Cracked Bricks
If individual chimney bricks have small cracks in them, these can usually be repaired easily with a high-heat mortar and caulking gun.
Clean the crack with the edge of a putty knife and remove any loose bits. Sweep the crack completely clean using a wire brush. Squeeze some high-heat mortar into the crack as far as it will possibly go. Wipe the mortar with a gloved finger to smooth it out. Use a rag to clean the area around the crack and make it look neat.
If the bricks have very thin, hairline cracks, these can be repaired usually by brushing them with water repellent.
Replace Cracked Bricks
If the bricks are severely damaged, the best course of action would be to remove and replace them. If you're careful, you can remove just one affected brick without altering the adjoining bricks.
Use a masonry chisel or a flat-head screwdriver to slowly chip away the mortar around the affected brick. Once the brick is loosened, you should eventually be able to pull it out by hand. Use the chisel to chip away at the remaining mortar on the adjacent bricks so that they are smooth.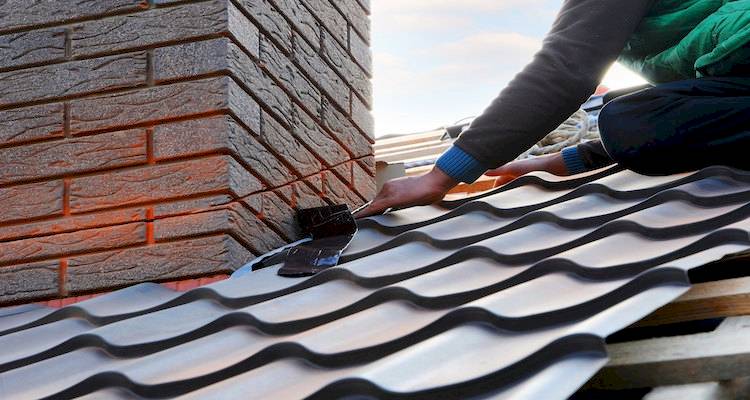 Use a small trowel and add mortar to all four sides of the new brick (not including the front or back). Push this replacement brick into place and centre it so that all four sides of the mortar are equal. Remove any excess mortar using a tuckpointing tool.
How Long Does It Take to Repair a Chimney?
If you are planning on having your chimney repaired, you may be curious as to how long the repairs will take. Chimney repairs can vary in timeframe depending on the level of the damage, the ease of access, and the difficulty of the repair.
The majority of chimney repairs can be completed within a day. Most repairs will take just a few hours to complete; however, others can take an entire day.
If you are curious about how long it will take to fix your particular chimney problem, it's a good idea to speak to a chimney specialist and ask them to come out and take a look at your chimney. They will usually inspect your chimney for damage to determine the issue.
They will then be able to provide you with an estimated timeframe on how long it will take to fix that particular problem, along with an estimated cost for the job.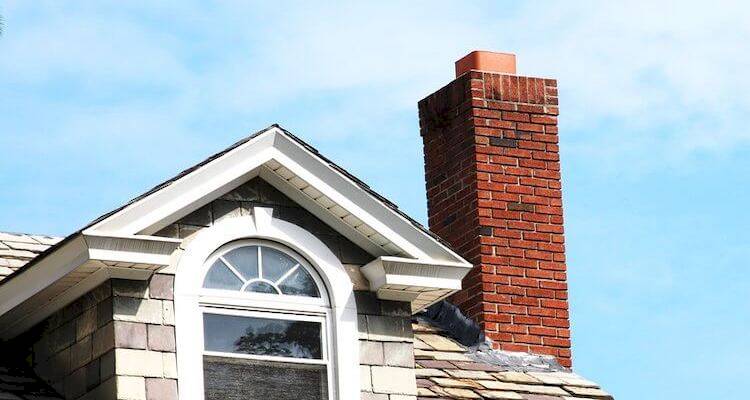 Building Regulations or Planning Permission Approval for Chimney Repairs
Fitting, replacing or altering the external flue, chimney, or soil and vent pipe is usually considered to be permitted development. This means that you will not normally require planning permission for this type of work as long as the following conditions are met:
If the building is listed or you live in a conservation area, you should check with your local council to ensure you don't need planning permission.
Flues on the rear side of a building should be allowed to a maximum of one metre above the highest part of the roof.
If you are installing a new flue, building regulations will apply. You should consider factors such as safety and ventilation. The installation will need to be carried out by a suitably qualified installer.
When it comes to simple chimney repairs, you won't usually need to worry about planning permission or building regulations. If the work alters your chimney's shape or location, you may need to follow some rules to adhere to building regulations.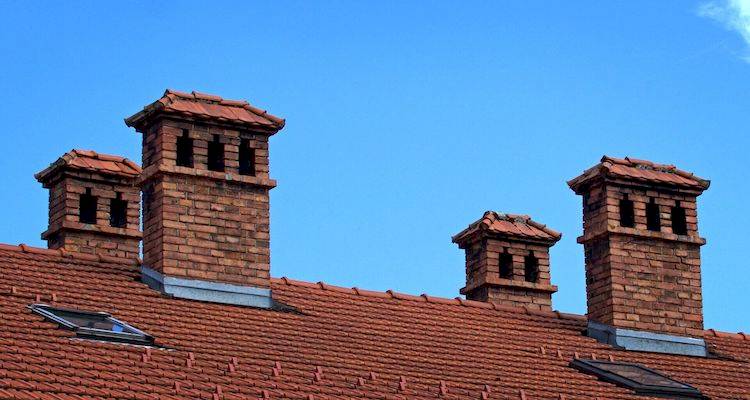 If you are unsure whether or not you may need building regulations approval, you should speak to your local council for some advice. The contractor that you hire may also be able to advise on whether building regulations approval is necessary.
However, it is ultimately the homeowner's responsibility to ensure all building regulations are adhered to.
How to Clean and Maintain a Chimney
Many people neglect their chimney or forget about it and just leave it. However, it's very important to keep on top of maintaining your chimney for the safety of you and your family. Below is a list of how to maintain your chimney:
Have your chimney swept on a regular basis by an experienced chimney sweep. Once or twice a year is usually a good number of times to keep your chimney well-maintained.
Check your carbon monoxide and smoke alarms regularly.
Inspect your chimney regularly for signs of damage or corrosion.
If burning wood, always use dry-well-seasoned wood. Otherwise, tar deposits could gather within the flue.
Check for any debris that falls down the chimney, such as pieces of mortar and bricks. This could indicate that there is some damage somewhere in the stack or crown.
Regularly test your chimney for leaks using a smoke pellet.
Ensure you get an annual gas check to ensure the fire remains safe.
Inspect the chimney stack and lookout for signs of dampness that could damage the stack.
Regularly clean the fireplace. Remove all ash and debris from the grates on a regular basis.
Fill in any cracks or gaps that you notice appearing around the fireback and the surround.
Questions to Ask When Hiring a Chimney Specialist
There are several things you may need to consider when finding the right contractor to fix your chimney for you. Below is a list of common questions that you should ask when looking for the right contractor for the job:
Does the contractor have any qualifications that relate directly to fixing chimneys?
What equipment will the contractor be using to complete the job? Will they be using the correct type of equipment? Do you need to provide any equipment?
Does the contractor possess any form of insurance for the work? You should look for contractors who have insurance that covers property damage, personal injuries, and a work guarantee.
How much experience does the contractor have in fixing chimneys? Can they provide any testimonials or evidence of previous work? Can they provide photos of previous work?
Does the contractor offer any guarantees with their work? How long does the guarantee last? What issues are covered under the guarantee? Will the contractor fix any issues that arise?
Will the contractor adhere to all necessary building regulations rules when completing the work?
FAQs
How long does a brick chimney last?
A good brick chimney should last just as long as your home. However, it could deteriorate sooner in some situations. In this article, we have outlined some of the most common problems that can occur with a brick chimney and how to easily fix them so that your chimney can last as long as possible.
What is the cause of a crumbling chimney?
Chimney are prone to crumbling with age as they tend to be positioned in exposed areas of the roof. The crumbling is usually caused by weathering.
What is a chimney rain cap?
A rain cap on a chimney sits at the top of the flue and protects the chimney from elements such as rain and snow, as well as other debris that could fall into your chimney. This cap is important on a chimney as it can help prevent water from leaking into your home.
How often should I have my chimney swept?
It is recommended that you have your chimney swept twice a year. This should be completed by a professional chimney sweep as the work can be dangerous and will often require specialised tools and equipment.
Why is my chimney leaking?
There are several possible causes for a chimney leak. Below is a list of things that could be causing your chimney to leak:
Damaged flashing
Damaged bricks
Damaged or crumbling mortar
Cracks in the chimney crown
Rain pouring through the top of the chimney
A damaged rain cap
Faulty roof tiles
A lack of roof tiles
Problems with the gutter
Sources
https://www.lordroofing.co.uk/chimney-stack-repairs-and-rebuilds
https://www.realhomes.com/advice/fireplace-and-chimney-maintenance-in-old-homes
https://www.planningportal.co.uk/info/200130/common_projects/22/flue_chimney_or_soil_and_vent_pipe
https://www.planningportal.co.uk/info/200130/common_projects/22/flue_chimney_or_soil_and_vent_pipe/2
https://www.afiddlerontheroof.com/blog/how-long-does-a-chimney-last
https://www.roofadvisor.co.uk/chimney-removal-or-repair
https://homeguides.sfgate.com/fix-crumbling-brick-chimney-30393.html