What the Interior Design Choices of Goggle Box Families Can Tell Us
Since Gogglebox's Netflix debut, families around the UK have become obsessed with watching a show about families that watch shows. However, while some are paying attention to the dramatic reactions, other viewers have started to notice the interior design of the Gogglebox stars' homes.
This ranges from inspiration to critiquing, which has now posed the question – what do their interior design choices tell us?
To answer the question, MyJobQuote decided to take an insightful look into the family homes on the current series of Gogglebox. This involves the analysis of everything from sofas and coffee tables to wallpaper and flower choices.
The Families
Over the years, there have been a variety of different families who graced our screens. Although the following families have become somewhat of a spectacle. It is no wonder that they are returning for the new series to show off their reactions and home décor.
Peter and Sophie Sandiford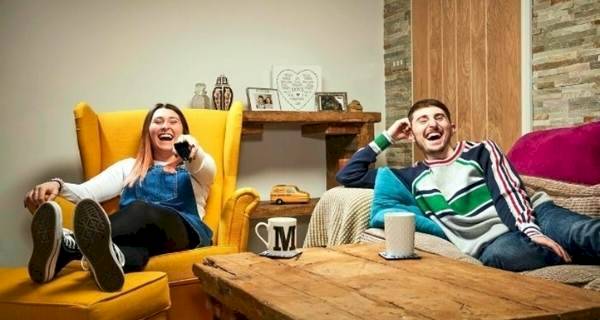 (Image: Channel 4)
While you may notice the interior of the Gogglebox stars' homes, it would be hard to miss the bright yellow chair in Peter and Sophie Sandiford's living room. The chair stands out by a mile. Reflecting high energy levels and excitement. It's is no wonder that Sophie has chosen it as her designated TV-watching seat.
Another standout piece is the hot pink blanket draped over the neutral-coloured couch. This can be seen popping out behind Peter's head.
The contrast of neutral and bright colours showcases Peter as a laidback but joyous person. Someone who enjoys a good joke or two, which is clear to see on every episode of the show.
The Plummer Family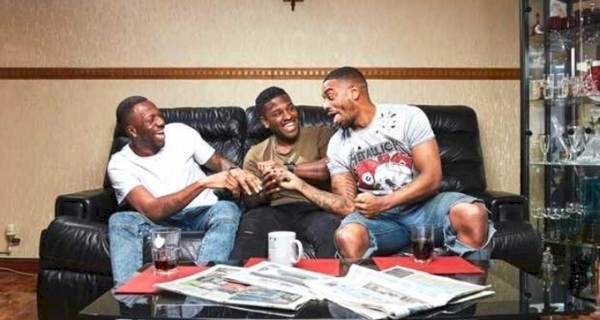 (Image: Channel 4)
Gogglebox Brothers Tristan, Tremaine and Twaine Plummer are known for being funny, football-mad and showcasing the occasional dance moves.
They usually perform their choreography on the black leather couch which just screams bachelor pad. This type of sofa also shows that the Bristolian brothers are practical, as leather couches are much easier to clean. This is very practical, as they are always seen eating and drinking on screen.
Despite the student vibe that the Plummer's décor offers, the red table mats seem to stand out a mile. They not only match but also offer a clean and organised feel.
You may also notice the glass cabinet. This is packed with fancy champagne flutes and a few glass beer mugs. This shows a level of sophistication while also letting people know that they love a good party. (pre-social distancing of course).
Malone Family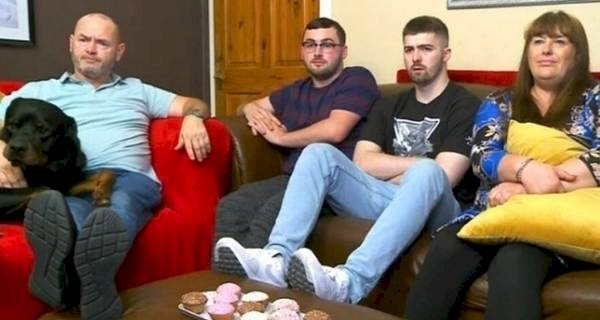 (Image: Channel 4)
The Mancunian Malone family first joined Gogglebox in series four and since then we have seen every family member on our screens.
This includes Tom Senior, wife Julie and children; Lee, Vanessa, Tom Junior, Shawn. Oh and of course their four dogs; Dave, Lucy, Izzy and Joe. All of who have all had their turn on the classic brown leather sofa.
Similar to the Plummer family, the sofa offers practicality, which is often required in a large family.
The personality of all the family members not only shines through on the show, but also is noticeable with the bright yellow cushions.
Choosing yellow as a bright contrast really shows that this family are cheerful and fun. Even when Tom Senior is fighting with Dave the dog.
Siddiqui Family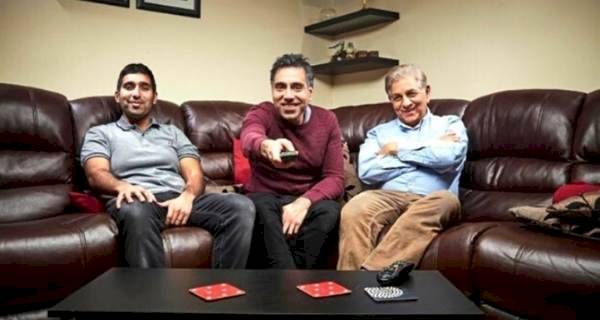 (Image: Channel 4)
Gogglebox veterans – The Siddiqui family consists of Baasit and Umar. Both of whom who have been on the show from the beginning, along with their dad Sid.
They are always seen sitting opposite ends of their large semi-circle leather couch (we're starting to see a pattern here). This is adorned with a mix of bronzed floral and red cushions which depicts a sense of solidarity and optimism.
The recent décor is seemingly an upgrade from the previous grey, brown and white décor seen previously.
This includes a faded green sofa with matching wallpaper with an old fashioned green and white border.
While this design was outdated, it did depict them as kind and nurturing. But maybe the Siddiqui's have moved on from this outlook with their new contemporary-style décor.
Mary and Marina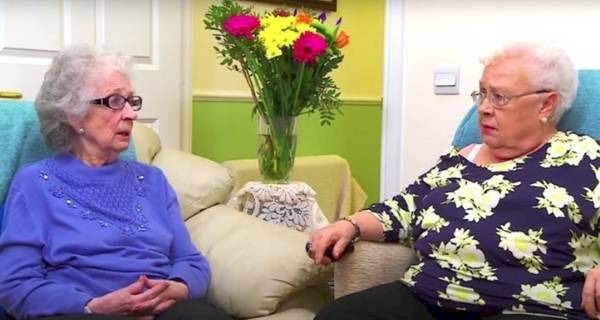 (Image: Channel 4)
Unlike the other families who are filmed in their own homes, Mary and Marina enjoy watching their TV in the comfort of a retirement home.
So technically the choice of décor is not a reflection of their personality. However, the loud and bright green walls seem to match their flamboyant character perfectly.
Before they open their mouths Mary and Marina look like a pair of reserved ladies. Sat in their equally demure cream armchairs and lace tablecloths.
However, they are also now known as TV's naughtiest nans for their crude sexual innuendo talk. Maybe sometimes the décor doesn't always do the talking.
Giles and Mary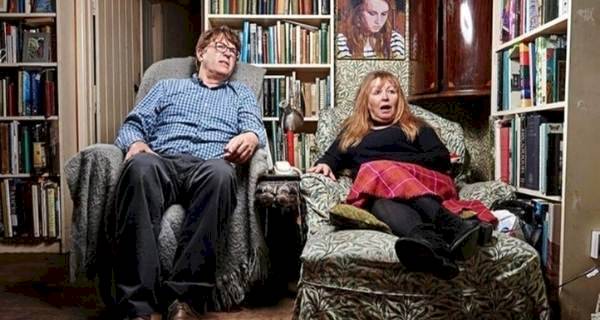 (Image: Channel 4)
One of the most eclectic families to grace the Gogglebox screen is Giles Wood and Mary Killen who live in their self-proclaimed "Grottage" in Wiltshire.
They call it this due to the paint peeling from the ceiling and the lack of central heating. However, you obviously cannot see this on the show, but we'll take their word for it.
The décor in this home screams personality from Mary's floral green armchair and matching wallpaper to the frightening-looking cat table which is sandwiched between them.
This not only showcases them as cat and flower lovers, but also as nurturers who are independent and free.
Amira and Iqra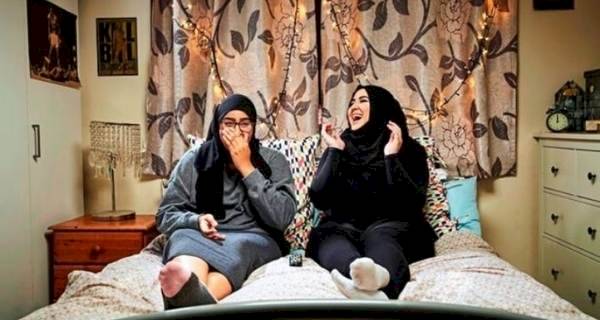 (Image: Channel 4)
Watching friends Amira and Iqra should make you feel nostalgic. The bedroom looks like a newly decorated teenage bedroom with a Kill Bill poster on the wall.
This teenage feel is also reminiscent of Iqra and Amira, who are constantly laughing and joking like two young school girls.
The highlight of the room is definitely the bronzed leafy curtains which create a cosy atmosphere. It also offers earthy toned and offers the feeling of being more grounded and comfortable.
Ellie and Izzi Warner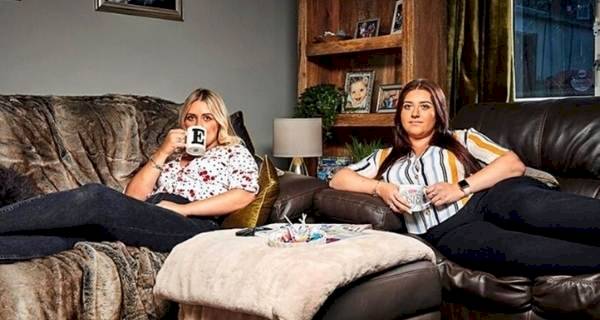 (Image: Channel 4)
Self-confessed couch potatoes Ellie and Izzi Warner joined the show in 2015 and since then have been sharing everything to the world including their toilet habits.
Despite their trash talk, the home they film in is actually the essence of contemporary sophistication with their velvet blankets and curtains.
Arguably the sisters from Leeds, have the best décor out of all the Gogglebox stars. With their grey and green décor which creates an earthy but modern feel.
This showcases their caring qualities which makes sense as Ellie is a mother of two and Ellie is a hairdresser.
Michael Family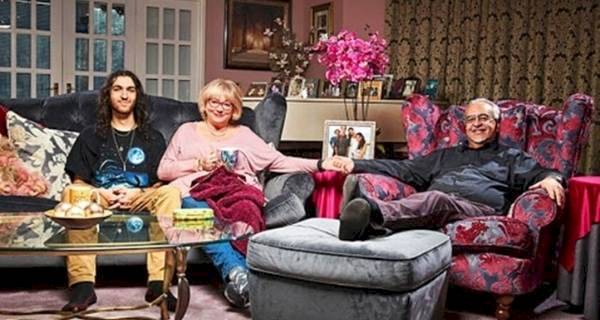 (Image: Channel 4)
The Michael's Family from Brighton have been on the show since the start, with regulars Louis and his parents Andrew and Carol.
Throughout the series, there have been glimpses of Louis' sisters Katie and twin Alex and Catheryne, as well as their brother Pascal.
They are an eclectic bunch with varying opinions, especially dad Andrew, who actually ran for UKIP in 2015, which was the reason why they were kicked off the show in the first place.
They have recently updated their living room with two lovely grey and suede sofas. Although Andrews seems to have held onto the floral pink armchair.
This, of course, matches the rest of the room's pink colour scheme carpet, pink calls, pink voiles and of course the hot pink tablecloth and flowers.
While this may appear entirely feminine, pink and grey combined creates the feeling of warmness and approachability which is exactly what you want in your living room.
Now you have more of an insight into the Gogglebox stars' homes and their personalities, you can reflect this colour schemes and ideas into your home if you wish.
But the main question is will you be able to watch the show without focusing on the mismatched cushions or will you feel inspired?
https://www.vice.com/en/article/xg8e8k/ranking-gogglebox-living-rooms-interior-design-2020
https://www.empower-yourself-with-color-psychology.com/personality-color-yellow.html
https://www.heart.co.uk/showbiz/tv-movies/giles-mary-gogglebox-age-house-nutty/
https://blog.comfort-works.com/what-does-your-sofa-say-about-your-personality/
https://www.celebsnow.co.uk/latest-celebrity-news/gogglebox-bristol-brothers-plummers-tremaine-twaine-tristan-781702
Last updated by MyJobQuote on 27th October 2020.