Top 10 Kitchen Upgrade Ideas
Whether you are looking to completely renovate your kitchen, looking for new features or replacements in your existing kitchen, we have a number of suggested upgrades you could contemplate, with their own factors to consider before purchase, which we have discussed below.
Get up to 3 Free Quotes from Local Kitchen Fitters by clicking the "Post a Job" button!
Cupboards / Drawers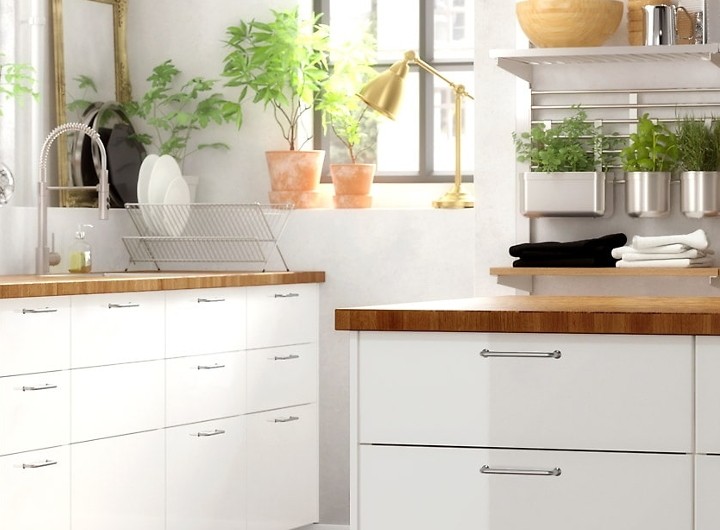 Typically, cupboards and drawers are included when considering a renovation of a kitchen, as most will choose a complete matching style for the whole kitchen.
While this is the commonplace reason to look at changing cupboards and drawers, there is no golden rule to say that you cannot make changes to your existing cupboards and drawers without renovating your whole kitchen. In some cases in can make more sense to focus on the changes you want, rather than unnecessary changes in addition.
There are many style of cabinets and drawers, below are some popular examples:
Slab – a smooth panel style, giving a fresh, clean and modern look to a kitchen. Can be very effective in both matt or gloss finishes, so you can choose which suits your kitchen best.
Freestanding – a style which is regaining it's popularity in contrast to other modern styles. Where the cabinet units are standing as individual units with their legs visible – as part of this traditional fashion.
Shaker – another traditional style, where each door and front panel has a framed feature with an inset centre panel. A simple but effective choice for many kitchens.
High Gloss – a distinct and popular variation from the slab style, where the cabinets are designed similarly, but with a high gloss look, rather than matt or a lighter gloss.
Ovens / Cookers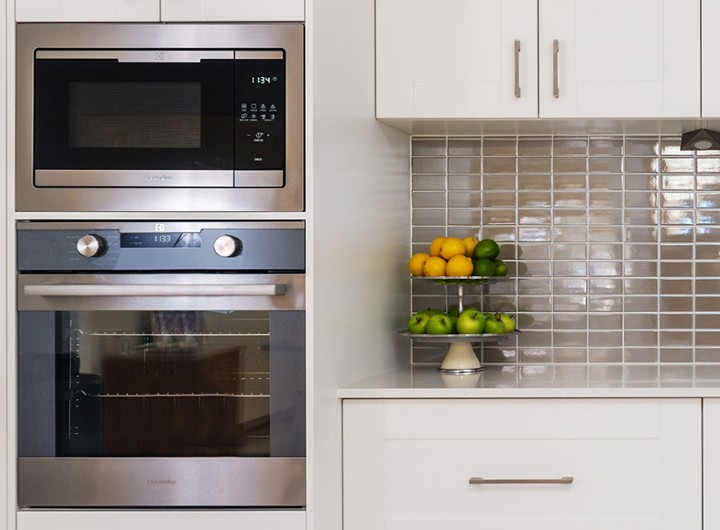 Often the central feature of a kitchen, the oven is something that you want to be right. There are many types of ovens and cooking appliances available today, from; in-built ovens to your fittings or ovens with hobs that are flush with your kitchen's worktops.
There are several types of oven which are commonly available today,
Electric Oven – the most popular type of oven nowadays, being powered entirely electrically and much simpler to be setup than traditional gas ovens
Conduction Oven – a type of electric oven, which heats from the bottom of the oven upwards, which may leave upper areas of food less cooked than lower areas
Convection Oven – a type of electric oven, which circulates air to evenly distribute the heat more evenly while also allowing for lower temperatures to be used – saving additional energy/expense
Self-Cleaning Oven – an oven with the additional function to self-clean. There are two types; Pyrolytic, which uses high temperatures to burn away stains, and Catalytic, which have chemical linings to absorb spills before becoming stains. Both types are still often expensive.
Gas Oven – a simple, traditional oven using gas for power. They can be cheaper than electric, but fitting for gas ovens can be more complicated and involve more safety precautions than a standard electric oven.
If you need a new oven or are looking for renovate your kitchen entirely, it is worthwhile spending the time looking at your options for new ovens. Particularly newer ovens can be more energy efficient, saving you time and electricity over time.
Fridges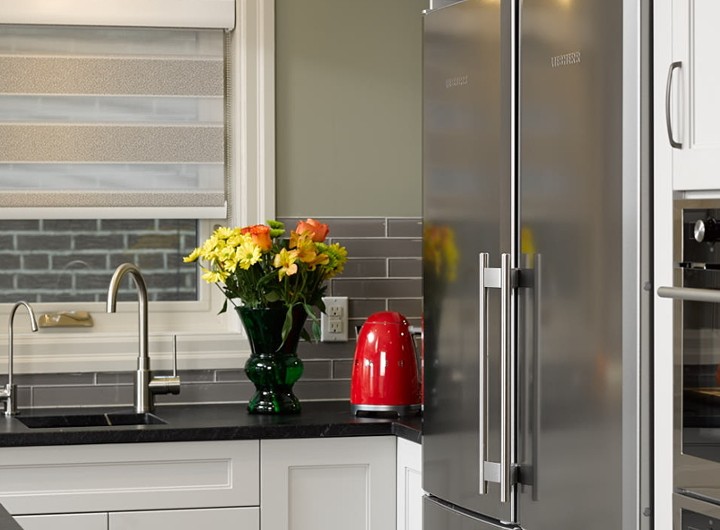 For all kinds of kitchens, there are all kinds of fridges available
Depending on the kitchen you have and the kitchen you want, there are fridges available that will suit your kitchen and your needs. Below are some key examples:
Built-In / Integrated– fridges which are designed to fit in with your chosen fittings in your kitchen. It is important to check that the dimensions of the fridge are feasible in your kitchen before installation, particularly for opening and closing the fridge doors.
Classic Style – if you prefer the traditional style of freestanding fridges or simply don't want an integrated fridge, this is the one for you! No complications, just a fridge to install in your kitchen.
Top / Bottom Freezer Refrigerator – for anyone who wants a small freezer and a fridge, this fridge with integrated freezer at the top or bottom, this can be an ideal solution
Undercounter Fridge – a smaller fridge which can be fitted inline with, or beneath, a kitchen worktop. Taking less space than larger fridges, but with a lower storage capacity as a result.
Remember that with any fridge you choose, that the space for the fridge should be properly measured and how the fridge door may be effected by any nearby fittings when opened.
Flooring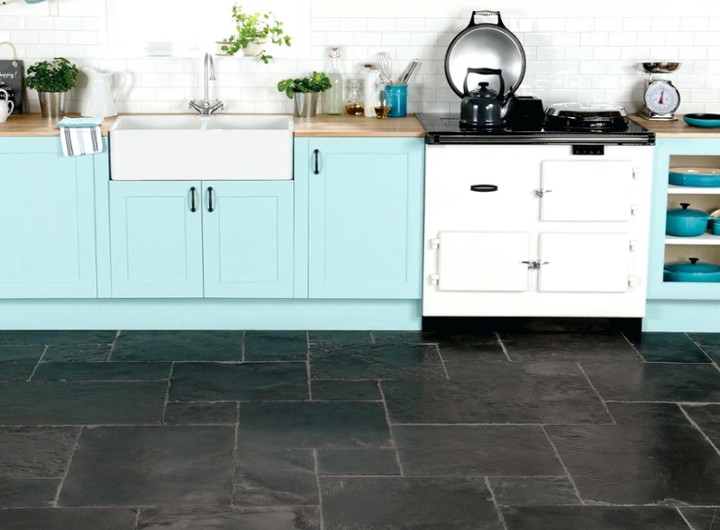 Flooring in a kitchen is a long-term choice, with many variables to weigh up before making a choice. We recommend you consider the following factors in particular to choose your flooring:
Aesthetics – judge for yourself how you think the flooring will look in your kitchen against the current or future fittings. Ideally, ask your flooring supplier for a sample of the flooring for you to judge by.
Durability And Maintenance – will this flooring be sufficient to withstand your use? Will it stain easily? How easy is it to clean? Given the long-term use of the flooring, these are factors which have a longstanding impact.
Cost – how much will this cost per tile/squared area given the size of your kitchen? Would you consider any cheaper options that meet your needs? Do you think a more expensive flooring may better suit your needs? Weigh up the advantages/disadvantages against the costs. It would be recommended to view it as a long-term investment in suitable flooring, rather than a one-off cost.
Remember that changing flooring is a considerable undertaking for a kitchen and will be there for a long time. Where possible, make your choice given that you like now and likely will still in future too.
Types of kitchen flooring:
Laminate Flooring
Vinyl Flooring
Floor Tiles
Wood Flooring
Carpets
With each type of flooring, consider their own respective advantages and disadvantages against your own requirements for flooring – plenty of choices are available, you only need to decide which is the best suited for your kitchen
Lighting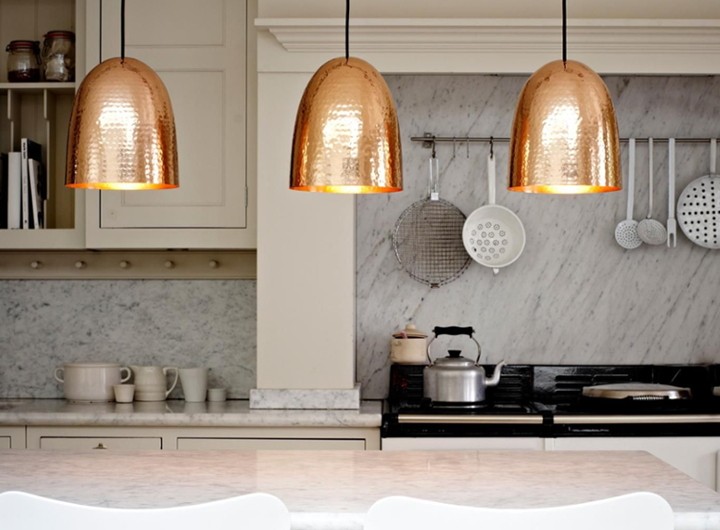 Obviously in a kitchen, good lighting is going to be necessary, however, there are several types of lighting available to choose based on your preferences and kitchen's aesthetics.
Below are some examples:
Ceiling Lights – simple attractive and traditionally styled lighting that is near to the ceiling with little risk of obstruction and can light the whole kitchen.
Track Lighting – often from a single fixture with multiple lights which can be positioned to point at the desired kitchen areas.
Recessed Lighting – a subtler form of lighting a room via with a series of recessed lights, which can be atmospheric and effective at lighting a room evenly, without being any obstruction.
LEDs – ideal for use as under cabinet lighting and any additional required lighting that benefits from smaller lighting solutions.
Task Lighting – additional lighting similar to under-cabinet and LED light usage, these are typically featured above hobs, sinks and other work areas of a kitchen, providing clear lighting for these areas of focus.
Pendant Lighting – larger hanging light fixtures, usually fitted above breakfast bars, kitchen islands or other any other dining area. Often a stylistic choice primarily to complement the style of the kitchen with the benefit of providing good lighting for these areas of focus.
Worktops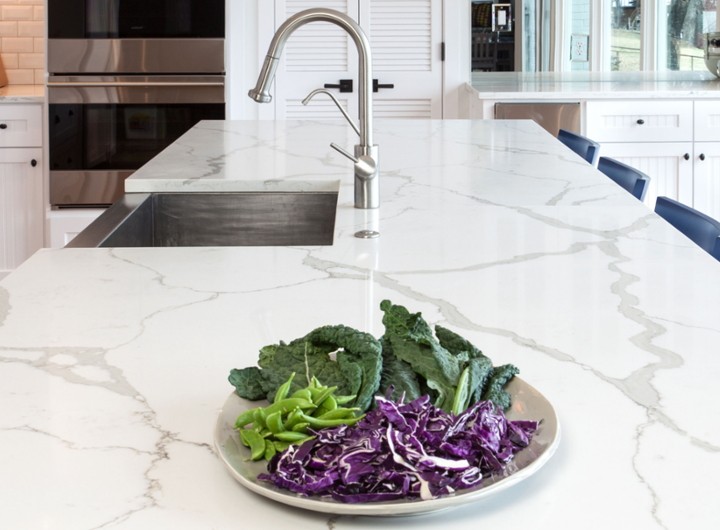 When seeking a new worktop for your kitchen, there are some key areas to think about:
Budget – the money you have available will obviously be a key part of any decision you will make. It would be advisable to set yourself a budget and conduct research into the typical costs of the approximate worktop area of your kitchen.
Style/Aesthetics – given the long-term choice that a kitchen worktop will be and how significant an element of the overall style it would be; it is advisable to consider how well the new worktop will match the style for the rest of the kitchen, whether it be a worktop for an existing kitchen layout or for a new planned kitchen renovation.
Layout – this will depend on the current or planned layout for your kitchen; some materials will be more adaptable for more complex layouts (being possible to cut/mould as required) while other materials may be best suited to simpler layouts with more long straight areas, rather than for curved or angled worktops.
Maintenance – how easy your worktop will be to maintain. Some materials will require more maintenance and for most, a worktop with less maintenance is preferred.
Thickness – an additional consideration is the depth of the worktop material, without costing too much, or conversely, that is isn't too thin and may be weaker as a result.
Materials – the choice of material will likely be informed by other factors, such as cost, aesthetics and maintenance. There are a number of popular materials that could be chosen from, including; laminate, metal, composite, stone, wood/timber, glass, concrete. Choosing for your kitchen will likely depend on your preferences and these additional factors
Breakfast Bars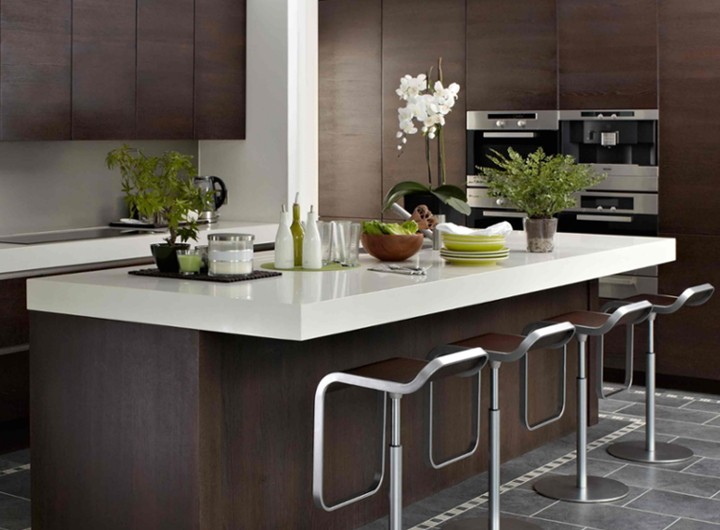 Breakfast bars are typically part of a complete renovation of a kitchen where the whole layout will be planned out. In this situation the option of any proposed breakfast bar should be weighed up on some of the following factors:
Size – Firstly, will you have enough room in your kitchen? Not all kitchens are big enough to feature a breakfast bar, so if it won't be feasible, don't waste time when other areas could be focused on improving realistically instead.
Use – Is a breakfast bar something you will practically use in your day to day life? Although they are not necessarily for breakfast alone, will you be using the breakfast bar enough to warrant having one or would you prefer to eat elsewhere usually?
Sacrifices/Alternatives – Weigh up any alternative features you may prefer and if any space is being sacrificed that could be better used by other kitchen features.
Cost – will the difference in cost by including a breakfast bar be acceptable? Some plans may be easily adapted to include/exclude a breakfast bar, where the cost will increase nominally for the additional labour/materials, but if including a breakfast bar will involve a large redesign, then the cost may increase significantly.
After considering these factors, you will likely be sure if you want to install a breakfast bar in your kitchen
Shelves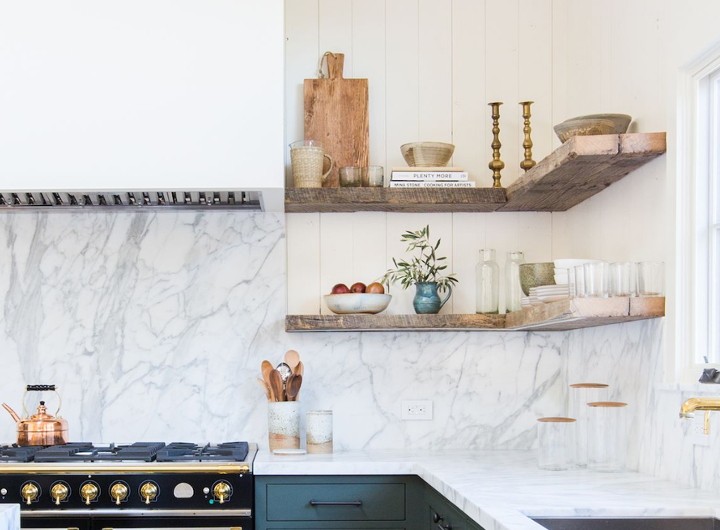 Another simple idea that provides easy storage to items while being a great storage solution. Wherever you have some spare wall space in your kitchen – this is an opportunity to capitalise on this area for useful items.
Whether you want to store your spice rack, some holiday mementos from years gone by or some utensils – additional shelving can be the home for them.
You can always hire a local handyman for this type of work, but if you are a keen on your DIY work, this is an opportunity to show off your skills!
Utensil Hangers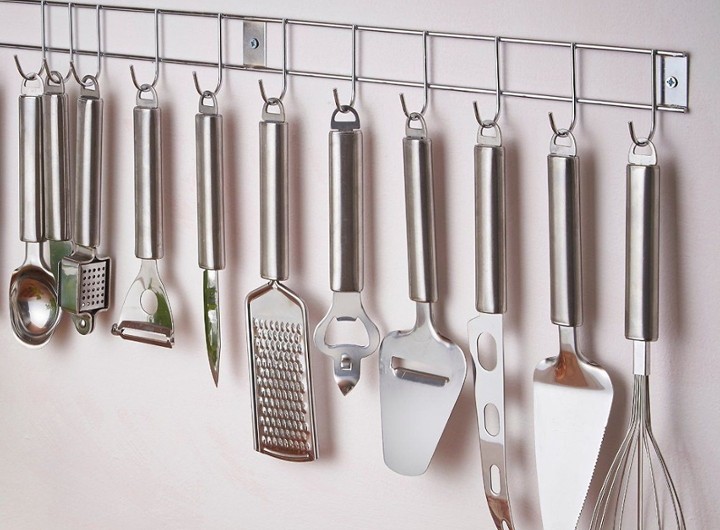 A small addition that can provide you with a new level of convenience. Utensil hangers will allow you to keep all your utensils out of the way of your ordinary cooking, but within easy reach for when you need to.
They are comprised of a simple frame with hooks to hang the utensils on & nothing else – a great idea with no complications to make your life that little bit easier.
You could repurpose any existing hooks or even build your own, but rest assured that buying one will be quite easy and fairly cheap.
Kitchen Sinks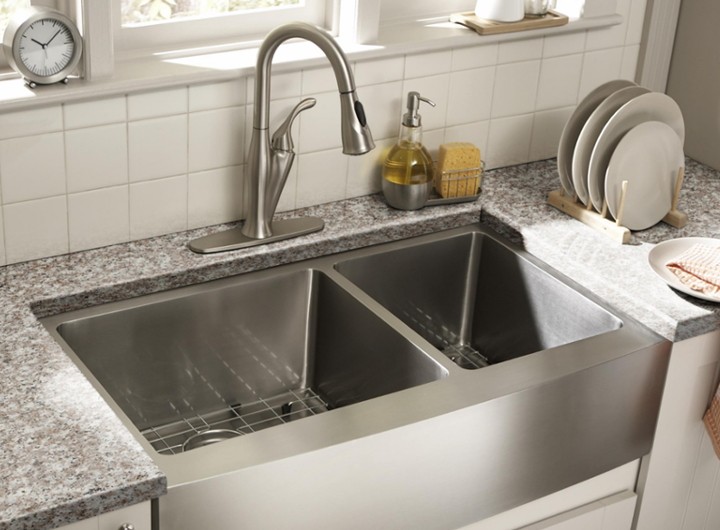 Of course, we are covering all important aspects, so of course, we have included the kitchen sink!
Perhaps the most important factor to consider when looking at new sinks is that you will need to fit your needs; Will it be big enough to fit your plates in for washing them? Will you be sacrificing a lot of worktop space for a sink that would have only nominal use?
After determining the type and size of sink you want, the secondary consideration is a style that matches your kitchen. Often modern style kitchens pair well with metallic sinks for example. If you are looking for a complete renovation, there will often be sinks that are made to match with the rest of a kitchen's fittings, but don't let that stop you looking at any other styles that you think would suit your future kitchen.
Last updated by MyJobQuote on 19th February 2019.