Making a Doorway in an Internal Wall
Making a new doorway indoors is a popular DIY project which can be carried out on both non load or load bearing walls. To carry out this job on a DIY basis you will require a pre-stressed concrete lintel, sufficient sand and cement, slate, adjustable steel props, timber support, scaffold boards, door linings, architrave, sleeved frame fixings, timber offcuts, nails, hammer, bolster, electric masonry drill, spirit level, mitre block and saw. If making a doorway in an internal load-bearing wall, you must consult your local authority building inspector before starting the job. The preparation for this job begins with finding out where all the wiring and plumbing are located throughout the wall – cutting through electrical wiring or water pipes is not recommended!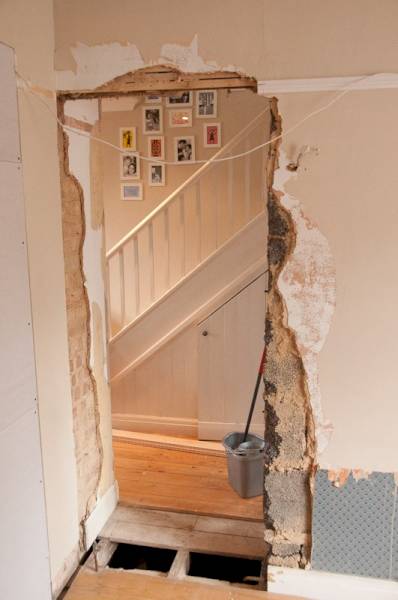 Once you have checked with your local building inspector, or if you are 100% certain the wall is not load bearing, then begin by marking the new opening and removing any skirting boards with a crowbar. To work out the new door width, include both legs of the lining, plus 25mm to the door size. For height, allow for the lining plus 10mm in addition to your new door height. Once the plasterwork has been removed, cut off the laths with a chisel and saw then cut two studs to the height of the door and nail them between the head and the sill to become the new door jambs. Fill any gaps between the wall surface and new studs with trimmed plasterboard then fit the door lining and plaster the wall. when finished plastering replace the architraves and skirting boards, then fit a 25mm timber frame in the new door opening. Next fit the door lining with galvanized fixings and finally fill in any gaps between the brickwork with mortar.
The construction of the walls is a good indication of whether its load bearing or not. Load-bearing walls are usually made of bricks or blocks, so stud or partition walls are not normally load-bearing walls. However, even some stud walls are classed as load-bearing if they add to the stability of the structure, even if they are not directly holding up the structure. when it comes to making doorways in load bearing walls, there are serious consequences if the job is not done correctly, your house could quite literally fall down! So, unless you have building experience and are very confident in your DIY skills, it should probably be best left to a local builder. However, if you are doing the job yourself, you will need a pre-stressed concrete lintel to be placed above the door frame, which will also need to be supported using adjustable steel props until in place.
Last updated by MyJobQuote on 16th July 2015.