Home Lighting Ideas– Create Mood and Style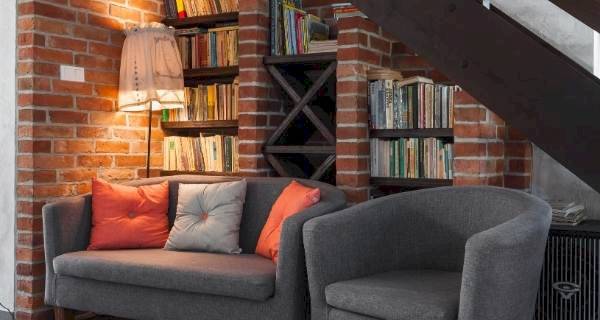 Having the right lighting in your home will make a big difference to how each room feels and how useful it is. Choosing and installing lighting doesn't have to be difficult and with the right tradesperson, you can have your lighting installed with little or no disruption to your home.
Installing mains lighting will require a professional to come and install, as adding electrical points requires a certification. Failure to do so can invalidate your insurance on your home.
Let's look at each room in a typical house and see how you can improve your lighting options. We'll also include some fun lighting options that can be used in any room around the home.
Kitchen Lighting Options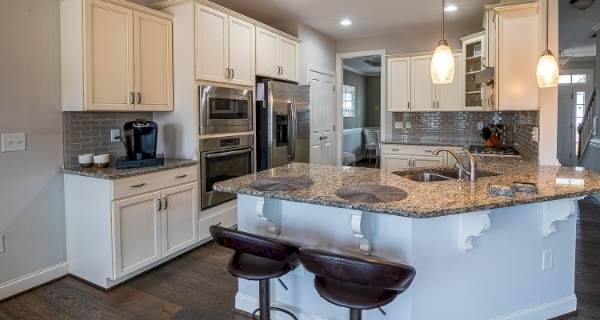 Many older kitchens will have one main light. This main light is typically a fluorescent style tube that lights up the whole of the kitchen and doesn't really create a relaxed or welcoming feel. Here is how you can improve the lighting.
Main Light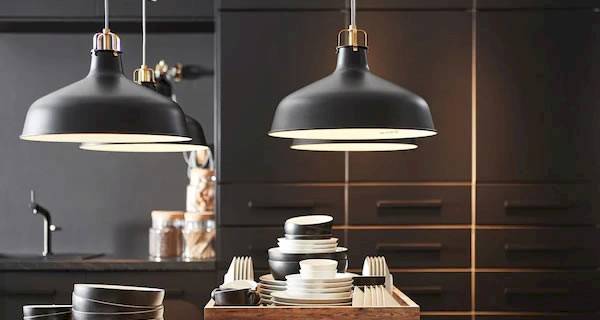 Changing the main light in the kitchen from the fluorescent tube to something with a bit more style is one of the main things you can do. It will require minimal wiring and can be done in a couple of hours. Adding directional spotlights is a great way to point the light just where you want or need it.
Counter Lighting
Adding lighting under your cupboards is easier than you think. Many people think that it will require pulling off the units and channelling out the walls in order to be able to add in this great way of adding some mood lighting.
Adding lighting under the cupboards will also provide you with ideal lighting when working on the countertop and mean you will easily be able to see what you are doing when preparing food for dinner.
Kitchen Kickboard Lights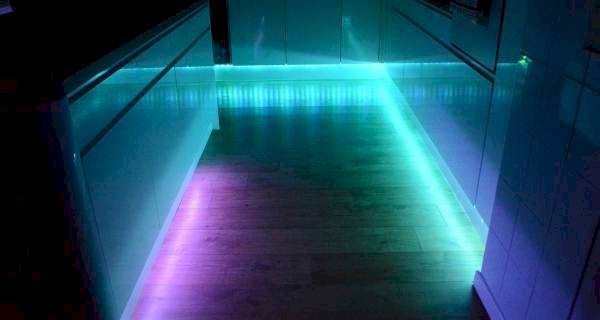 Adding LED lighting to the kickboard provides a nice glow from the ground level. They often provide enough of a glow for you to see what you are doing in the kitchen, without the need to turn on the main lights.
Kitchen Lamps
If you have a corner of your kitchen you can add a lamp to, then this is a great budget way of adding some mood lighting to a kitchen without the need to install electrics. While this is a good option, it does not provide the same feel as the other options and also takes up precious space.
Living Room Lighting
Even if you are relaxing and reading a book, the last thing you will want is a harsh light that keeps you awake. Strong white/blue light will not help you relax of an evening and you'll therefore find it harder to fall asleep when you go to bed.
Replace the main living room light
While it is good to have a bright light in your living room when you need it, the main light isn't one that will normally help you relax and unwind. If you go to bed feeling wide awake, it could be that your living room lighting is keeping you stimulated for longer.
Replace your main light with one that is a warmer glow and use a shade that calms the light that is coming from the main bulb. Up lighting is a great way of doing this, as the light is reflected on to the ceiling and defused around the room.
Standing Lamps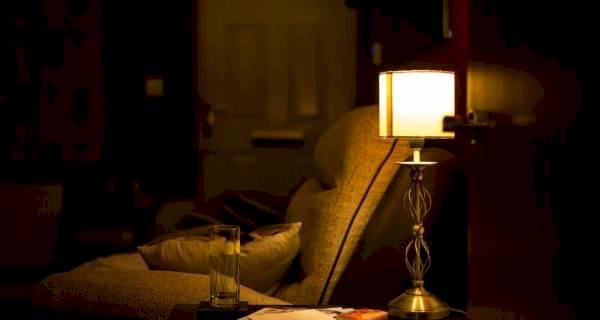 If you want to see what you are doing in a specific part of your living room, then adding a standing lamp will help focus the light in that area. Having a light source that can be moved to where you want it is important, as it will also mean others in the room are not disturbed by the light.
Creating a Light Glow
Think about the colour of the light that is coming from the bulbs on your chosen lighting. Lights with more of an orange tint to them will be more warming and therefore more relaxing.
Changing the colour of the bulbs can be done with the main lights, but also with things like fairy lights around a bookcase or a string of USB fairy lights that are in a jar or vase.
Bedroom Lighting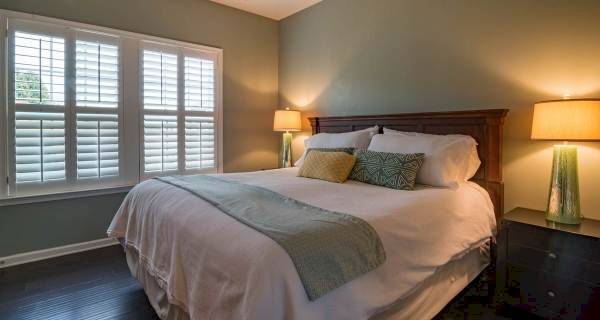 You're all relaxed and feeling sleepy in the living room and you decide it's time to head to bed. Is the first thing you do switch on the main light when you get to your bedroom? Do you need a bright light? It's probably going to wake you up again after feeling all relaxed.
Main Bedroom Light
What is it you need from a bedroom light? It's probably more useful to have something that is not going to awaken your senses (unless you need it to wake you up), but when going to bed, you'll be better off with soft lighting that will keep that relaxing feeling.
Replace the bulb in your main bedroom light, but also think about adding in a dimmer switch, as this will mean you have the bright light when you need it but can have a more calming light that will help towards a more peaceful sleep. Consider adding a dimmer switch so you can choose a brightness that suits you.
Bedroom Side Lamp
Having a soft warm glow from a side lamp is a lot more relaxing than having a bight light on. Whichever side lamp you choose, it is better to have one that you can easily reach and turn off or even better is one that will turn off for you after a set amount of time.
Combine it all in one and use a wake-up alarm sleep light that will also gently bring in the daylight for you and awaken you gently and help feel more refreshed.
Garden Lighting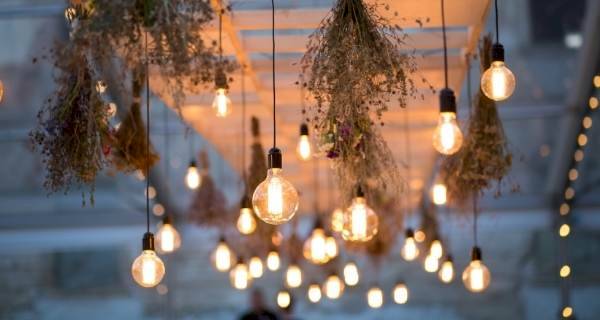 As the nights get longer, it can be less inviting to spend time in the garden. It doesn't have to be this way if you install some of the great lighting options in your garden.
There are so many options when it comes to garden lighting that we wrote a separate post on it. You can read more about it in our Lighting Ideas For Your Garden post.
As an idea though, you can install a flood light (if you need to see a lot in the garden), decking lights, solar lights, candle lighting, fairy lights and more. Add a splash of colour around the holidays to bring some life to your garden.
Overall Lighting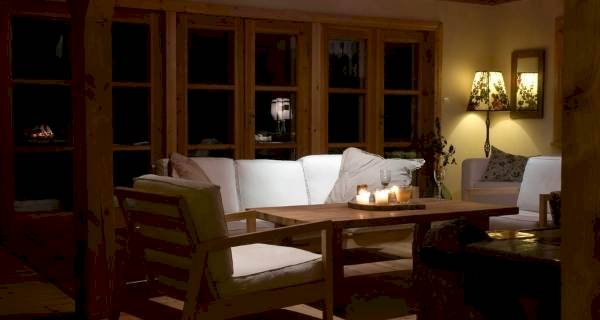 Think about how the lighting looks in each room and how it makes you feel. A warming side lamp or salt lamp in a bedroom will be more relaxing and you'll have better nights sleep.
Dimmer Switch
A dimmer switch is easy to install and can be done yourself, but we always recommend getting in a professional to install them for you, as you don't want to get the wiring done incorrectly.
Smart Lighting
Lights that hook up to your Wi-Fi and can be controlled via an app or are voice activated are a great wat to add mood lighting. If you're not sure or need help setting them up, post a job & contact local tradespeople. You'll be up and running in no time. They can also help with adding extra sockets or power points if you need them. Just mention this when asking for a quote.
Position of Lighting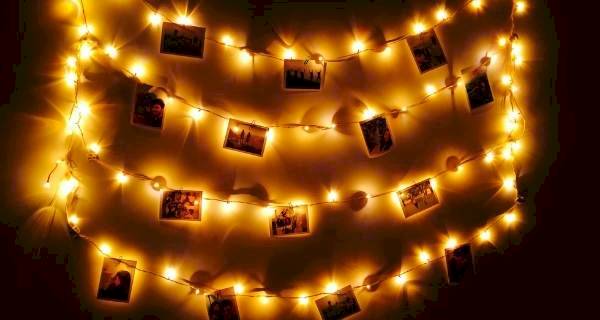 The position of the lighting matters a lot. Shining lights at a wall, floor or ceiling will help reflect the light back into the room, but with a much softer lighting feel. Remember, you're at home to relax, not to be interrogated.
Which Lighting to Change First?
When it comes to upgrading and lighting your home better, there are many options you can choose from. The main option you have though is to which room will you upgrade your lighting first.
Ask yourself these questions: Which room do you spend most of your time in? Which room would you like to use more, but needs decorating? What kind of lighting would you like to install? Once you can answer these simple questions, all you need to do is request up to three free quotes from local tradespeople and let them take care of the rest for you.
Last updated by MyJobQuote on 26th October 2020.