Home Improvements on a Budget – Inside Your Home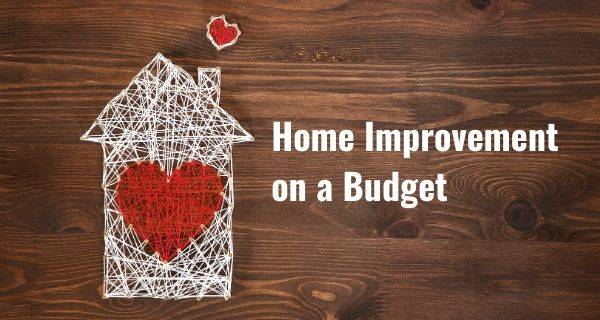 Improving how your home looks is a task you should enjoy. Improving your home isn't just getting a new kitchen, converting the loft or giving a room a new lick of paint. Some of these are larger jobs that should be left to professionals, but there are home improvements on a budget that you can easily do and are a great way to keep your home looking fresh, without breaking the bank.
Paint Your Front Door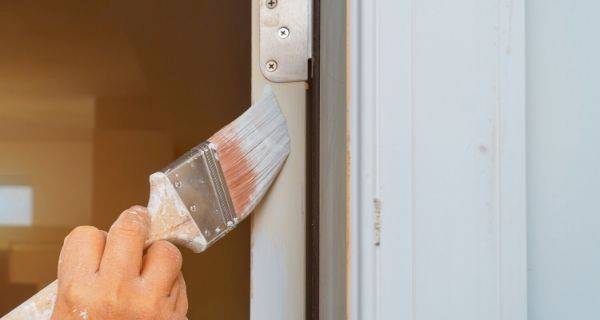 For most of us, the front door is where we come in and out on a daily basis with little thought or care for what it looks like or what colour it is. You can invest in getting a new front door but choosing to paint your front door and keeping it clean and fresh will certainly improve your homes kerb appeal. It will also increase the life of your door, as it will help protect it from the weather elements it has to face each day.
Clean Your Carpets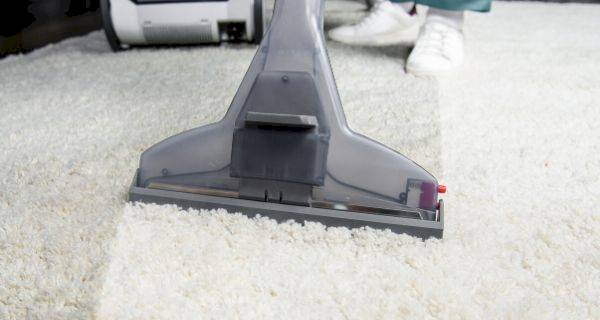 If you are thinking about getting new carpets, but don't have the budget right now? Or are your carpets looking a little grubby? Late spring and early summer are a great time to freshen up your home by cleaning your carpets. You can hire a carpet cleaner from your local supermarket or DIY store and give your carpets a good clean and make your carpets look fresh again.
It is best to do this on a warmer day, so you can open the windows to help the carpet dry quicker, as you will not be able to walk on the carpets while they are damp.
Give a Room a Fresh Paint
Have a look around the room, can you see marks where the previous owners might not have painted the wall very well or you might just want to change the look and feel of the room to something a bit funkier and more modern. Maybe paint a wall with this year's colour. Giving your room a new look can help improve your mood and help make your home feel like a new space again you want to spend time in. So, grab that paint brush, roller and get to work. If you have Instagram, tag us and we might share your results to help inspire others.
Paint Cupboard Doors (Budget Kitchen Upgrade)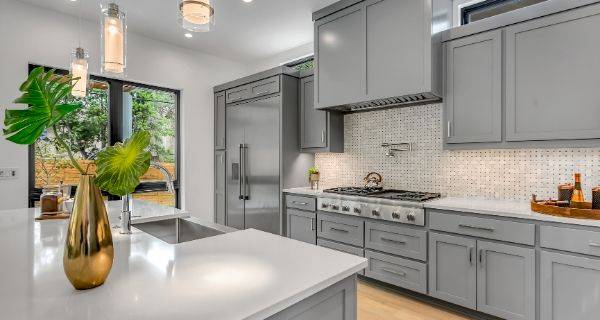 You might have your heart set on installing a new kitchen, but maybe right now it's just not in your budget. A more budget friendly option or upgrading your kitchen is to take off each of the doors and give them a lick of paint. Taking your time to note where each door goes when you take them off if key, as you don't want to be trying to put back a door in the wrong space.
Prepare each of the doors with a light sanding before you paint them and we think you will be surprised with the fresh new look you can give your kitchen with this home improvements on a budget task.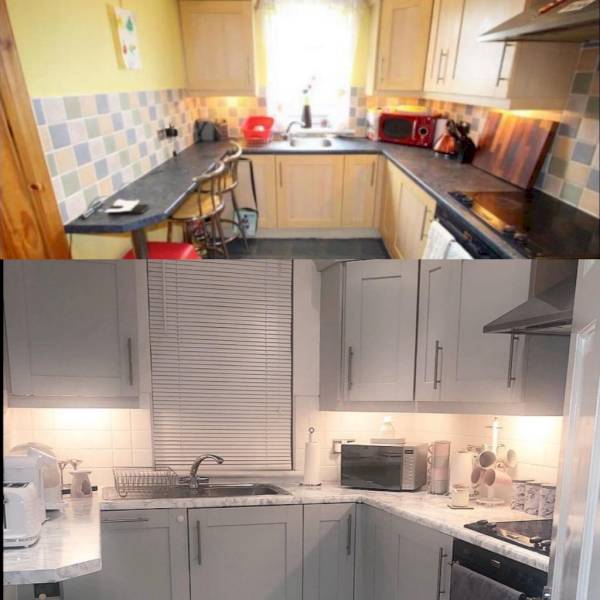 Image Source: Facebook – DIY on a Budget Official
Cleaning Inside Windows (Feel Fresh)
Take down the curtains, nets or blinds form around the window and give them all a wash. When washing the nets and curtains be sure to follow the washing instructions carefully, as you don't want to shrink them.
While you are washing your curtains, take a warm damp cloth and wipe around all the frame and windows. Around the windows and the windows themselves is an area where dust can unexpectantly gather. Or your pet can paint you a nice window drizzle artwork with their nose.
Curtains and nets can normally dry in place, as you are hanging them up. Washing your curtains and windows can certainly help your home feel fresh again.
Storage and Shelving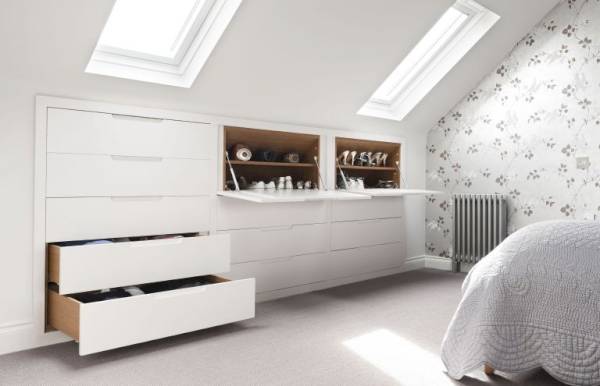 Adding shelving or storage in a room will help you keep things organised and also look better. Grab your spirit level, stud finder and drill and get organised. If you like to feel organised, have you read our guide on decluttering your home?
The Kalax range from Ikea is a great storage solution and you can keep all your belongings organised and neat in a wide range of boxes or just use them as a shelving unit.
Change Your Cushions
Changing round the cushions or changing the colour of the cushions is a simple way to change the look of your room. Combined with some of the other projects on this list, you can easily create a new look to any room in the home.
You can choose to dye the cushion covers you have, but be careful, as this can transfer you or the item they are on if the correct process isn't followed.
Paint Bedroom Cupboards and Wardrobes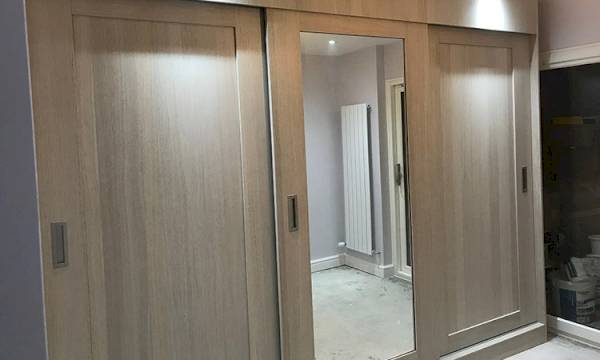 Your cupboards can attract knocks over time, or you may even have some older looking cupboards or wardrobes that you're thinking of replacing. Instead of buying new cupboards, give them a renewed new look on a budget by painting them. This is cheaper than buying a new set and is very rewarding to see when complete.
Paint Dining Chairs and Table
Similar to the cupboards, chairs get knocked and maybe even drink or food dropped on them. Painting or staining your table and chairs with a new colour will make them look like new again. Just make sure they are dry before you sit down on them again.
Change Lampshades
Do you have a bulb dangling on a cord because you didn't quite get around to buying the lampshades you wanted? Take a moment to finally add some finishing touches to a room by adding a nice lampshade that casts the light around the room to create a cosy feeling in the evening.
Hang Wallpaper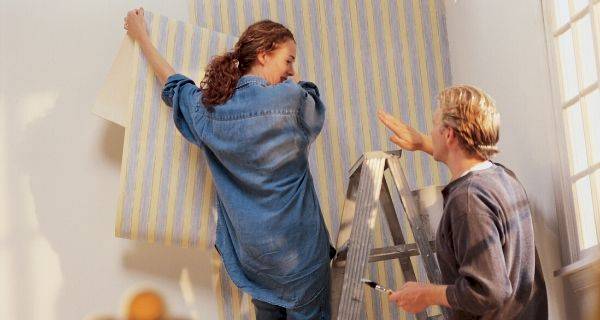 Are your walls looking a little bare? How about choosing a wall to hang wallpaper, to give your room a new look with a couple of rolls of wallpaper, this is a task that you can do on a minimal budget while giving your room a new look.
If you are new to hanging wallpaper, it's best to choose one with minimal pattern on, as this will help with matching it up. Also, make sure you hang the wallpaper up the right way around, this is an all too common a mistake and is hard to correct.
Declutter Your Home
When decorating a room in your home it's good to pack it up, declutter and only put back in the room the items you want in there. Home improvements on a budget are not all about spending, this is one task that is free and can be done as often as you choose.
We're not saying make is a show home, but just removing items that are no longer of any use to you. Our guide on decluttering your home in three steps will help and goes in to more details, but removing items form your home that you no longer use or need will help you reclaim space and give you a calming space to relax in.
Plumbing, Electrics or Gas
Some tasks should only be tackled by a professional, if you need any work done on these items, make sure you contact a professional. You can get up to three free quotes on these tasks from local trades with us. Not getting a professional to do these jobs can void any insurance you have.
Last updated by MyJobQuote on 20th April 2020.