15 Ways to Liven Up Your Garden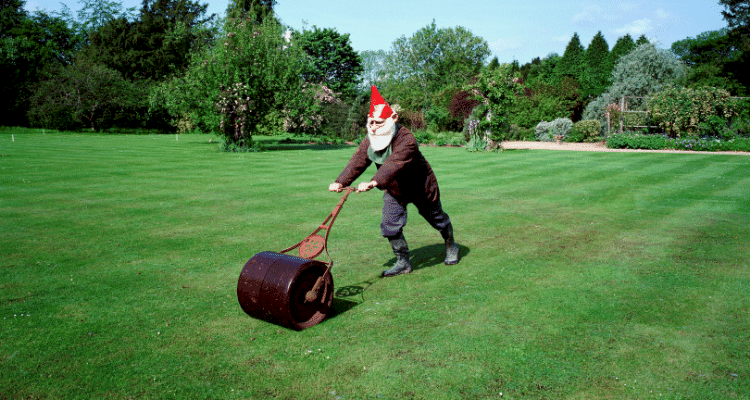 Summertime in the UK is a wonderful thing. When the sun shines, we like to make the most of our gardens and the sunshine the warmer weather brings with it. Bring more fun to your garden this summer by including some or all of these ideas to liven up your garden.
1. Paint Your Fence
Bringing in colour to your garden starts right from the edge. Most of the time, a fence is a grey withered looking colour. Staining or painting your fence with a brighter colour will bring the sun's warmth into the garden, making it a more enjoyable space to be in.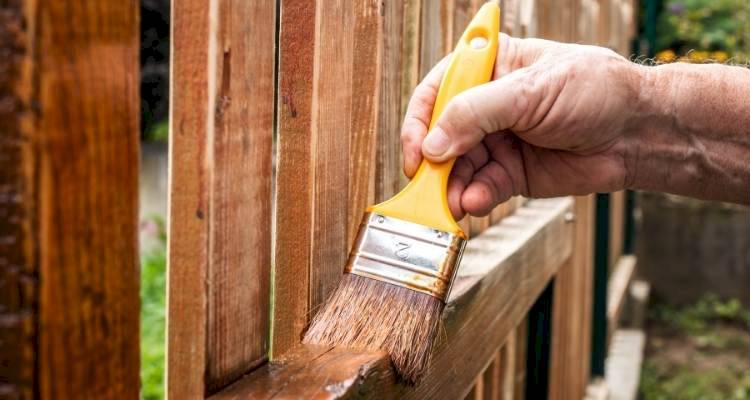 You can choose a traditional colour like oak or willow, or you can choose to paint your garden fence with something brighter. Brighter colours like wild thyme or cornflower are lighter and will help your plants and flowers pop out a little more than traditional colours.
2. Include Lots of Colourful Plants
Plant your garden to bloom in colour for the summer months. Flowers like Fuchsia, Hydrangea, or Cosmea, Cosmos bipinnatus are bright flowers that are easy to grow.
If you need help with what will grow well in your garden, you can contact a local gardener to help landscape your garden with colourful plants that will last.
3. Build a BBQ Area
Having a dedicated BBQ area of your garden will mean you can easily have BBQs all year round. Including enough space to add a cover to keep you sheltered in the sun, but also from any rain showers that might happen. There is enough space in every garden for a BBQ, take a look at these garden BBQ ideas.
4. Create a Decking Area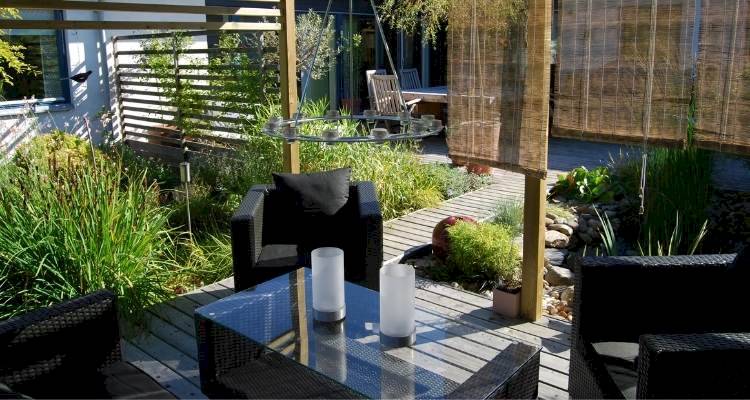 Image from DIY on a Budget
Having a decking area in your garden creates a welcoming area for you to sit and relax while watching the world go by. Including a decking area in your garden also adds texture and is warmer than slabs for lazing on.
So pull up a chair, blanket or a gathering of cushions and enjoy a relaxing time on your new decking.
Need help building a decking area for your garden? Contact local trades who will be happy to come and build your new decking area while you relax indoors.
5. Hang a Hammock
If you have trees in your garden, that's great. You can grab your camping hammock and swing in the breeze while watching the clouds float overhead. No trees, but you want a hammock? Can you pick up a hammock stand online to hang your hammock, or maybe a hammock chair is more your thing? Lay in a hammock while relaxing outdoors and enjoying a good book.
6. Paint Garden Sheds
Make a feature of your garden shed by painting it a bright colour. You can maybe involve your children and even get them to paint something memorable on the side; it's up to you.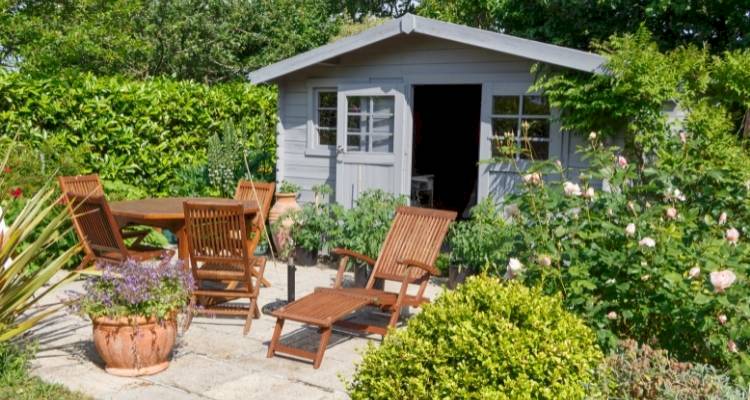 Once you're done painting the outside of your garden shed, have a sort and clear out the inside of your shed or garage and be more organised this summer, maybe turn it into a garden bar area.
Another idea is that you remove the old broken garden shed and replace it with a new Mancave or She Shed that has multipurpose use all year round.
7. Relax in a Jacuzzi
Instead of going away this year, treat yourself to a spa treatment at home. We don't mean home face masks and a relaxing bath, hoping that the kids don't disturb you. We mean adding a jacuzzi or lazy spa into your garden, so after a day's hard work in the garden, you can sit and unwind in your own spa area while enjoying a cold refreshing drink.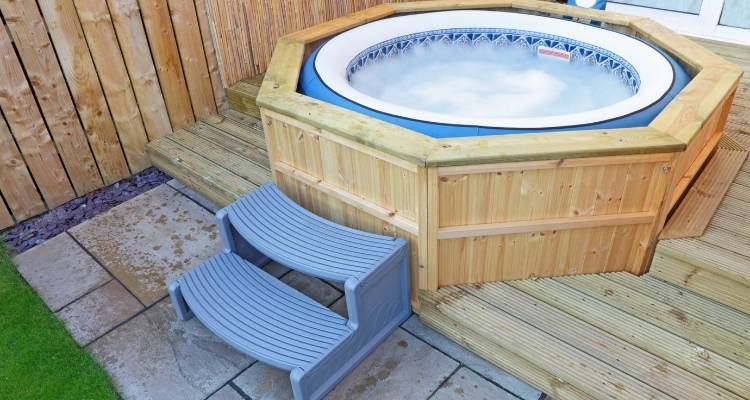 Contact local trades that will be able to help build you an area that's just perfect for your Lazy Spa. Don't forget to ask them to quote you on adding extra power points in your garden spa area. You'll want to include some lighting also.  
8. Outdoor Pizza Night
Pizza night doesn't have to be indoors, you could have a go at cooking a pizza on the BBQ, or you can buy a pizza oven that will give you delicious pizza in minutes. Just follow these simple guidelines on how to cook a pizza on a BBQ or your pizza will burn.
Pizza night in the garden is fun, and with some simple preparations ahead of time, you can involve the whole family. Each family member can create their own unique pizza by choosing their own topping choices.
9. Improve Your Garden Lighting
Turning on the floodlight isn't the best option for enjoying a relaxing evening in the garden. Take time to plan out and introduce warming lights to your garden. A simple string of fairy lights or lights behind pots and trees will create more subtle and relaxed lighting in your garden.
If you need some advice or help to install additional lighting, contact local electricians who will be able to provide up to three free quotes and help you enjoy the garden for longer.
10. Hanging Baskets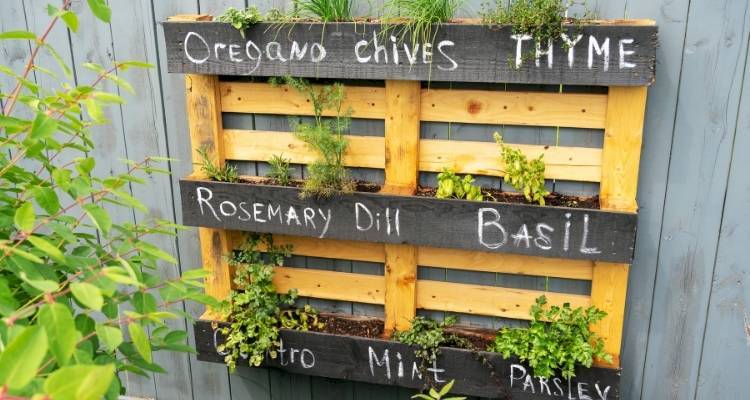 Outside the front of your home is important, and adding a couple of hanging baskets around your doorway or a blank wall brings colour and a smile to the face of people passing.
Easy to grow flowers to include in your hanging baskets are Fuchsias, Petunias, or Lobelia. You can even grow strawberries in a hanging basket for something a little different. A typical basket that is 12-14-inch will house between 3-5 plants depending on the variety you choose.
11. Patio Potted Plants  
Adding potted plants to your patio area will help you feel like you are in a garden. Like hanging baskets, adding pot plants to an area adds colour and charm to your garden.
You can have fun by choosing different pots to house your plants on the patio. From flat pots to an old watering can or wheelbarrow, maybe even an old birdhouse that isn't being used.
A fun children's arts and crafts activity could help decorate the pots in the garden for that added charm.
12. Hang Bunting
There's something very British about hanging bunting, from old patchwork style bunting or old tops that you choose to cut up. Adding bunting to your garden will make it feel like a party every day.
Yes, you can buy bunting, but creating your own unique style by adding something personal will mean you have bunting that nobody else does and will give you an extra smile when you see it blowing in the breeze.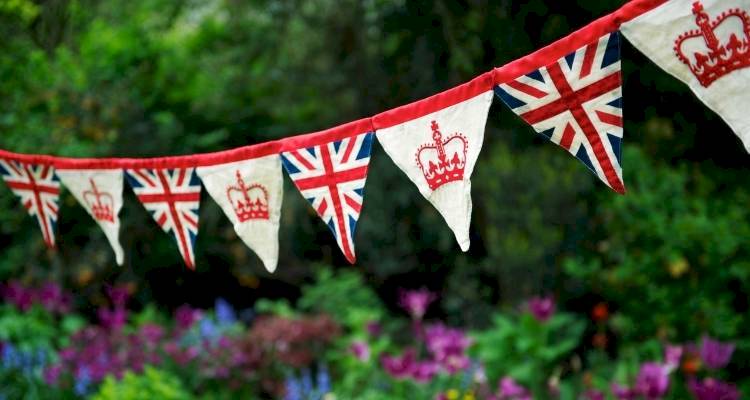 13. Paint Garden Furniture
Is your garden furniture looking a little old and in need of replacing? Don't throw it away, and it just needs some TLC and paint. In many cases, a simple jet wash will help remove any old grime that has built up over time, and when it's dry, give it a light sanding and apply the paint. You can follow similar instructions as when you are painting kitchen cupboards.
Recover your cushions at the same time, and you'll have new looking furniture at a fraction of the cost of having to buy new furniture. Maybe you'll save enough to be able to treat yourself to that Lazy Spa area you need in your life.
14. Include Shaded Areas
Does it ever get that warm in the UK that you need shaded areas? Early spring and even on some 'summer months' can feel like shaded areas are not something you don't need to add to your garden, but when summer comes, you'll be glad you did. They also make great areas for pets or small children to relax on a sunny day.
Some string and an old blanket draping over one corner will provide shelter if you need it. Remember to bring it inside before winter sets in, as it will blow away in high winds.
Contact a local builder to build you a shaded area that is more permanent and will allow you to enjoy the garden even when it's raining. This will be perfect when you are enjoying a family winter BBQ.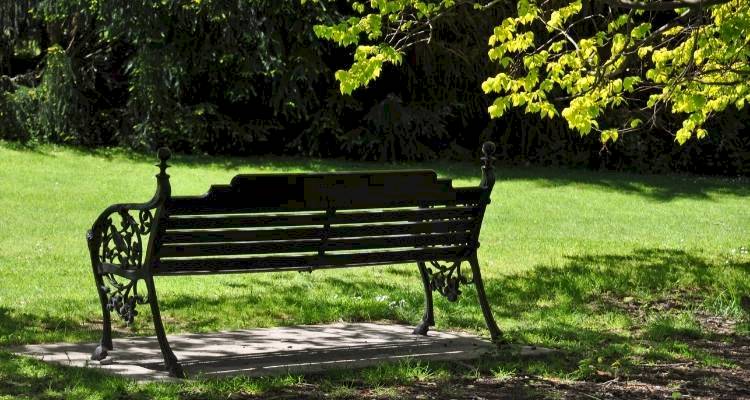 15. Colourful Ornaments
Including a gnome in your garden is a classic British thing to do, but there is a wide choice of other garden ornaments that you can include, such as wind chimes, butterflies or a fairy door at the bottom of a tree.
Stainless steel balls add reflection and light into the garden and make a nice feature, or maybe a pair of flowerpot men are more your style?
Whichever way you choose to brighten up your garden, remember that local tradespeople are on hand and ready to help you with your project. Post your job today and make sure you make the most of your garden this year.
Last updated by MyJobQuote on 21st March 2022.