12 Upcycling Furniture Projects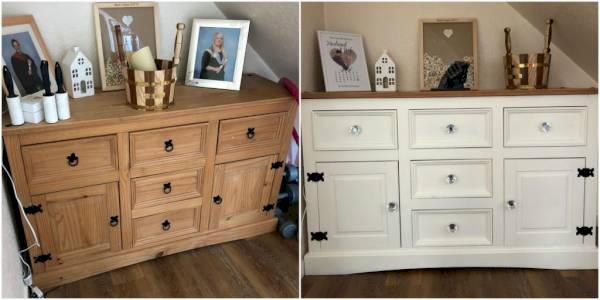 Adding a carefully crafted and upcycled item of furniture to your home can add a real talking point to your home. Upcycling isn't always just taking something destined for the scrap heap or landfill, dashing some paint on it and calling it done.
Good upcycling of an old item takes time, careful planning and skills to produce something that is going to be of higher quality and value than the materials used. But where can you find the items for upcycling?
Where to Find Furniture to Upcycle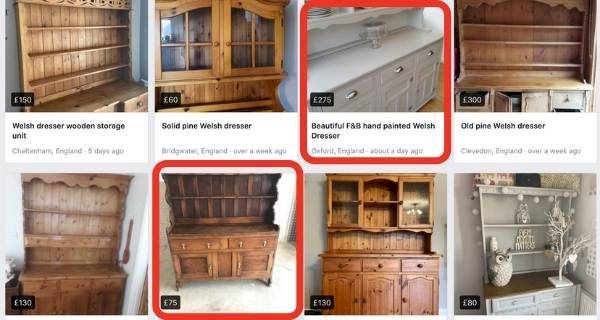 If you are looking for something to upcycle but not sure where to find an item to start creating and upcycling. You can find furniture to upcycle from any of the following places. Find a low-cost item from one of the following locations (you might even find something that someone is giving away).
Facebook Marketplace
Charity Shops
Reclamation Yard  
Freecycle App
Auctions
Home clearance
Antique shops
Finding something in the back of an old antique store or reclamation yard that is a one-off is always fun. If the item is damaged or in need of repair, haggle for some money off.  
Planning your First Upcycle Project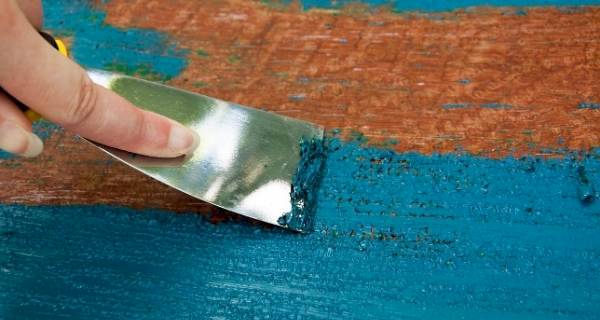 When choosing your first project, you want to start with something smaller and work your way up to the larger projects.
Choose your project (what you want to upcycle)
Watch YouTube to see how to upcycle your item step by step
Learn Techniques needed
Gather materials needed (paints and sandpaper etc)
Clear a space in the garden or garage
Make sure the area is well ventilated
Upcycle your chosen item and enjoy
You might not have exactly the same item that you have seen a tutorial for online, so you will need to be able to problem-solve a little.
Here are 12 upcycling projects for you to try at home and why they are great projects for you.
1.    Upcycling a chair
Choosing to upcycle a chair is an ideal first project to see if you have what it takes to upcycle and if you enjoy the process. Pick up an old wooden chair from one of the locations we mentioned above or one you might have at home.
This is an ideal project, as it is smaller and will allow you to learn some techniques you can apply to larger items later. An old chair is also low-cost, so if it doesn't go to plan, you will not have invested too heavily.
To upcycle an old wooden chair will take a bit of sanding to remove the old finish and give you a smoother base to paint or stain your chair with. Fill in any holes or carry out any fixes and then stain or paint in your chosen finish.
If your char has fabric on that needs replacing, it is a little bit more advanced, but one that can be done in a few hours of careful planning.
2.    Upcycle a Welsh Dresser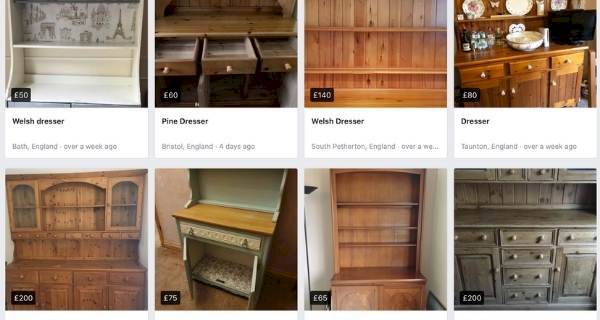 We don't suggest you go from a chair to upcycling a larger piece of furniture. However, finding a unique piece of furniture like an old Welsh dresser or larger unit is a fun project to tackle and will use many of the same techniques as you will use on a chair.
This is a bit of a larger project to upcycle, but the results can be amazing. One that might take you several days to complete but will be worth it when added to your home and create a real talking point.
3.    Give New Life to a Lamp
Learning to upcycle a lamp may require some simple electrical knowledge, as you may need to replace old wiring. You may also need to practice your sewing skills if you plan on having a fabric lampshade that requires covering.
This is a smaller project but will require multiple skills to create the ideal finished item.
4.    Upcycling room accessories
Look around your room and think about what accessories in your room can easily be given new life. If you have something that was once white, can you change its colour, or is it an item of furniture you can add something funky to.
It might be an old ornament you were given as a gift but were not sure it was to your taste. You don't want to offend your friend by throwing it away, but you could quickly adapt it to more your taste.
5.    Fabric and Recovering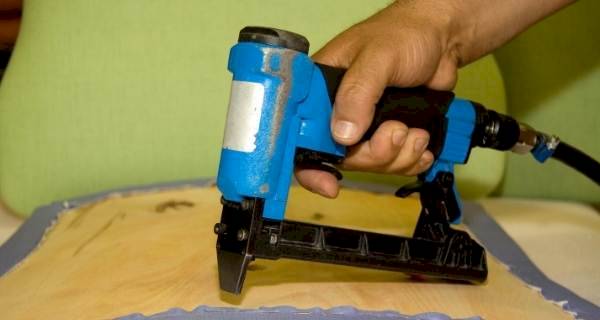 This can be for any room in the house, but your bedroom duvet cover, pillows or even the sofa can all be dyed to add some new pizzazz and brighten up the room.
You can either buy the fabric you need, or you can take some older fabric and use it as is or choose to change the colour yourself.
If you are covering a small item, you will need basic sewing skills. But if you are looking to recover a larger piece of furniture like a sofa, you will need more advanced skills to get the required finish.
6.    Add Colour to Picture Frames
If you have an old picture frame that is chipped or not the colour you want, you can easily sand and paint the frame to your required colour.
You can also go to a local reclamation centre to pick up an old picture frame if you are looking for something that is a bit different.
Attaching bits of old toys or writing their names around the edge will give you a great unique picture frame for the family. Adding a family picture is a great way to finish it off and capture memories.
This beginner project is even one the children can get involved in.
7.    New Life to an Old Table
Kitchen tables can easily become stained and damaged over their lifetime. If you want to get it looking like new again, it will take a little sanding down and then choosing to varnish, wax, or stain will bring new life to an old expensive item of furniture.
A wooden table will require a little more time to sand and apply your finished coating before it looks new. Applying any filler to larger knocks or chips out of the table.
Ideal weekend project on a dry or long weekend.
8.    Unusual Planters in the Garden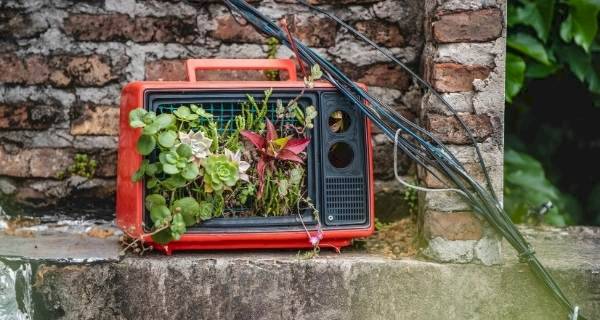 Upcycling doesn't just have to be all in the house. You can also apply some unique items to your garden. Anything that can hold soil in can be used as a planter.
Some common items seen are:
Old wheelbarrow
Teapots
Buckets
Worn out wellies
Mugs or cups
Share or tag us in your creations with us and be featured in #transformationTuesday on our social media channels.
9.    Chest of Drawers Given New Life
If you are looking for a nice chest of drawers, but the ones you want are outside your budget? It's surprising how much some furniture can cost.
Finding an old chest of drawers that someone sells cheaply on a Facebook group or in a local reclamation yard is even better.
Fix any items that need it, sand them down and paint or varnish the colour you want.
10. Toy Box for Children
This is great for children of all ages to get involved with. Finding an old crate or chest box makes a great place to store toys for children.
You can do some of the harder work of sanding down, but it is fun to involve younger children to help decorate the box. Make sure they know not to do it to other furniture, or you might find yourself with a young decorator in your home.  
11. Reclaimed Executive Desk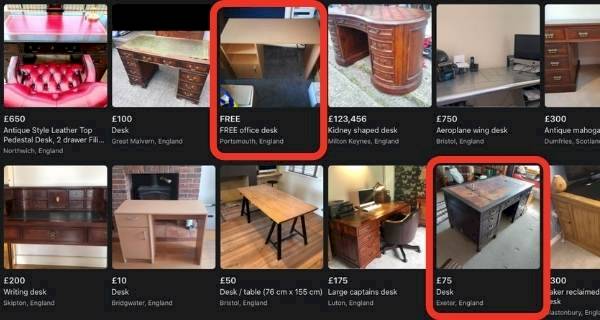 Buying an old desk and turning it into a work of art is more fun than buying a basic desk. Older desks will have more style to them and also be sturdier than newer style furniture.
Looking through Facebook marketplace researching for this, we saw plenty of options that are ready for upcycling.
Take your time with this project to find the ideal desk you want, and be prepared to haggle on the price if it has been listed for over a week.
Ideal project if you are building a home office and want something unique.
12. Recovering Cushions  
We touched on this one above, but recovering your cushions is something you can tackle on the weekend. You can either buy new fabric or patch together fabric from other projects. It all depends on the style that you are going for.
Again, on Facebook Marketplace, people are selling off the fabric they might have bought for a project and never got round to or that a friend or relative might have given them. It could be an old pair of curtains or an old dress that someone no longer wants. The choice of what you use is yours.
Sewing this much fabric is best done on a sewing machine than by hand. Once you get the hang of this, it is something that you can change and upcycle regularly.
Last updated by MyJobQuote on 15th June 2022.