How to Mix Mortar
Mortar is needed for a wide range of DIY uses, including paving and re-pointing house walls or chimneys. Mortar is used in differing mixes to create the right type of mortar for each job. You will need cement, bricklayer's sand, liquid plasticiser, water, a shovel, a bucket, mortar, a paint stirrer and possibly a cement mixer. In a typical mortar mix you'll need to mix one part cement to six parts bricklayer's sand, plus adding chemical plasticisers or masonry cement to the mixture to improve the workability. Always use fresh cement if possible when mixing mortar as already opened bags of cement will have absorbed moisture from the air and partially hardened. You can either mix mortar by hand using a shovel or by using a cement mixer.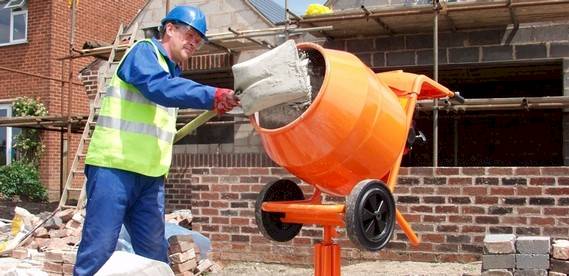 To mix mortar by hand start by measuring out the materials using a dry bucket, tapping the sides of the bucket to settle the contents. Then pour the mix onto a clean surface and use a paint stirrer to get an even coloured paste mix. Form a crater in the centre of the mix then add in water and liquid plasticiser and stir it well adding more water as required until the mixture is uniform in colour and consistency, free from lumps or dry pockets. This final mix should be a smooth and pliable mortar paste which is easy to work with.
To mix mortar with a cement mixer, begin by turning on the cement mixer and letting the motor run, then add half the bricklayer's sand and a small amount of water and allow to mix for a few minutes, then add in the cement and add some more water with the motor still running and slowly mix in, adding more water as required to achieve a smooth mixture. Shovel in more cement mixture gradually until mix is ready then tip out into a wheelbarrow whilst the motor is still running. When you have made sufficient mortar mix, run the rotating drum to drain and clean the blades.
Note that the correct mortar mix will vary from project to project, if you are unsure about the correct mix then you must consult a professional builder. Using the incorrect mortar mix in a building project could have disastrous consequences, particularly in older stone or solid walls, which require the correct lime content otherwise water will penetrate the wall causing damp problems over time. You can of course buy "Mix In The Bag Mortar", a type of pre mixed mortar mix which just requires water to be added and can be mixed by hand in the bag, so less messy! These mixes are handy for small jobs and will set in 6 hours or less, plus you know the mixture is correct, but they are quite expensive.
Last updated by MyJobQuote on 30th September 2015.