MyJobQuote's Best Builder's Breakfast Winner
We finally have a winner for the best builder's breakfast in Britain!
And the winner is...
Big Juice's Baps in Crewe!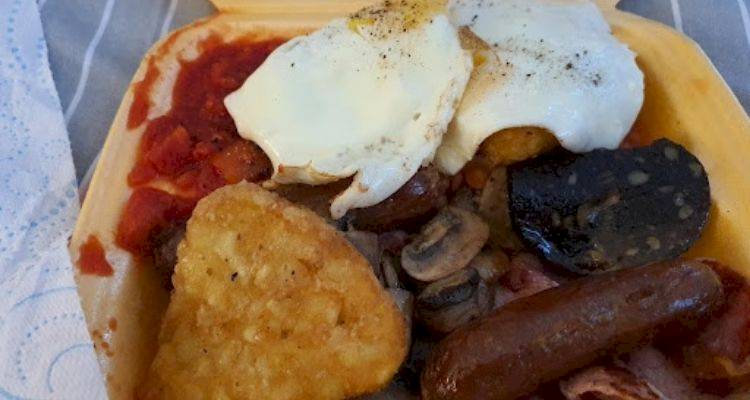 A big thank you to our breakfast tester Ashley Shelton for his detailed review:
Large Breakfast: £4.60
2 x bacon
2 x sausage
2 x egg
2 x hashbrown
2 x black pudding
Tomatoes
Mushrooms
Beans
2x toast
"You should never judge a book by its cover, and this was such a welcome surprise. The price cannot be argued with for value for money; although at this price point, I expected poor ingredients averagely cooked and that was not the case at all. Another thing to note is that it has everything you need and want and more.
I personally think both beans and tomatoes are overkill but providing the two avoids the need for unwanted early morning decision making. The bacon was well cooked, the eggs were runny and the hashbrown had been treated with respect. They had taken the time to season the food with pepper, which was a nice touch but the standout for me was the sausage.
It was delicious, so tasty in fact that I think this breakfast is probably incorrectly priced… just don't tell them that. It had a strong meaty flavour and was cooked to my personal preference, even all the way around and probably a little overdone for Gordan Ramsey.
The girls at Big Juice's Baps can really cook a brekky and at this price, you can't argue with it at all, brilliant, thank you."
Points given:
3 Presentation
4 Ingredient Quality
5 Overall Flavour
5 Temperature
5 Cook Quality
5 Ingredient Variety
5 Value for money
4 Atmosphere/Staff
Score: 36/40
Continue reading below to see some top-scoring breakfasts from other locations...
Bridge Café & Bistro, Chester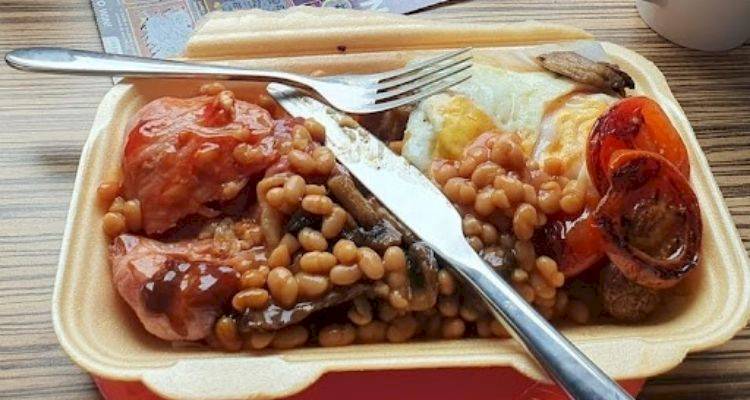 Full Breakfast £8.00
2 bacon
2 sausage
2 egg
1 hashbrown
1 black pudding
1 grilled tomato
Mushrooms
2 slices of buttered white toast
"Being away in Chester and paying a little bit extra I wondered if I'd be in for a treat or something unexpected like fancy sausage or streaky bacon but that wasn't the case. The Full Breakfast from Bridge Café and Bistro is exactly what you hope for.
The ingredients were of refreshing quality though and it felt a class above the other venues reviewed. Everything was piping hot, and the majority cooked to perfection. Consideration had been taken to the bacon fat and grilled tomato was a welcome addition. The sausages were the best yet and they had for sure come from a butcher not a bakery. The main way this breakfast could be improved and to tick all my boxes fully would be a runny egg but that's personal preference.
I thoroughly enjoyed this breakfast in Chester, and I will visit the café properly when I'm next back."
Points given:
3 Presentation
5 Ingredient Quality
5 Overall Flavour
4 Temperature
4 Cook Quality
4 Ingredient Variety
3 Value for Money
3 Atmosphere/Staff
Score: 31/40
Liv's Deli, Alsager, Stoke-on-Trent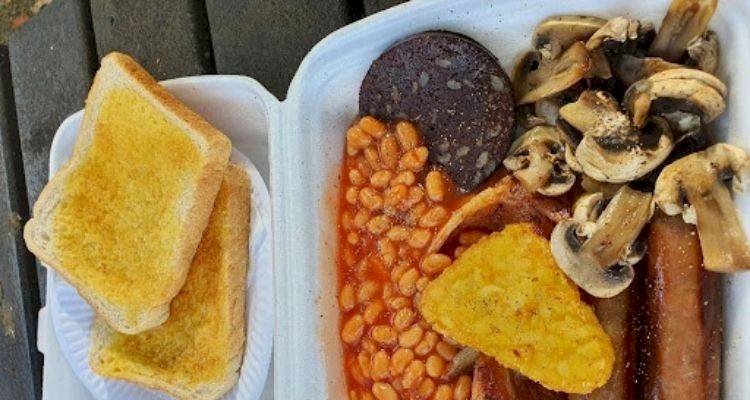 Livs breakfast: £6.50
2 bacon
2 sausage
1 egg
1 hashbrown
1 black pudding
Mushrooms
Baked beans
2 slices of buttered white toast
And a drink (Coke)
"The Bacon was how the good ones among us love it... bathed in whatever was previously cooked on the griddle! Outstanding! Sausages were typical cafe faire, quite skinny, cooked on 4 sides, dense and with a texture more like baked potato than meat.
The hashbrown was a total disaster, cooked from frozen but it hadn't been left swimming in the fryer for long enough. A hash brown should be a golden crispy moment of pure joy where potato and onion join in harmony forming delicious molten lava. This was not the case and could have been warmer.
Black pudding, standard hockey puck. Prefer mine a bit more well done. Mild in flavour and was more likely from Slough than Bury. The toast was cooked to perfection for me, I want it golden, warm and soggy with butter. Brilliant.
In summary I enjoyed the breakfast, Livs Deli is a lovely place and Liv herself is a great laugh. It is quick, cheap, cheerful and hot. Very little to openly complain about but nothing to scream about from the rooftops either. It is brilliant value for money the price of things these days and I'll be back many, many times in the future. Thanks Liv!"
Points given:
3 Presentation
2 Ingredient Quality
3 Overall Flavour
3 Temperature
3 Cook Quality
3 Ingredient Variety
4 Value for money
4 Atmosphere/Staff
25/40
Last updated by MyJobQuote on 22nd December 2021.