Garden BBQ Area Ideas UK – Maximise your space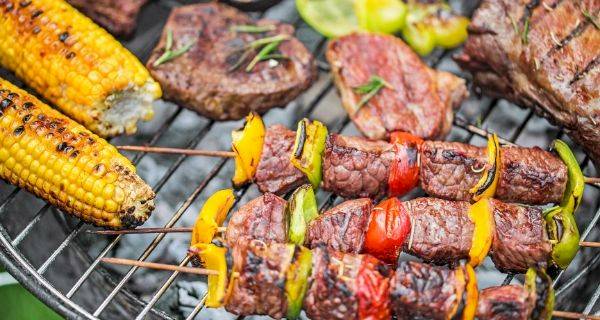 Making the most of your garden all year round is important and if you want to do this in style, you'll need to add a BBQ area that you can use all year round. If you create a BBQ area that you can use all year round, it will be the perfect place to enjoy the outdoors even on the coldest of days and even wet bank holidays in the UK.
You will be able to enjoy a Winter BBQ or even have a BBQ in the garden on Christmas day for something a little different.
Covered Garden Barbecue Area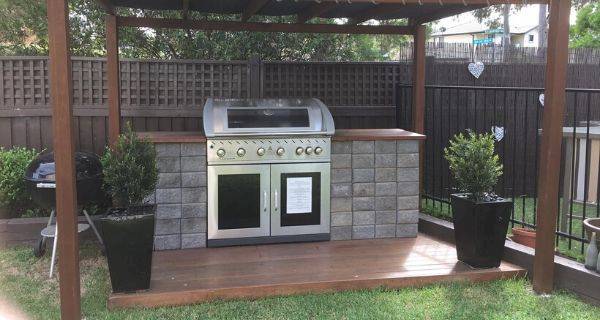 Creating a covered BBQ area in your garden will mean you can use your deluxe BBQ year round and in all kinds of weather. As we all know, the weather in the UK can change at any moment and normally does when you have planned a BBQ day for your family.
Creating a covered outdoor BBQ area is also ideal if you want to keep the cooking smells out of your home and want to enjoy the taste of BBQ all year round.
Not sure what you need to do to build a BBQ area in your garden or do you want to add a covered area to your existing BBQ station? Contact local trades in your area and receive up to three free quotes. You'll have more time to plan what you'll cook in your new outdoor BBQ area.
How to Fuel Your BBQ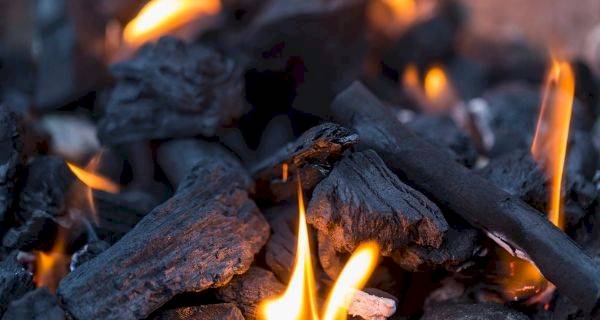 There are three main ways to fuel your BBQ and each of them offer a slightly different result and cooking technique and also the cooking time of the food on your BBQ.
The three main ways of fuelling your BBQ are:
Charcoal is the more traditional fuel for a BBQ and is one that is used most commonly in the UK. The coals get very hot and when the coal is glowing and flames have stopped it's time to add your food and start the cooking. Charcoal produces a much higher heat that other options, so, you will need to make sure the inside is cooked before serving your guests. You can do this with a meat thermometer.
Gas is used in higher end grills, but lacks the "BBQ taste" usually, but using gas is cleaner to clear up and you can turn the heat on and off in an instant for a more reliable BBQ experience or outdoor cooking.
Briquettes are similar in many ways to charcoal, but instead of pieces of wood, they are made from sawdust and have additives added in the process. Briquettes will burn for longer on a BBQ, but they don't reach the same high temperatures that you get from charcoal.
Main Types of BBQ
Throw away BBQ's can be found in supermarkets and in petrol stations, as well as DIY or home stores where you can find traditional BBQ's. They are ideal for a beach or festival BBQ, as they are easy to setup and can be thrown away after their use.
Camping or briefcase BBQ are ideal for small spaces or regular BBQ's when camping or on a road trip in your motorhome or campervan. They are small, lightweight and take up minimal space. Fuel for these will typically be charcoal or briquettes.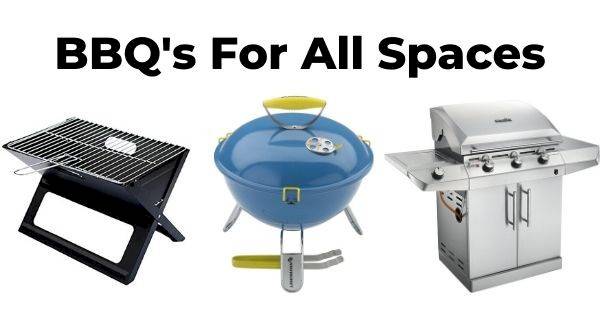 Traditional 2-4 person BBQ are good if you are limited with space in your garden. Wheeled out when you use them and put back in the shed or garage after their annual outing and unlikely to be used in less than ideal weather, due to their size.
Half Barrel Style are larger and make a great BBQ for family gatherings or BBQ parties with multiple guests, as they offer a larger cooking area and are sturdier for all year-round use. Better fuelled by briquettes or gas for a longer chance to cook for your guests.
Deluxe BBQ Grill is the ultimate outdoor cooker for a garden party and for all year round use in your garden BBQ area. Typically, these will be gas fuelled and can be used in all weather and require little cleaning or preparation for use.
Built in BBQ offer a unique look and as they are often built from brick, they can easily be used in all weather. If you add a covering over your BBQ, you will create a garden BBQ space you will be able to enjoy all year round.
Small BBQ Area Ideas
You can add a BBQ to any size garden and even on a balcony in many cases. Just remember that a BBQ gets very hot and will need to be kept at a good distance from areas that can catch fire. Always have a bucket of water or sand to hand just in case.
Disposable BBQ
If you don't have anywhere to store a BBQ, you can always use a disposable BBQ on a fire-retardant surface. These are ok for a 1-2 person BBQ but are limited to just one use. You can pick these up from your local supermarket or even a petrol station in many cases.
Folding BBQ Grill
If you enjoy a BBQ, but only have a small space, you can pick up a Notebook Folding Grill that folds away for simple storage and when cool can be placed in a cupboard inside. Another great use for this compact BBQ is to carry in your van or car when camping in the great outdoors, as it takes up little space.
Small Charcoal BBQ
If space is limited, this is our preferred option, as they come with a small stand to keep the heat off the ground below. Something like a Weber Smokey Joe or Landmann Piccolino portable BBQ are reusable and don't need too much space to store. Ideal for a balcony or shared garden space.
Family BBQ Area
A family garden is a great place to build a dedicated BBQ platform for all year-round use. It can be a patio or decking area and ideally build a cover over the BBQ, so that whoever is grilling can stay dry in wet weather.
Contact local tradespeople today and receive up to three free quotes.
Family Size Grill
For a family size BBQ you'll want a grill that has a larger cooking area for all the family needs. Enough space for kebabs, burgers and some chicken, maybe even some slow cooked smoky BBQ ribs done just the way you like them. The Tepro Grillwagen Toronto has a large grilling area and a warming rack to keep your BBQ food nice and warm for you.
Deluxe Family Grill
You and your family deserve a quality BBQ that allows you to enjoy more of the outdoors. This Char-Broil Performance Series BBQ is the ultimate BBQ for a family garden.
It's a deluxe gas BBQ that means you don't have to worry about cleaning up the mess from charcoal and has enough grilling space for all the family and guests when you have them over.
This deluxe family BBQ also offers a TRU-Infrared cooking system, that means a more evenly cooked food on your grill and less chance of the result being charcoal burgers.
Last updated by MyJobQuote on 22nd May 2020.