Buying a Garage Door
There are many different types of garage doors, but the most popular type is the "up and over garage door", made for doors up to 8 feet. In some areas this type of garage door is also called a canopy door as when opened part of the door protrudes out from the frame to form a canopy. These type of garage doors are quick and easy to install and offer a large opening to drive through (the door and the mechanism take up very little room, in terms of width). This up and over door type can be operated via remote control if fitted with a motor. Retractable gear garage doors are increasingly popular due to the fact that they can be easily converted to a remote control system and are very reliable in operation. The mechanism consists of side mounted lifting arms with tension springs and the door panel opens using horizontal steel runners on rollers. This opening mechanism can be used for garage doors which are larger than 8 feet wide and can cope with much heavier door panels than the up and over type doors, but smaller doors can use the retractable gear system too. However, using the retractable gear system does reduce the width of the opening as the lifting arms are positioned inside the sub frame, so is best suited to larger doors.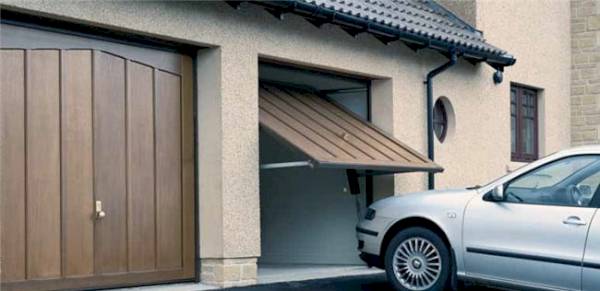 In the UK today the fastest growing type of garage door is the sectional type, this door already accounts for around 80% of the U.S. market and offers greater security than other types along with options for insulation and can cope with very large door sizes. Another advantage when compared to the up and over garage door type is that sectional garage doors do not swing out when opening or closing, so cars can be parked almost touching the doors and they can still be opened easily. Sectional doors are split horizontally into panels which slide in vertical tracks that curve into the garage roof. Each panel has two rollers offering a very rigid and positive movement which works well with remote control operation.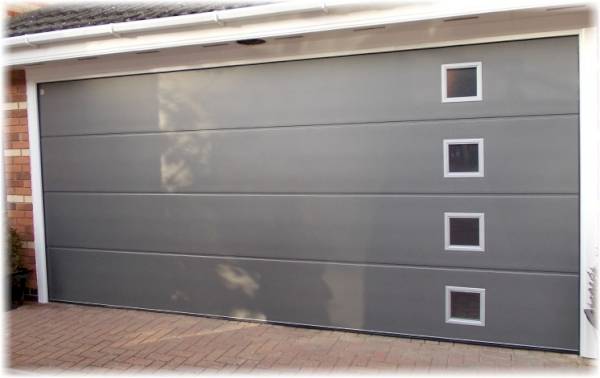 The classic roller shutter door is similar to the sectional garage doors, but rather than sectional panels, roller doors use slats made from either steel or aluminium which roll up and down on a barrel. Roller shutter doors do not swing out when opening or closing and the main variations involve the construction of the slats used in the door, with single or double skinned aluminium, with the option of foam filled or insulated slats available. Most roller garage doors are motorised and a choice of coloured finish is available, including woodgrain effects.
Side hinged garage doors have been used for many years and today are available in timber, steel, Upvc and GRP; for openings up to 10 feet wide and 8 feet high. These type of garage doors hinge outwards on a simple steel or timber sub frame and are available from some manufacturers with a one third, two third split, to provide a pedestrian access door. If you avoid the timber versions, classic side hinged garage doors and easy to install and low maintenance. However if you require insulated, double skinned doors, these can be heavy in use and a roller/sectional door may be more appropriate.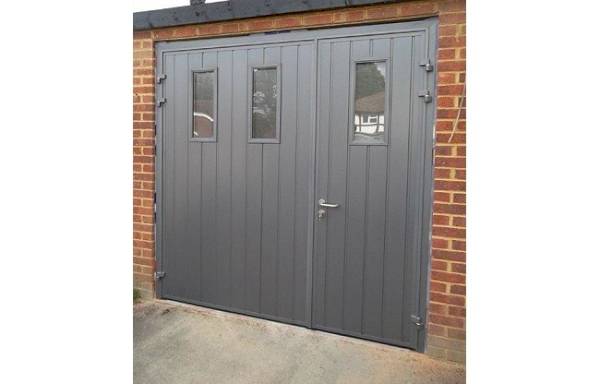 Perhaps the best type of material for garage doors of all types is Aluminum, stronger and sturdier than wood, it doesn't really rust, is reasonably lightweight, and can withstand British weather. You can also have it styled using vinyl-cladding, rolled-on finishings and wood-grain embossing.
Last updated by MyJobQuote on 2nd September 2015.