Beginner's Guide: Decorating Tips for First-time Homeowners
Many Brits took advantage of their extra free time at home to redecorate, with
some being more successful than others
.
But now the housing market has reopened, first-time buyers may be looking to secure their first home and make improvements themselves. In light of this, MyJobQuote have provided their best decorating tips and advice on avoiding first-timer pitfalls.
Biggest decorating mistakes for first-time homeowners
Financial worries and finding the perfect place often obscure one of the biggest tasks of a first home: it will probably need work completed that you've no idea how to carry out.
First-time decorators will no doubt run into issues whilst trying to make their living room worth living in, and MyJobQuote were interested to find out which were most common. Looking back, 1,757 British homeowners reveal the biggest first-time decorating mistakes*: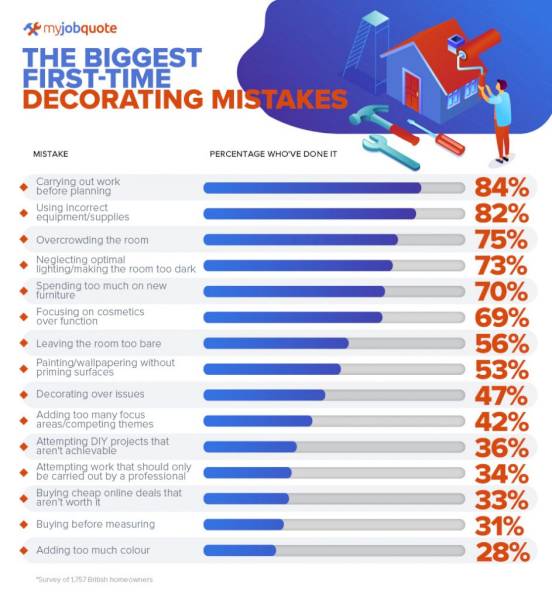 In first place with 84% admitting to it was carrying out work before planning – a potentially expensive mistake to make.
Not only were most first-time decorators naïve, they also didn't know how to use the right equipment/supplies. In second place, 82% state they didn't know which tools to use, which primers are best and more. At least they now know a quick Google search can solve that!
In third place was overcrowding the room. Three quarters (75%) wanted to fill the room with as much of their personalities as possible, but in doing so making it too busy.
Claiming fourth, fifth and sixth place are neglecting optimal lighting/making the room too dark (73%), spending too much on new furniture (70%) and focusing on cosmetics over function (69%).
Fortunately, the decorating mistake that fooled the fewest first timers was adding too much colour. Only 28% were too bold with their colour schemes and 72% managed to avoid this decorating mistake.
Similarly, it's great to see that only 31% forgot to measure before buying. This is alongside other mistakes like buying cheap online deals that aren't worth it and attempting work that should only be carried out by a professional, which only fooled 33% and 34% of homeowners, respectively.
blob:https://www.myjobquote.co.uk/5126fc69-8735-4b0a-a9cd-c6f1f672ab93}
(Shutterstock.com/Africa Studio)
MyJobQuote's top decorating tips
To help first-time buyers who may be looking to decorate soon, we've collated our best interior decorating tips to help make a house truly your own.
Plan plan plan!

As the unfortunate 84% discovered, it's vital to plan before getting to work. Avoid unnecessary setbacks by firstly deciding on a budget, and then deciding on themes, colours, furniture and more. This includes measuring for your room's dimensions and any spaces you'd like to fill.

If you're really struggling for inspo you could try asking family, friends or online experts to help you. Making a list of tasks can also help to keep track of everything, and there's nothing as satisfying as ticking off tasks!

Start off neutral

Learn from 28% of our participants' mistake by starting off with neutral colours when painting and decorating. Adding too much colour will overwhelm the room so it's better to start with a calm backdrop. This can be anything from beige to duck egg blue, allowing you to pop some colour on top with added accessories or feature items.

Highlight the room's features

Does the living room's bay window let in tons of natural light? Or maybe when you saw the feature fireplace you were sold. So why not highlight these beautiful parts of the home when decorating? Decorating around a room's best features will not only save time and money, but it easily allows you to decide on what complements it.

Buy smart

Walking into a blank canvas may create the need to fill it with as many things as quickly as possible. But unless you're hosting a party very soon there's no need to panic. Take your time to shop around and find what's best for the room, avoiding cheap online deals that appear great on the surface (unless you're 100% sure!). Second-hand stores can hold some fantastic bargains too so don't forget to pay them a visit.

As your mood changes, change your décor

This may seem like a waste of time, but hear us out – there are positive mental effects from rearranging furniture. It's easy to get stuck in a rut when decorating, so you'd be surprised how refreshing moving the sofa or table to a different place can be, plus it costs nothing! Not only that, changing accessories depending on your mood provides an uplifting change on a lazy Sunday.

Mix and match

A uniform furniture set can be easy and comparably cheaper way to bring a room to life. But it's important to avoid making it look like an IKEA showroom. Mix and match with different styled items, and don't forget to check your trusty second-hand store for some unique steals.

If in doubt, seek advice
You may have planned all you can plan, searched all you can search and DIYed as much as you can DIY, but one aspect isn't working out. This is perfectly normal, and sometimes it pays to know when to stop and ask for help. Googling and YouTubing your problems can work, but don't be afraid to ask a professional!
Explore our other guides for further advice on improving your home.
*Survey of 1,757 British homeowners across a range of ages and locations was conducted between 01/06/20 – 15/06/20.
Last updated by MyJobQuote on 19th June 2020.