Repairing Plasterboard Holes
Repairing holes in plasterboard is a relatively easy job using a piece of plasterboard or timber. That being said, you do need some DIY skills and the patience required to leave a good finish! If this doesn't sound like you, then it would be best to get in touch with a local plasterer to do the job for you. The "Post a Job" page makes it easy to collect quotes from 3 or more professional and reliable tradesman in your area.
To do the job yourself, begin by trimming the edge of the hole then preparing a piece of timber or plasterboard the same width as the widest part of the hole and around 1 inch longer than the height. Then turn in a screw into the middle of the new piece just a couple of threads so you can use it pick up the piece and manoeuvre it into position.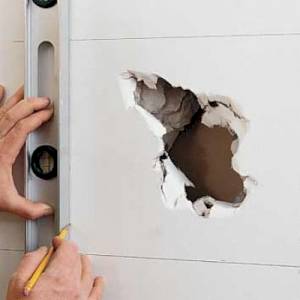 Put some heavy duty, construction adhesive around the edges and use the screw to manoeuvre the piece into the hole and pull back on the screw so the adhesive bonds well to the back of the surface surrounding the hole using gentle pressure. Keep good contact between the adhesive and the back of the surface until the adhesive can hold the piece in place. Once bonded, you can remove the screw then after 24 hours use a filler suitable for the surface you are repairing to leave a smooth finish and invisible repair.
Another method of repairing holes in plasterboard is to enlarge the hole first making it a square shape then cut two timber battens 100mm longer than the size of the square. Then feed one of the battens into the hole ensuring you have a 50mm overhang either side. Screw the batten into place making sure the screw heads are below the skim of plaster then repeat with the other batten. Next, cut a square of plasterboard to fit in the hole which can be screwed to the battens using drywall screws then plaster over the new piece of plasterboard and the screws. This method can also be used to repair holes in hollow doors.
Last updated by MyJobQuote on 19th May 2016.