How to: Blocking up an old Doorway or Window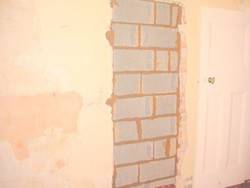 Blocking or filling an old opening or doorway, sometimes called "bricking up", is a common job often done for a number of different home improvement projects. Doorways and windows can be blocked up with brickwork or blocks, then covered with plasterboard for a seamless finish. A room can be made much larger by moving a door from the middle of a wall to the end, freeing up both sides of the wall around the door, creating much more space.
Blocking in a door or window opening is not too difficult for the DIY enthusiast as long as they have the correct equipment and know how. It is a fairly quick job, though you first remove the old wooden frame, many try and save time and money by leaving the old frame but this rarely works out well! Once the old wooden frame is removed, you need to use galvanised metal frame ties either side of the opening by drilling and screwing into place.
The simplest way to complete this task is to use lightweight block. Blocks are easier to cut than bricks and you can use an ordinary timber saw, they are also lighter so not as arduous when laying. Most internal walls are 10mm thick with 12mm of plaster on each side, so the blocks should be laid to allow the new plaster to be put on both sides to match the existing plaster to get a smooth finish.
Once the frame ties are fixed and lightweight blocks are in place, this gives the wall the strength required to plaster and become part of the existing wall. The first coat of plaster is a rough base coat which is then topped off with skim plaster to blend in seamlessly. Once plastered you will then need to fit some new skirting board and paint if required to finish the job.
This project can be done on a DIY basis, but if you don't fancy doing this project yourself, you can get quotes from reliable and trustworthy bricklayers and builders in your area by filling out a few details on the "post your job" from on this site. Simply select a trade, describe your job and provide a budget for the work, enter your contact details, then you will receive a number of quotes and estimates for your project – all quotes are free with no obligation!
Last updated by MyJobQuote on 29th June 2014.