What You Need to Know to Hire a Good Tradesman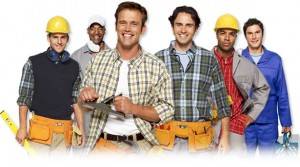 If you're looking for a tradesman for your home improvement project, you will have to consider some important factors. In UK, you can easily find professional tradesmen in almost every major city. In fact, you can also look for experienced and professional tradesmen online, here at MyJobQuote.co.uk you can get up to 3 free quotes from local builders and tradesmen's that have been checked in your area. In order to ensure good experience, it's important that both the tradesman and you are happy. Thus, you need to be completely comfortable with someone you hire. Here are some important things you need to know to ensure you hire a good tradesman.
Look for a Reputed and Experienced Tradesman
During a home improvement project, a tradesman will spend a lot of time in your home. Therefore, you need to feel comfortable and at ease around him. It is very important to meet a tradesman before you hire him. The tradesman should have years of experience to understand exactly what you want from him. If possible, you should take advice from other homeowners in your area who have previously hired a tradesman. This will help you make a well-informed choice.
Check Insurance and Compare Prices
Before you make a final choice, you need to consider these two important factors. A reputed tradesman in UK will always have public liability insurance. In case of any unavoidable accidents, both of you will be covered. You won't have to pay any unfair compensation to the tradesman. Similarly, it is also important to make sure that the tradesman is offering the best prices in the area. You should consult at least three companies and get quotes, This can be done here on MyJobQuote.co.uk quick and easily by filling in one form, plus its free. You should compare their prices to get a clear idea about the difference. However, it is important to understand that low prices do not necessarily mean high quality of services. Therefore, you should also read reviews and testimonials to get an idea about the services provided by a company.
Read the Contract Carefully
Once you've decided to hire a tradesman, you need to draw a written contract which you should both agree to sign. The contract should contain all the details related to why a particular work needs to be carried out, exact cost of the project, how you'll pay for it and the deadlines. It is very important to check all the terms and conditions to make sure there are no hidden costs. All the terms and conditions should be easy to understand and protect the tradesman and you equally.
Agreements to Certain Payments
In order to protect yourself from any unnecessary charges, you should talk about the payments upfront. You should ask for a quote and try to get a clear idea about all the taxes included and excluded. You should not ask for an estimate, but an exact cost of the project. This will make sure the bill does not increase at a later date. The tradesman should give you a detailed report of all the costs involved in the project. The frequency of payments should also be discussed.
These were some basic tips that will help you hire a good tradesman. It is very important to make sure you hire a professional who has years of experience and rich expertise to handle the job efficiently. Post your job today and receive up to 3 quotes from local tradespeople.
Last updated by MyJobQuote on 1st November 2013.