The Supply of Goods & Services Act 1982
If you encounter any problems with tradesman working in or around your home, it's important to know your rights for services provided by law, in particular the Supply of Goods & Services Act 1982. This act covers the work done and products supplied by tradesmen and other professionals, not only builders, electricians and plumbers but also  dentists, restaurants, hairdressers, and anybody who's supplying a service that you pay for! In much the same way as the Sale of Goods Acts, the Supply of Goods & Services Act also imposes strict liability on any materials used.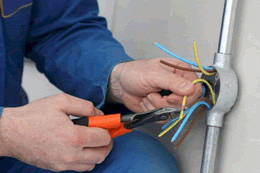 Repairs or Replacements
if any goods are supplied as part of the job, but don't conform to the contract, you're entitled to have them repaired, replaced or ask for an appropriate price reduction. For example, where installation of goods forms part of the contract, if the work is not carried to a reasonable standard, it will be taken that the goods don't conform with the contract and you'll be entitled to compensation to cover the cost of getting replacement goods reinstalled properly.
For example if you have a new roof supplied and fitted and the roof leaks and needs repaired or replaced, then under the Supply of Goods & Services Act 1982 you are entitled to have the roof repaired or replaced, either by the original tradesman, or a new tradesman brought in to do the job properly, in both cases, costs are down to the tradesman that fitted the sub standard or unfinished roof. The act states that all work must be done to a reasonable standard, at a reasonable cost, and completed within a reasonable timeframe.
If your Final Bill is Much Larger than the Original Quote
If you haven't fixed a price for a particular job but the tradesman has supplied a quote for the work, then on completion you are faced with a ridiculously high bill that far exceeds the quotation. All you have to pay is what you consider "reasonable" and invite the tradesman to sue you for the rest. However, there are cases where some additional work may be required which the tradesman will not be aware of until they start the job, so use some common sense. Essentially if you haven't agreed a price, you don't have to accept a ridiculously large bill. The courts would consider a reasonable amount to be what similar tradesmen would have charged for the job, so in these cases it is prudent to be armed with a number of quotations.
Completion dates
If you have agreed with a contractor that a job is to be completed by a certain date, if there's a delay you can legitimately end the contract. But if no firm timescale has been agreed,then the only remedy you'll have for a delay is compensation. Even if you did not fix a time for job completion,  it still must be done within a reasonable time. The definition of what is a reasonable time is of course open to interpretation and will depend on a number of factors, so it is always better to agree a timescale from the outset.
Practical Steps to Avoid Problems with Tradesman
It may be a cliche but it's always better to shut the stable door to stop the horse bolting in the first place! Right from the start set the supplier/contractor with clear obligations to help prevent any later misunderstandings or legal disputes. Set out a contract which covers payments, details of what work the contractor is obliged to do, and get a written quote, not an estimate. In addition you need to avoid cowboys and rogue traders, as contracts mean nothing to them. The best way to avoid hiring a tradesman that will cause you problems is to vet hem before hiring. This can be done through various consumer and trade association websites, and also using tradesman review websites like MyJobQuote where you can quickly find reviews from previous customers and also find tradesman in your local area.
Last updated by MyJobQuote on 15th June 2014.