Staying Safe with your Garden DIY
Every year in the UK around 300,000 people require hospital treatment due to accidents while attempting garden DIY, with almost a third of these injuries being caused by garden electrical equipment! Many of these accidents could have been prevented by simply reading the manufacturers instructions and taking basic safety precautions.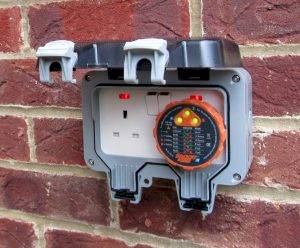 The first step to take is to simply install RCD's (residual current devices) to protect against electric shocks and electrical fires. These devices work by automatically cutting the electric current if a fault is detected. An RCD will prevent the user being electrocuted when they accidentally cut through the cable of an electric mower or strimmer for example, one of the most common of all electrical garden accidents! These residual current devices should be fitted to any socket where you plan to plug in gardening equipment or power tools, they are relatively inexpensive and bearing in mind the that this simple device could save your life, it's definitely worth the investment!
Residual current devices work by constantly monitoring the electric current flowing through the circuits it is designed to protect. If it detects electricity flowing down an unintended path, for example flowing through a person who has touched a live wire, the RCD will switch the current off very quickly, significantly reducing the risk of serious injury or even death. Please note however that all RCD's should also be tested at least every three months to make sure they're still working correctly. Though you can get RCD's fixed into the socket, or even the consumer unit (fusebox), the most common type is portable and can simply be plugged into the electrical socket, then the electrical appliance is plugged into the RCD.
After fitting a RCD, the next step is to ensure all electrical equipment is maintained responsibly and fit for purpose. For example, never use electrical equipment outdoors if not designed for all weather use. All cables, connections and extensions should be weather-resistant with moulded plug connections so moisture can't penetrate. All cables and equipment should also be checked periodically for damage and you should only ever buy electrical goods from reputable manufacturers and ensure that you read all the instructions carefully before use, particularly the safety guidelines.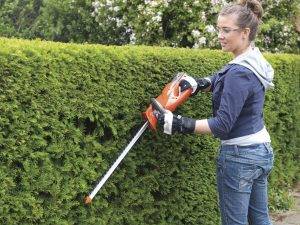 Even with equipment designed for outdoor garden use, avoid using while raining, water and electricity are always potentially dangerous combinations. This means you have to take special care when installing and maintaining garden pond pumps, always ensure they are fitted properly according to manufacturer's instructions and are protected by an RCD to prevent injury.
Always take care to dress appropriately when using garden equipment or power tools, strimming the lawn edges in sandals is not advisable if you would like to keep your toes! Always check manufacturer instructions and wear gloves and goggles if recommended, avoid loose clothing when using equipment with moving parts and never attempt to clean or maintain any equipment while it is still plugged in to the mains supply!
Last updated by MyJobQuote on 18th April 2016.