Installing a New Toilet
Installing a toilet is a straightforward task if you are replacing an existing toilet, as the supply and waste plumbing is already in position, so this is a common DIY task. However, if you want to install a toilet in a new position, it requires more complex plumbing that would be best left to a professional plumber. Before you begin replacing a toilet, first have rags or newspapers to hand for setting the old toilet on after you remove it, this is to avoid scratched or broken tiles. In addition, double check the new toilet will fit in the space occupied by the old toilet before you begin, as many newer toilet designs are available in different sizes to traditional toilet designs and may not fit.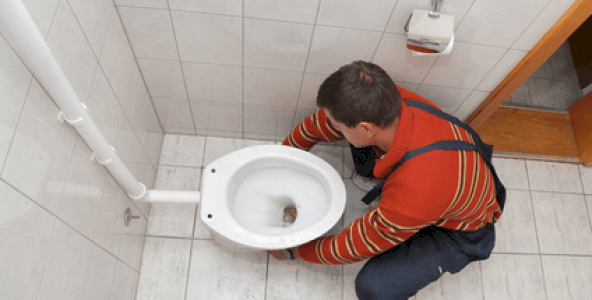 The first step is to shut off the water supply to the toilet then flush the toilet several times to drain as much of the water the water from inside the cistern and the bowl. Use a container to scoop any water left in the bowl out. Then unscrew the nuts that attach the toilet to the water supply and remove the caps from the bolts on the base of the toilet. Unscrew the nuts under the caps and loosen the seal, you can use a knife or screwdriver to work between the bowl and the floor to free a stubborn toilet by rocking it from side to side. Finally remove the toilet and wax gasket, then block the drainpipe using a rag.
When fitting a new toilet always follow the manufacturer's instructions. But in most cases you will start by putting together the cistern assembly and assembling the flush valve mechanism. Then insert into your cistern and connect the cistern to the new toilet pan. Place new rubber gasket onto the flush entrance of the toilet pan then lift the cistern onto the toilet pan and secure with the connecting bolts. Check there are no pipes or cables under the toilet pan fixing points when the toilet is in position, then drill holes so you can then secure the new toilet pan to the floor (you may have to do the same for the cistern if it has fixing holes in the back. Finally connect the water supply pipe, ideally with a push-fit tap connector and test for leaks. Fitting the toilet seat is normally done by attaching the seat to the toilet pan with the nuts, bolts and washers supplied. Simply follow the manufacturer's instructions, adjusting the bolts so the seat is in the correct position then tightening all bolts and connections, remembering to add any washers before tightening the nuts if applicable. If installing a new toilet as a DIY job then the tools, required are minimal; pliers, spanners or a small adjustable wrench, plus a selection of screwdrivers should be adequate.
Last updated by MyJobQuote on 23rd September 2015.