How To Complain If You're Unhappy With Building Work
If you are in the unfortunate position of having problems with a contractor, whether unfinished or sub-standard work in your home, it is important to understand how to complain effectively and the steps you can take to rectify the problem.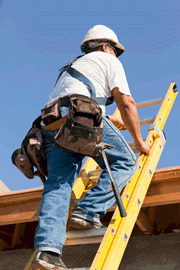 Contact the builder or decorator
In the first instance, as soon as you are aware there is a problem (or even a potential problem), contact the tradesman directly and explain the situation. If you are going to be contacting them by telephone, it's a good idea to make notes and then follow up the conversation with a letter. The letter should clearly confirm the problem, what you agreed they should do about it and when you expect the problem to be rectified. Remember that under the Supply of Goods and Services Act 1982, consumers who enter into a contract for goods and services can expect them to be supplied with reasonable care and skill. This applies to plumbers, builders and all other other tradesmen.
Agree a date to complete work
Always agree both a start and finish date for any work. If the builder doesn't turn up when they said they would, contact them again, confirming in writing if necessary. Whether or not they have a good excuse for not showing up, make sure agree a final date by which the work must be completed, again confirming in writing. The tradesman may well be very busy, but by not turning up at the specified time they have breached their contract with you, so they should carry out any agreed remedial work as a priority.
Set a final deadline to fix the problem
If the agreed deadline passes and the problem has not been rectified, or if the tradesman has done nothing to fix the problem, then set a final deadline and make it clear that if they fail to meet the deadline you'll get another tradesman to do the remedial work and you'll be claiming back the cost back from them. You can also enclose any quotes or estimates from other tradesman so they can see how much you'll be claiming if they don't put the problem right by the final deadline. At this stage you can warn the tradesman that you'll take them to court to recover the costs if necessary.
Find a dispute resolution scheme
If the builder or decorator still doesn't respond to the final deadline and threat of court action, check to see if they're a member of a trade association, as many such associations provide free dispute resolution schemes that you could use. However, good trade associations will vet prospective members, so chances are if things have gone wrong and court action is threatened, the tradesman probably will not belong to such as scheme! (hint: always choose tradesman who belong to a trade association with resolution schemes!)
Collect evidence and claim costs
If all else fails, the final step is to go to the small claims court (if the amount is under £10000 or £3000 in Scotland). If you decide that court action is necessary. You need to think about the evidence you will need to prove your claim if you went to court, copies of all correspondence and photographs of the poor workmanship for example. You may also need to get an independent survey or report on the work done to prove poor standards of workmanship. prior to beginning the small claims court process, write to the original tradesman claiming the money you've had to spend to get the job completed to a reasonable standard, detailing exactly what work was done. If they don't pay up, you'll have to start court proceedings. The small claims court is a quick and relatively inexpensive way of using the courts to settle disputes without requiring a solicitor, but it should still only be used as a last resort when all else fails, as there are costs involved.
Prevention is better than cure
As you can see disputes with builders and other tradesman are time consuming and frustrating, often taking many months to resolve. Even if you win the small claims action there is no guarantee you will recover the money owed, cowboy builders will often simply disappear or go bankrupt to avoid paying money owed. To prevent problems or at least minimise the risk, always research tradesman before hiring, get multiple quotes, ask for references and use online services like MyJobQuote where you can check out tradesman and their services, while at the same time browse their online reviews from other satisfied customers.
Last updated by MyJobQuote on 21st May 2014.