What Is The Best Type Of Decking?
Plastic decking and composite decking are similar but not the same. There are a number of differences between these materials, the main one being that plastic decking is an entirely synthetic material whereas composite decking boards are made by combining plastics with real wood materials. Both composite and plastic decking materials have enormous benefits in terms of their lack of maintenance required, but many believe that composite wood decking products are superior to synthetic plastic decking in every way with the possible exception of long-term maintenance requirements. Plastic decking is however not the greenest material whereas composite decking boards are made using waste wood which would otherwise go into a landfill site. This waste wood is ground into a fine wood flower then combined with a polymer to create a composite decking solution that looks good, is long lasting and is low maintenance.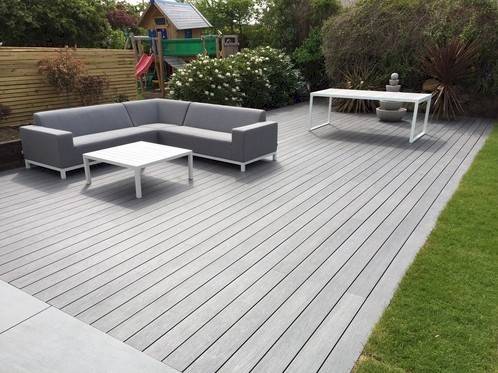 Wood is the traditional material used for decking and is still the most popular choice but plastic and composite materials are becoming more and more popular. But wood is an authentic material with a natural warmth. Composite decking materials are fast becoming the most popular type of decking for residential use as they are both weather and stain resistant plus they do not splinter or rot. However, some composite decking boards look obviously fake and cheap and they can be slippery in wet weather.
Plastic decking is made from recycled plastic and is extremely weather resistant plus available in a range of colours without staining. However, plastic decking is not as strong as hardwood decking so will require a more substantial structure for support, plus the artificial colours and texture do not always resemble real wood. Aluminium decking is still pretty unusual in the UK, but fairly common in the USA. It's a very strong and weather resistant material, that won't rot or decay over time, plus it doesn't burn either. However, it is very expensive and lacks the natural warmth of timber.
The best decking material largely depends on your own personal preference and budget. That being said, there is a very good argument to be made for composite wood decking, as this type of decking can often offer the best of all worlds. Good garden decking must be able to stand up to the awful British weather, but timber decking tends to suffer over time when it's been outside for too long whereas composite decking boards have no issues and they seem to be able to handle even the most adverse of weather conditions. Although composite decking is still slightly more expensive than many traditional decking materials, this type of decking will last much longer with much less maintenance, so in the long run, will actually work out much better value for money. However, if you 'live in an older property and you love the look of natural hardwood, 'then you should go with 'a good hardwood decking boards made from Teak, Ipe, Iroko or Cumaro.
Last updated by MyJobQuote on 29th March 2018.