The Best Combi Boilers of 2018
Ready to buy a new combi-boiler for your home? If so, you are likely aware of the fact that there are hundreds of different models/series from which you can choose. And, there are dozens upon dozens of top-rated brands from which you can choose as well. So, when the time comes to invest in one, it is important to understand what each combi-boiler brings to the table. These are some of the top-rated options available to date, for 2018.
Viessmann Vitodens (050-W) –
It is known to be one of the most reliable options available on the market today and makes an extensive number of models, suitable for any sized home. It has a Yorkshire-backed warranty for up to 10-years, and 3-year standard, comprehensive warranty on parts/labour.
Some of the features include easy operation, several settings to choose from, self-cleaning, built-in self-timer, and manual power limitations. It is standard-rated up to 97% efficiency, so won't cost much to operate in the home either. It has a modulating, high-efficiency, stainless-steel cylinder burner, and digital, easy to read, LCD screen. You can easily program, modify, and otherwise choose the functional settings, to ensure on the go hot water when it is needed, and energy savings when you aren't going to use the boiler in the home.
Valliant 831 –
For those who like brand-name recognition and reputation, look no further than this combi-boiler model. It is manufactured by the Valliant name, so you know it is a high-quality product that is built to last in any home. It begins at a 24kW rating, and it goes all the way up to 37kW rating options. So, depending on the level of efficiency desired, as well as the amount of hot water that is consumed in your home, there are several models/efficient ratings to choose from with this brand.
The size of your home, and the amount of hot water you consume in the home, are going to be your ultimate guide to choosing the right sized model combi-boiler. The compact size (even of the higher rated models) is something which is a major selling point for these boilers. They are compatible with the SMART home-functions of the brand, and the LED readout on the screen is extremely easy to see, and set, regardless of how far you are from the screen. Again, depending on the home's size and water consumption, the rating model/size will vary. For a 3-bed, 2-bath home, a 28-30kW rating, is typically more than enough for most homeowners who invest in this branded combi-boiler system.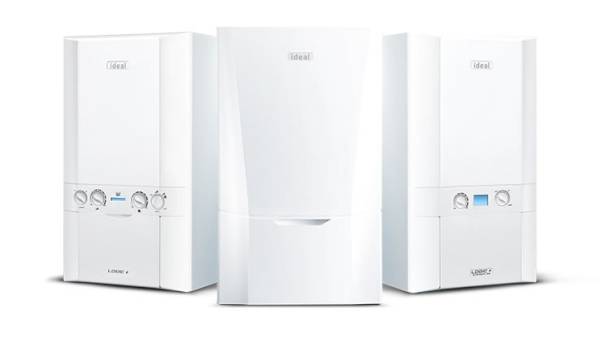 Worcester-Bosch 32CDi –
This is not only one of the most trusted brands in combi-boiler (and traditional boilers) for the home, it is also one of the most highly efficient models you are going to find as well. This is the most popular boiler model sold by Worcester as well, so you know it is highly rated, and is extremely cost-efficient, if this is something that is important for homeowners who are investing in a new combi-boiler.
The boiler is extremely compact; in fact, it can easily fit into a small flat or home, taking up no more than the countertop space. It has an extensive range of wireless and Bluetooth compatibility options. So, you can program it how you choose, from where you choose, and for the time you choose. The digital heating controls are fully functional, and they operate efficiently in any sized home. The temperature controls are also extremely easy to use.
The boiler comes with a 5-year standard warranty as well, so if anything goes wrong, you are not going to be paying excessive prices to have repairs or part replacement if it is necessary. The boiler is geared for 3-bed, 2-bath homes, but can oftentimes be incorporated into a larger home, if proper efficiency is controlled by the homeowners.
Baxi EcoBlue+ –
With 150-years of experience in the industry, you know you can rely on the combi-boilers sold by this manufacturer. They are compact and can typically fit into most traditional sized cupboards in the home. Add in the fact that your new boiler is going to come with a 7-year warranty on parts/labour, and you don't have to worry about something going wrong, or costly repair work, in the event it does.
A digital timer is a nice built-in feature here, allowing you to modify how long to keep hot water on, in the event you won't be using it for certain hours of the day. It also has a mechanical RF thermometer, a wired weather sensor built-in, and the highest rated reliability in the industry, along with virtually no maintenance work to be done (by the homeowner), are all major selling points with this combi-boiler.
Ideal Logic 24+ –
A final option to consider when the time comes to invest in your home's new combi-boiler is this model designed by Ideal. From 24-38kW rating options, you can choose one that is perfect for your home/family's consumption needs, without overspending on the cost of hot water in the home.
Frost-protection is a nice feature which is included with your new boiler. It also has a large, 5'' LCD screen, allowing you to easily set it, change functions, and otherwise monitor home consumption with your new combi-boiler. It has a standard 8-year warranty which will cover the parts/labour of your new boiler. And, it allows the homeowner to choose the levels of consumption, and energy efficiency, based on a number of features which allow you to shut off hot water when it is not in use in the home.
No matter what is important to you in a new combi-boiler, these models have it. Reliability, industry-standards, and trusted brand-names, are some of the selling points with these brands/models. Depending on your budget, family size, and hot water consumption needs, you can find a boiler which is ideal for your home/family, and for your budget, with any of these great model-options when you're ready to invest in a new boiler.
Last updated by MyJobQuote on 27th July 2018.