Sweeping a Chimney
Chimney sweeping is a messy job usually left to the professionals these days, but you can hire equipment to sweep your own chimney in a traditional way using a chimney rod set. You can easily find local tradesman to sweep your chimney using the simple quote form provided on this site, but if you plan to do the job yourself then read on for more information.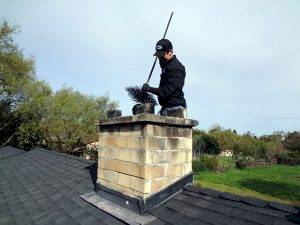 Chimney sweeps today are modern professional tradesmen. If you have a functioning coal or wood fire in your home, you need to spend a little time and money to ensuring that your fireplace functions safely and efficiently. Chimney sweeping prevents chimney fires and reduces the risk of dangerous emissions, hiring a professional chimney sweep means a safer, more efficient fireplace.
Chimney sweeping is an ancient and well respected profession dating back to the 16th century, contrary to popular belief, the trade is alive and well, looking after the safety and efficiency of solid fuel fires all over the UK. If hiring a chimney sweep check they are members of the National Association of Chimney Sweeps, the professional Trade Association, promoting high standards for the sweeping, inspection and maintenance of chimneys in the UK with over 400 members.
National Association of Chimney Sweeps work to a Code of Practice and Conduct for the cleaning of chimneys and issue a Certificate of Chimney Sweeping upon  completion of their work, along with recommendations about future cleaning.
Sweeping your chimney can be an incredibly messy job so the first thing to do is cover everything in the room with dust sheets and have your hoover ready. Place the hoover hose on the hearth (note do not try and sweep a chimney until the fire has been out for at least 12 hours).
Then get your chimney sweeping rod set, fix the brush tightly and screw the rods together in a clockwise direction, remembering to turn the rods in a clockwise direction as you push the brush up the chimney to keep the joints on the rods together (if you twist in an anti-clockwise direction the rods may come apart and get stuck up the chimney!). Start with one rod and the brush and add more as you progress further up the chimney, do this slowly to produce a manageable level of soot and have your hoover on to minimise mess.
Last updated by MyJobQuote on 16th July 2015.