Staining a Fence
Staining your fence keeps it looking good and well as protecting it from the elements. On existing fences, to maintain the protection, you should repeat the staining process every couple of years. On a new fence, you should apply the stain before you put the fence up, then repeat at 2 yearly intervals.
If you plan on doing this job yourself, be aware that it is next to impossible to stain a fence without staining you clothes at the same time, so wear old clothing and gloves! If you would rather not stain your fence yourself you can use the quote tool on this site to get up to 3 quotes from reliable and trustworthy local tradesmen. There are two ways to apply the stain to a fence, using a brush or roller, or using a pump or power sprayer.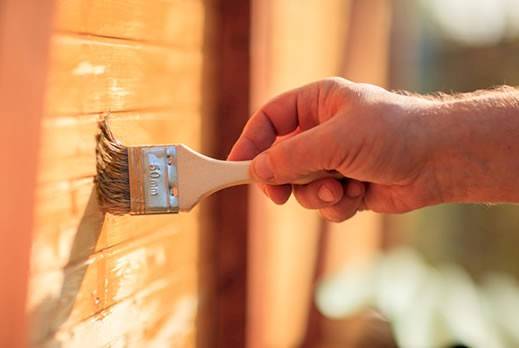 If using a brush a wide brush will make the job quicker by covering more surface area, but you will probably need a smaller brush too for awkward gaps and spaces. Even if you are using a roller or sprayer to apply the stain, you will still probably need a small brush for harder to access areas and edges. If using a sprayer near walls, windows or plants, you will need to mask them off if not using a small brush.
Choosing the right stain can be difficult with such a wide choice of wood stains available in hardware stores. Simply choose a stain suitable for exterior applications and be careful of choosing unusual colours. In addition, if you are planning on using a sprayer, ensure the stain is compatible with a sprayer as some stains are too viscous for spray applications. Before applying the stain, ensure the fence is clean and scrub any green or black mould on the fence then let the timber dry completely before you start staining.
Next remove any garden furniture, ornaments and potted plants out of the way before you begin, plants that cannot be moved should be covered with a dust-sheet or tarp to protect them. Choose a day that is not too cold or wet to apply the stain, as the stain won't dry in colder weather and the stain won't take to wood that is already wet. You also don't want to stain a fence on a really hot day in bright sunshine, if the wood gets too hot, the stain will dry without soaking into the wood.
Apply the stain liberally without leaving drips by starting at the top and working down. Note that if you have a lap panel fence, check there are no drips running down the neighbours side of the fence! Stain manufacturer's provide instructions on how many coats are needed, but a minimum of two coats are usually required for full protection against the elements.
Last updated by MyJobQuote on 26th May 2016.