Replacing an Internal Door
In terms of DIY jobs, replacing a door, particularly hanging a new door, is an advanced task best suited to experienced DIY enthusiasts or professional joiners or carpenters. If you need doors replacing and are not confident you have the skills or the tools necessary to do the job, just use the quick online form provided to collect quotes from 3 tradesman in your local area to get the best price for the job. Its a simple and quick process, you only need to enter basic details once and local tradesman will get in touch with you to discuss your requirements.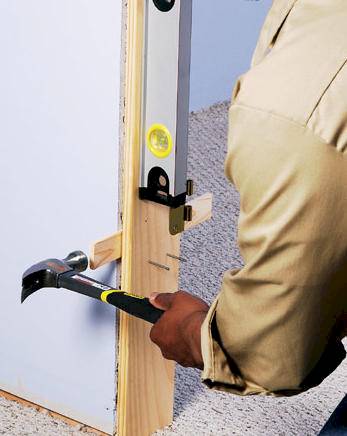 To carry out the job yourself, you'll need dust sheets, safety goggles, chisel, hinge leaves, marking gauge, trimming knife, door, hammer, circular saw, straight edge, pencil, screwdriver, screws, nails, power drill, hinges, spindle, lock plate and silicone spray.
The first step is to remove the existing door by wedging it into position then undoing the screws that hold the door to its hinges, then remove the door and the old hinges. removing the old door and hinges is the easy part, hanging the new door is by far the most complex task!
To begin first double check that the size of the new door is the same as the old one, if the new door needs trimmed to fit, mark the amount of wood that you'll need to trim off on each side of the door then use a circular saw to trim off the excess wood. then position the door to the frame and mark the positions of the hinge leaves on the edges of the door using a pencil, while also marking the positions of the hinge mortise on the door frame.
Use a trimming knife to score the outline of the hinge mortise on the door frame then a chisel to trim the outline to the correct depth and remove wood. Then drill pilot holes into the door edge and screw the hinges into their mortises, then put the new hinge leaves in the frame mortises and drive the screws in.
Check at this stage that the door closes without binding. Mark the position of the strike plate on the door edges at the correct height and drill a hole into the door edge to fit the lock plate. Mark the door face and drill a hole through the door to fit the spindle and fit the latch in place by driving screws through the faceplate into the door edge. Slide the spindle in and attach the door handles to the door. Finally, open and close the new door to see if it is properly hung. If not, you can trim the sides of the door with a trimming knife to fit (remember to oil the hinges with silicone spray for ease of movement too).
Last updated by MyJobQuote on 14th April 2016.