Replacing An Immersion Heater
Replacing an immersion heater strictly speaking is a plumbers job, however when immersion heaters fail, they tend to short circuit and cause all the main circuit breaker to pop, leaving you in darkness and requiring an electrician! Immersion heaters are in the water all the time and when the elements on your immersion heater go, it quickly becomes evident that water and electricity do not mix.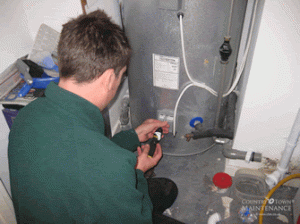 When the lights go out it is natural to call for an electrician, but when the electrician traces the fault, they will often recommend a plumbers! However not all immersion heater problems are so catastrophic, often the element can scale up over time and as a result the water takes forever to heat up. Replacing an immersion heater is not that difficult however and you can do it yourself. But, as with anything to do with mains electrics, safety is paramount and you must turn all the power off first then remove the fuse connecting the immersion heater to the mains before you even think about removing the heater.
You must also turn turn off water supply to the tank, sometimes you can find a gate valve that stops cold water entering the tank, but if not, you will need to turn off the water at the mains. Then you need to drain the tank using the drain plug at the bottom by the cold inlet. The easiest way to do this is to attach a hose pipe to the drain plug and let the water run into a sink or toilet.
Once the tank is completely empty, you can disconnect the wiring from the immersion heater it may be useful to take a digital photograph before removing wiring if you are not confident about replacing everything correctly!) Once wiring is removed you can remove the nut securing the immersion heater in place with a spanner. You often find these nuts are very tight as they have been in place for many years, try squirting some WD40 between the tank and the nut and leave for as long as possible, repeating the squirt every few few minutes as necessary.
Immersion heater elements come in 7, 11, 18 and 27 inch lengths and some tanks have two. Measure the heater(s) you remove and replace it with the same size. Once new heater is in place, wrap some PTFE tape around the thread and tighten securely. Close all taps and tighten any drain plugs and refill with water. Then reconnect wiring including thermostat and replace the cover. If you don't fancy tackling this project on your own, you can use the "Post a Job" section to find reliable and trustworthy plumbers and local tradesmen to provide free quotes.
Last updated by MyJobQuote on 15th November 2014.