Replacing a Central Heating Pump
Replacing a central heating pump can be difficult, largely due to its position, often in a tight space in the airing cupboard or similar. However, once you get access to the pump, the actual job of removing and replacing the unit is pretty straightforward, requiring just a spanner and maybe a screwdriver to remove cover. The heating pump moves water from the boiler around your radiators, keeping them hot. A good indication that the central heating pumps is not working correctly is if your radiators are hot at the top of the house, but cold downstairs.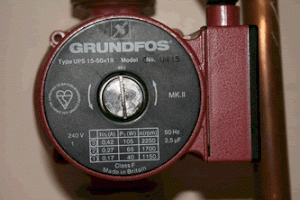 The heating pump is powered by mains electricity, so the power supply must be turned off and disconnected from the pump, in addition you need to turn off the central heating before starting. To source the correct pump, check the labels and specification on the old pump to find correct replacement part.
Once the electricity and central heating is off, remove the electrical cover and take a digital photograph of the pump showing all the connections, this can then be used as a reference to help you reconnect everything properly! Next, release the wires from the live, neutral and earth positions and unclamp the cable from the connection box and move clear of the pump for access. The pump inlet and outlet valves then need to be turned off using a spanner to turn them clockwise.
Next,undo the nuts connecting the pump to the pipework, there will probably be some water remaining in the pump so place some rags or a shallow tray underneath to catch the drips. Then remove the old pump and place the new one into position and tighten the connection nuts (don't forget to replace any washers with new ones while fitting). Reconnect the electrical cable wires, refit cover and reinstate the electrical power to the pump. Finally, turn on heating with thermostat set high to check the system. Sometimes air can get in the system when changing pump so be prepared to bleed using the bleed screw, opening gently until you hear a hissing. If this fails to remove the air you may also have to bleed the radiators too.
If you would rather leave this job to a professional, then please enter your details on the "Post a Job" page to have local tradesman and plumbers get in touch with free quotes and advice.
Last updated by MyJobQuote on 10th November 2014.