Repairing: A Lawn
Everyone loves a healthy lawn, they are great to look at and we love to relax in them. A well maintained and healthy lawn is an asset to any garden, but a damaged lawn simply looks awful and is a real eyesore. Lawns in poor condition do not normally get better on their own, they need care and attention lavished on them, along with some hard work and/or money spent.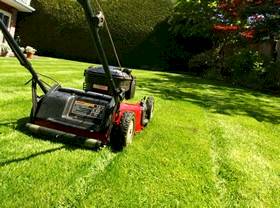 There are a number of reasons which can cause your lawn to look unsightly and patchy, but they are all fixable with the right knowledge. The first thing is to assess the extent of the damage. In severe cases, rather than investing lots of time and energy in fixing the lawn, you may be better off starting again from scratch and re-turfing.
If your lawn is worth saving, you should ensure that it is as healthy as possible before you begin any treatment. begin by mowing the lawn to a height of about 10mm, if necessary you can reduce the height of the lawn gradually over several mows. Simply mowing the lawn to the correct depth will improve the look straight away.
Next, choose an effective lawn fertilizer and apply to the lawn. A few days after the fertiliser treatment, run a scarifier over the lawn to comb the grass and remove any moss or dead undergrowth. Scarifiers can be rented by the day from your garden centre or tool hire centre. Remember to water the lawn the day before scarifying if it is very dry. For very small lawns, you can scarify it simply by raking it over firmly.
Afterwards, remove any accumulated matter produced by going over the lawn with a mower with the blade  set high enough to not actually cut the grass, or simply collect by hand in smaller gardens. After scarifying, allow the lawn to recover for around a week, then mow again in a different direction. A few days after mowing, remove any weeds by hand or by using a selective weed killer to to treat the whole lawn, but avoid doing it in when really hot to avoid scorching the grass (persistent weed problems will require more than one treatment).
If you have any brown or dead patches in your lawn caused by animal urine or weed killer, these need to be removed using an edging tool or sharp spade, then filled in with a piece of good turf or  grass seed. When using seed to fill in such a patch, fill the hole with good quality topsoil until level with the ground around it. Then water and seed the patch, covering with tarpaulin or plastic overnight to encourage germination and protect the seed from birds.
Dips and bumps in your lawn can be solved by top dressing the lawn. Smoothing out minor lumps and bumps can be done using sharp sand spread over the lawn in a thin layer, then brushed over the whole lawn to level it, ensuring that the grass level. For large dips or bumps you will need an edging tool or sharp spade to cut into the problem areas then add or remove soil to level. If this all seems like too much work, then use the "Post a Job" section on this site to gather quotes and advice from local gardeners.
Last updated by MyJobQuote on 8th June 2014.