Repairing a Ceiling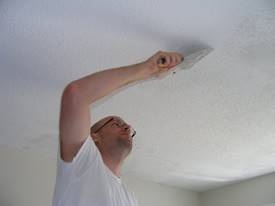 Repairing the ceiling seems to be one of the more common tasks these days, probably due to the popularity of DIY and jobs such as loft conversion, which can often lead to people putting their feet through the ceiling! Often when repairing holes in a ceiling, you need to make the hole bigger before you can repair it, this can be counter intuitive and frightening to many, but necessary to do the job correctly.
Before you begin repairing a ceiling, the first thing to so is check for wires and pipes in the immediate area that needs repaired. Chopping through an electrical wire or water pipe will cause even more expensive damage! To check for wires or pipes you can use a cheap hand held metal detector which is available from any decent hardware or DIY store. These detectors are also useful for locating the exact position of the joists and studs.
Once you have checked there are no pipes or cables present, begin by cutting ceiling back to the nearest ceiling joist and making the hole square so it will be easy insert a new piece of plasterboard, ensuring that the edge of the new plasterboard meets in the centre of the joist making the join stable.
This ensures that it will not crack when the new skim plaster is applied. Once the new plasterboard is in place, you can apply a skim coat of plaster to blend in with the rest of the ceiling. You can use the same technique if you are making hole in the ceiling specifically to insert a timber to hold a new light fitting for example.
Although repairing a hole in the ceiling by widening the hole can seem scary, it is not that difficult for competent DIY persons, however, if you would rather get a professional to do the job on your behalf, please use the tool on the site to contact 3 local tradesman to gather quotes and get a fair price for the job. Complete the short form and reliable local tradesman will get in touch with you at your convenience.
Last updated by MyJobQuote on 26th March 2015.