Removing and Replacing a Washing Machine
Removing an old washing machine and fitting a new one is a task most us face at some point in our lives. But how many of us are confident we know how to connect up the hot and cold mains water feeds and the waste outlet pipe correctly? Replacing a washing machine is not a difficult DIY task if you are handy around the house and have the necessary mobility and fitness to complete the task. However, if you would prefer having someone else do this sort of job for you, please visit the "Post a Job" page to find out how you can have local handymen and tradesman contact you with prices and advice for any DIY jobs you need doing.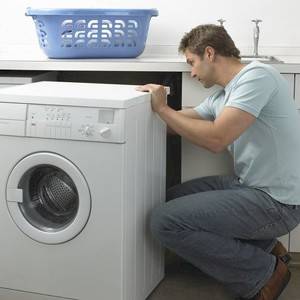 Before you begin swapping your washing machine, you need to check you have the right connecting pipes installed, as some washing machines require both hold and cold connections (generally older machines), while others just need a cold water supply. Note that before you simply replace your washing machine with a new one, it might be worth investigating the cost of repairs first.
But if you are sure you need to replace your old machine and have purchased a new one and all the correct fittings are already in place, then simply pull or slide out the old washing machine far enough to access the pipes and cables that are connected behind it. Then turn off the water supply via the taps or isolation valves on the hot and cold water supply, or if they are not fitted, turn off the mains water supply. Note if there are not isolation valves already fitted then this is an ideal time to fit them!
Once water supply is off, disconnect the water inlet hoses. You may need to reuse these if your new machine does not have them, so be careful when disconnecting that you don't lose the washers which are necessary for a watertight connection. Next, disconnect the power supply by turning off and unplugging the old machine. Note that many retailers offer schemes where for an extra charge they will deliver and fit your new machine for you, then take away the old machine, so check when you are buying a new machine how much this costs, then compare to the cost of getting a local handyman to do it for you.
Now you can get the new machine ready, read the manufacturers fitting instructions which will give you a general guide to fitting, this will normally involve removing all the packaging and transit bolts and in some cases fitting a blanking plate over transit bolt holes that remain, connecting the water inlet hose pipes to the washing machine, connecting the washing machine waste hose to the waste pipe, then plugging the washing machine in, turning on the socket switch and testing Your washing machine installation by running a short test cycle.  If you're happy that there are no leaks and the waste water is draining away properly then you can slide the machine into position and adjust the washing machine legs so that it doesn't wobble when spinning.
Last updated by MyJobQuote on 23rd October 2015.