Problems: Dishwasher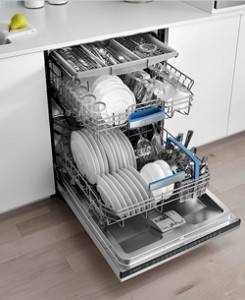 Dishwasher problems are quite common nowadays, despite the fact that they are a fairly new addition to most homes. Luckily, most problems are straightforward for the DIY enthusiast and often do not require the services of a professional. In fact, many dishwasher problems are user errors that could have been avoided by reading the instructions properly!
Please read on for a list of common dishwasher problems and how to resolve them. However, if you are at all worried and do not feel confident tackling the problem on your own, please call in an engineer. You can collect quotes from local expert tradesman using the simply online form provided.
If there is no power to dishwasher, i.e. power light is off, first of all check other appliances for power cut, if power is on, then check the door is closed properly, water is turned on, then finally the fuse in the plug and the dishwasher unit.
If the dishwasher is leaking, first check that all pipes (including waste pipe) are connected properly with no splits, check the condition of the door seal, and make sure you have not overloaded the dishwasher with detergent. If the dishwasher is not washing properly, most often this is caused by poor stacking of dishes and pots in the machine, if this is not the cause, check for low water pressure and then if necessary clean the strainer and filter.
If the dishwasher not filling up with water, first check the cold water valve (usually under sink) is open, then check to see if water hose is blocked by turning water off, removing from dishwasher and turn water on slowly to see if hose is blocked. If the water supply hose is not blocked it may be the inlet valve on the dishwasher.
If dishwasher is not draining, first check the drain hose to see if it is damaged, blocked or bent. Next check the drains are not blocked and make sure sump strainer/filter is clear. If dishwasher still not draining and you can hear an odd sound, the dishwasher pump may be faulty.
If you have carried out all the simply checks above and your dishwasher is still faulty, or if you cannot find your specific problem listed above, then you need to contact a local engineer for assistance.
Last updated by MyJobQuote on 11th July 2014.