Problems: Leaking Roof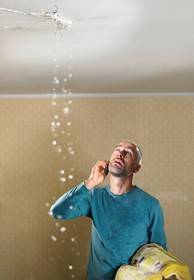 A leaking roof is a common problem and one best dealt with sooner rather than later, to avoid potentially costly damage. It's important to identify the cause of a leaking roof and fix it as soon as possible, by the time you see damp patches on your ceiling or areas of stained plaster, water has already penetrated the fabric of the building and early prevention can help to increase the life of your roof and prevent more expensive damage. The best plan of action is to find a roofer straight away to deal with the issue.
If roof leaks are left untreated over time, costs can be significant as damage can be caused to roofing timbers, plaster and interior decoration. The most common parts of a roof that can leak are lead flashing, roof tiles (including ridge tile and verge tile mortar) and damage or a blockage to the roof valley.
Of course storms can take their toll on any roof, but in many cases leaks are caused by the materials failing over time. The main parts of a roof where leaks can be identified are the ridge, valley, hips, flashing, verges, eaves and fascia board.
Safety is paramount when working on a roof, if you plan to investigate or repair leaks yourself, you must acquaint yourself with basic ladder safety precautions before you start. If you are working on ridge tiles or chimneys you may need a roofing ladder or roof hooks. To secure the ladder on the ground you should always use ladder stopper mats which prevent the ladder sliding out from under you.
For larger roofing jobs, you should consider a platform or scaffold tower. If you plan to get an expert roofer in to do the job professionally, you can use the quick and easy online quote process to get in touch with 3 local roofers in your area with one simple form.
Manufactured roof tiles should last at least 20 years, some can last for hundreds of years in good conditions. Even natural slates are expected to have a lifespan of between 50 –and 150 years depending on the exposure to the elements and weather. However, severe weather and storms can result in slate and stone tiles being blown off the roof or cracked and chipped. Roof tiles can also be damaged by falling trees or branches.
Any part of the roof that is old and weathered is vulnerable to storm damage. Minor damage can be resolved by repointing if the tiles are intact, but if ridge tiles have become loose they need to be removed and rebedded on fresh mortar for a long term repair.
In older properties over time roof timbers and trusses can shrink or warp, putting pressure on the walls and chimney which in turn can dislodge the mortar in the joints. This can eventually lead to the brick or stone of the wall becoming waterlogged. Lead flashing protecting the chimney stack is particularly vulnerable to water ingress if there is any movement in the roof, cracks and gaps around the flashing will result in water leaking down through the roof.
If you find water or damp in the loft space, it is worth checking that there is no build up of debris in the roof valley, as this can then cause rainwater to be forced up under the tiles and into the loft, where it will eventually start to leak through onto the ceiling below.
Last updated by MyJobQuote on 20th June 2014.