A Guide To Preventing Yourself Hiring A Rogue Tradesman
If you are planning a home improvement project, hiring a tradesman is one option you have. It is important that you take your time to compare local tradesmen before you hire one. Doing this will not only allow you to avoid that rogue tradesman but will also allow you to hire the best, based upon the specific projects you want to have completed around the home. So, consider a few of these tips to ensure you hire the right person as listed below:
Up-Front Payment
If a tradesman asks you for a payment up-front, run! Unless they can provide you with a detailed invoice of what they are going to purchase to get the job started. Never give any money to someone before they actually come to your home and review the job which needs doing and provides you with a breakdown of materials and labour cost. By doing this it will reduce the chances of you losing your money and getting nothing for it. I would also make sure you have all contact information for the tradesmen and a signature on your breakdown.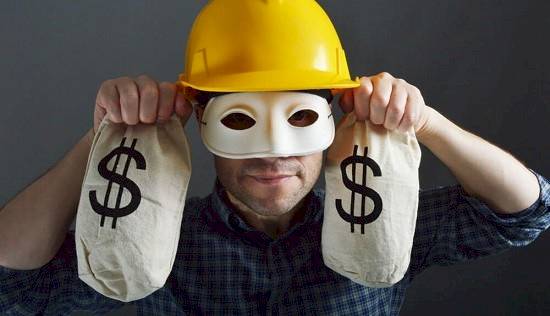 A legitimate tradesman is never going to ask you for an up-front payment for the work you want to hire them to do. Why would they? If they haven't done anything for you, why would you pay them for work? This is a huge red-flag that you are dealing with a shady individual or company so stay away from them. What's even more concerning is if they ask for a cash payment up-front rather than deposit via check or credit card which will at least trace you back to the person,so you can possibly get your money back via the local authorities.
Contracting Terms
Another red-flag, telltale sign you are dealing with a rogue tradesman is the fact that they are not willing to sign a contract. If they are planning on doing the work, completing it by a set date and going to do the job properly, why wouldn't they want to sign a contract? If you need to keep up with your terms of the contract and pay them, they should also be willing to live up to their terms of the deal and finish the work to the level of satisfaction you desire as a customer.
If they tell you they can't sign a contract or aren't willing to do so until they begin the project, turn away. You want to know the terms of the project and that all the material you will be purchasing will be going towards your project. If there does end up being additional cosst and it is more expensive than your original quote you need to make sure you question this and get an invoice for the extra labour or materials so you know what extra you are paying for. A contract simply binds them to do what they promised and binds you to payment upon completion of the work.
If you do not have a contract in place, it is going to be far more difficult to have the tradesman uphold the terms they promised in the event you have to call local authorities or possibly call a solicitor to help you if they do not finish the job as promised. If you have a contract which is signed by both parties and notarized, it will be a little easier to ensure the work gets done and is completed as was originally promised by the tradesman you chose to hire.
Check Them Out
A quick background check is imperative for you to know who you are dealing with. You will learn information like:
– Their age, how long they have been in the trade and if they have professional licenses.
– Reviews from other customers. So, if they have tried to steal from other customers in the past you will know about it.
– Whether or not previous customers were pleased with their work and would refer them to others.
– If they have a criminal or checkered past.
– Whether they are a threat to your children or if they have a problem working in homes with children (or pets if you have any).
– If you are hiring a plumber, electrician or any other specialist I would recommend looking at trade registers to make sure they are fully qualified.
Spending your time doing a background check is well worth the time as it will cost you a lot more time and money later down the line if it is not done correctly. You are going to learn everything you have to know about the actual person you are hiring and this will allow you to determine if you are comfortable letting them work in your home or not. By doing this it will give you a more detailed view of the work they have done, their professionalism, ratings and other information you should know about their work, prior to hiring them.
A background check is not only influential in helping you hire a tradesmen, it is also imperative if you want to know your home and belongings are safe and to ensure your family is safe when they are doing work in the home. The more you know about the person you are going to hire, the more secure you can feel in knowing your home is in good hands and the work is truly being done by the most qualified and competent individual for that specific project.
Ask For Reviews And Credentialing Documents
If a contractor provides you with reviews from previous customers and gives you copies of their licenses and trade-memberships they are associated with, before you ask for this information, this is a clear-cut sign you are dealing with a true professional. Or if they will furnish this information to you upon your request you also know you are dealing with a tradesman you can rely on and one that actually knows what they are doing. They likely have great reviews and are qualified for the project you want to hire them to perform in the home.
If, on the other hand, you request this information and they give you excuses or tell you they will give it to you 'after they begin the project,' don't hire them. You should not hire a person to do work you are paying them to complete if you are not confident in their abilities to do the work. Nor are you obligated to hire a contractor or tradesman simply because they give you a quote for a project that you want to hire them for. So, if you are unsure of their credentials, their experience and if they can't provide concrete reviews (photos, customer names, etc.) or if they are not licensed to do the project you should consider going elsewhere to ensure you hire the right person for the job.
Make sure you learn as much as you possibly can about the quality of their work and previous customer reviews. This will give you a clear-cut understanding of who you are dealing with, the quality you can expect and will allow you to decide whether or not they are the right team to hire for the work you want to have completed in our home.
Door-To-Door Tradesman
This is another huge red-flag you want to stay away from. If the tradesman is putting fliers on your door, is soliciting you personally or is making calls informing you they can do a project, this is a sign of a potential scam in the making. If they are truly qualified they don't need to go out and sell themselves. The quality of their work will speak for itself. And, they are likely busy enough as many customers are calling them to do work for them. So, why would they be calling you personally or visiting your home personally in an attempt to try to sell you a service? It doesn't make sense, so you should avoid dealing with these individuals and consider hiring a different professional to do the work for you instead.
You are under no binding terms with a tradesman until you and they sign a contract for a project. Until this occurs, it is best for you to compare as many local tradesmen as you possibly can to ensure you find the most qualified.  Hire the best and avoid those rogue tradesmen trying to take you for all you are worth. To avoid this from occurring, these are a few things you should look out for when deciding who to hire and some things you should be asking when you are getting quotes from local tradesmen you are considering hiring for a specific project.
Last updated by MyJobQuote on 23rd February 2018.