Pest Control Advice
If you find 12mm to 14mm sized black or dark brown droppings which are around the size of baked beans, then you likely have a rat infestation. other signs of rat infestation include a series of chisel like grooves in materials like plastic, wood and electric wiring. If you think you may have a rat infestation problem, your local council can offer advice and may even have an arrangement with local pest control specialists.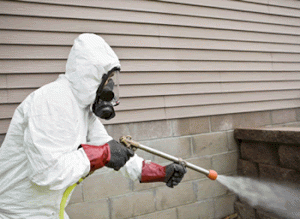 Failing that, you can use the "Post a Job" page on this site to get quotes from local pest control companies with the minimum of fuss. if you plan on solving the problem yourself, you can purchase rat poison from garden centres and DIY outlets. However, it is extremely important you follow the instructions carefully to avoid harming other wildlife and children.
In addition rats that are resistant to common poisons are becoming widespread thanks to those who fail to read the labels and follow instructions carefully. Mice leave similar signs but their droppings are much smaller, around 2mm to 5mm and they are black and spindly. Mice can also be eradicated using poison and/or traps purchased from DIY centres.
Signs of flea infestations are often small bites around the ankles, feet and lower legs. Your local authority can help, often for free, with fleas infestations even if not council tenants. You can also buy insecticides for the control of fleas that are safe to use on soft furnishings from vets or pet shops. Bed bugs also leave small bites but these are usually around the upper part of the body. Other signs of bed bugs include blood spots on pillows or bedding.
Bed Bugs are a flat brown insects that look a bit like lentils and they can usually be found at the headboard end of the bed in the seams of the mattress. Again they can be treated with a variety of insecticide products which are readily available, though you may prefer to employ a private pest control company to deal with the problem. Another less common problem which can be dealt with using insecticide are cockroaches, which can vary in size from 10 to 40mm and tend to venture out when lights are switched off, but can also be seen when disturbing items on the floor.
Outside the home, foxes can be a real nuisance and in exceptional cases can even be dangerous to small children and babies as publicised in recent events in the UK. Foxes also dig up flower beds, foul your lawn and will also attack small pets such as rabbits and guinea pigs. Seek professional advice if you think you may have a fox problem. The other most common pest problems outside the house are wasps and bees. Bees are very beneficial to the environment so if possible get a local beekeeper to remove bees and the hives. Do not use insecticide unless absolutely necessary.
Last updated by MyJobQuote on 14th November 2014.