Patio Heating and Lighting
With the many different types of heating and lighting available for patios and gardens today, you no longer have to restrict your patio use to daytime in the summer, now your patio can be effectively an extra room you can use all year-round.
Heating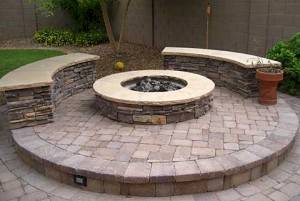 Gas-powered patio heaters are probably the most popular type of outdoor heater on the market, cheap to run, they tend have a bottom casing which hides the gas cylinder, then a heating element on top of a slim pole, with a parabolic type reflector to direct the heat down and out. There are plenty of styles to choose from and a number of different sizes.
Electric powered patio heaters take up less patio space than the gas bottle types, but are often more expensive to run. They are also more versatile and are available as wall-mounted, free-standing or parasol types.
Chiminea heaters are basically clay ovens with chimneys, they have become very popular in recent years and come in a range of different types, including cast iron and even steel versions. Another heating option is the traditional firepit or fire bowl. These are wide, round bowls raised up on short legs, which contain small log fires. Firepits are very attractive and can even be used for basic outdoor cooking, however they are more labour intensive than other heaters which simply require you to turn on a switch!
Lighting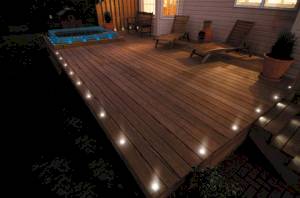 When it comes to garden or patio lighting, LED lighting has emerged to become the most popular option over the past few years, thanks to the fact that it can save you money off your energy bills and the bulbs themselves have a considerably longer life span than traditional light bulbs. There are many companies selling LED lighting for your garden and you can most likely find kits in your local DIY store. Wall lights are still popular for patios which are adjacent to the house and are available in loads of styles.
Another option is post lights, with small, solar-powered post lights being more popular than the larger, electric bollard lights, thanks to the fact they cost nothing to run! Post lights can make a nice border around the edges of your patio or can even be used to light the path to it.
If you have decking, then recessed lighting in the floor looks really special and they are even available disguised as rocks or garden ornaments! String lighting is a great option for parties (think Christmas lights on a larger scale), solar and electric options are available and provide a nice, atmospheric light source.
Finally, old-fashioned oil lamps and citronella candles can look just as good, plus they can help keep flies and midges away. Available in a range of coloured globes from your local garden centre or DIY store.
For advice on lighting and safe electrics for outdoors, please consult a competent electrician or landscape gardener in your area by using the "Post a Job" page on this website.
Last updated by MyJobQuote on 2nd June 2016.