Saving Money Through Loft Insulation
Loft insulation can greatly reduce your energy bills every year while at the same time keeping your home warm and cosy. Without adequate loft insulation, much of the warmth produced by your central heating will simply escape through the roof. In fact, you can lose as much as 25% of the heat in this way. But loft insulation acts as a thermal barrier slowing down the heat escaping from the property and reducing your fuel bills. There are a number of different types of insulation available, each with their own advantages and disadvantages. The different loft insulation types available include blanket loft insulation, loose fill loft insulation, sheet loft insulation, blown fibre loft insulation and foam insulation.
Loose fill loft insulation is a fantastic option to top-up an already insulated loft space. It is a light material which can be easily spread to cover gaps between roof joists by simply opening the bags and pouring it into any spaces. Loose fill loft insulation is also a straightforward DIY project.
Sheet loft insulation in the form of rigid boards by companies like Celotex are more expensive than insulation materials such as mineral wool but they do offer much more insulation capacity. In addition, because they are rigid, it is safe to store some items directly on top of them without having to board the loft first. They can be easily cut to size to fit the joists and shaped around pipes and lights fittings.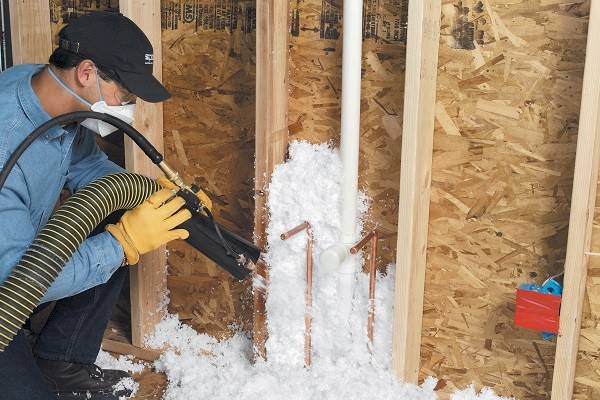 Blown fibre insulation is also effective when used in lofts but it must be installed by a professional using specialist equipment to peel the material into any gaps that require it.
Blanket loft insulation is also effective and is probably the most common form of insulation used in lofts in the UK. Blanket insulation is easy to install and often uses recycled materials. However, blanket loft insulation is not as good when it comes to insulating difficult to access spaces where loose fill or blown fibre insulation would be much more effective.
For many people in the UK today, you can actually get loft insulation installed for free, so the actual choice of insulation material will not be down to you. But even if you can't get loft insulation installed for free, it is a really easy job for a DIY enthusiast and will still offer a rapid return on investment. The latest building regulations require around 300mm of wool insulation or equivalent. If using rigid insulation foam board such as Celotex or Kingspan, then you can meet current building regulations with much less thickness.
Last updated by MyJobQuote on 19th April 2018.