Laying: Weed Control Fabric
Laying weed control fabric is the recommended method to stop weeds growing through when you are laying a path, putting stone chips down or building any other sort of base in the garden. Weeds growing through your path will destroy all your hard work, making it look shabby no matter how professional the job.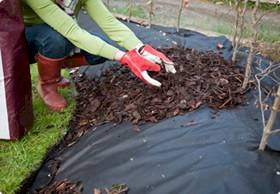 To build a path that will last you need to incorporate effective weed control as weeds are so strong they can break right through through the tiniest of cracks in concrete caused by weathering and expansion/contraction due to heating and cooling. When doing any hard landscaping in the garden, o not be tempted to save some cash and avoid buying weed or landscaping fabric, this is a cost that is definitely worth laying out the cash for!
Weed fabric is a special type of closely knit fabric made from a polypropylene material which will not rot in the ground. It is black coloured and so closely knit it does not allow light to penetrate through which will stop any weeds growing. Many use black polythene which is cheaper and will do the same job to a certain extent, at least as far as light is concerned, but polythene will collect and retain water, whereas weed fabric is moisture porous.
Water can sit on top of the polythene and when this water freezes, it expands cracking the concrete or mortar, eventually letting weeds grow through over time. Weed fabric is specially designed to allow water to pass through into the soil, avoiding any water collection issues and preventing damage to the concrete or mortar base.
if you are planning on laying weed fabric yourself, first level the area and apply some strong weed killer. Then lay the weed fabric directly onto the ground or on top of any sub base you may use. Any type of base is fine as long as it is a surface which will not puncture the fabric when the top level is applied. Allow additional weed fabric to extend beyond the area you intend to work on, as some weeds will travel horizontally underneath the ground to find light, which will mean ugly strips of weed growing right along the edge of your path! If you don't have the time or inclination to do this job yourself, use the "Post a Job" section of this site to gather free quotes from local landscape gardeners with no obligation.
Last updated by MyJobQuote on 17th June 2014.