Laying Vinyl Flooring
Vinyl flooring has become a popular alternative to carpet and laminate flooring in recent years. Long gone are the days when vinyl or lino was used just in austere school corridors and factory floors, today vinyl is available in a huge range of attractive and hard wearing designs, many of which mimic the look of expensive hardwood or slate flooring. But many are still unfamiliar with the fitting process and it is important to correctly lay a vinyl plank or tile floor by preparing the existing floor surface in the right way.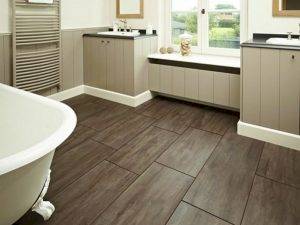 Vinyl flooring is available as individual tiles or planks, which are  suitable for DIY, and as sheet vinyl which comes cushioned and textile-backed for comfort – sheet vinyl is harder to fit for the DIY enthusiast but still do-able. Vinyl flooring can replicate wood and stone so well that it is a popular alternative with easy maintenance, lower purchase costs and is normally easier and cheaper to lay.
There are 2 main types of vinyl tiles and planks; dry back and self adhesive. The self-adhesive types are ideal for DIY and quite easy to lay using their pre-applied adhesive layer. The only tool required self adhesive vinyl flooring is a sharp knife to cut the tiles and planks into the shape required to fit your room. Dry backed tiles and planks,a s the name suggest, do not have a self adhesive layer and require a suitable adhesive which needs to be applied to the vinyl flooring before you lay it.
These are more difficult to lay than the self adhesive type. Whichever type of vinyl flooring you buy, it is best to unpack them and leave them out for at least 24 hours before  laying. This gives the vinyl a chance to acclimatise and relax, making it more flexible and easier to work with. You should not try and lay vinyl flooring at lower temperatures and should keep the room warm for at least 24 hours after laying.
Vinyl can be laid in all rooms of the home including bathrooms, but is generally not suitable for conservatories. It can even be used on underheated floors as long as the  heating is turned off 48 hours before, during and after fitting. Before you begin fitting, ensure the floor surface is smooth, hard, clean and dry, then work out your floor area again and double check that have enough to cover your floor space, the begin laying from the centre of the room and work outwards toward the edges.
This way you should then up with an even cut all the way round the edges of the room. If you don't fancy doing this job yourself, use the "Post a Job" to find reliable and trustworthy flooring fitters for quotations or further advice.
Last updated by MyJobQuote on 14th July 2014.