Insulating your Loft
With the seemingly ever escalating cost of energy in the UK, it has never been more important to stop the heat escaping through your roof! There are many types of loft insulation that can be fitted easily by any DIY enthusiast, the most popular being mineral fibre or glass fibre matting. But loose fill materials like mineral wool and  vermiculite or cellulose fibres can also be used.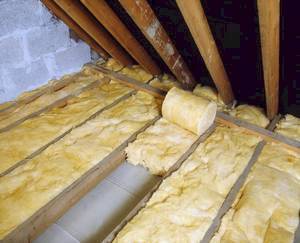 All of these are relatively cheap and make effective insulators, providing a quick return on investment in terms of reduced energy bills. With no insulation in place as much of 15% of heating can be lost through the roof, this equates to around £155.00 per year in terms of the average UK heating costs, not to mention the additional CO2 emissions. Loft installation installed on a DIY basis can return your investment in as little as 2 to 3 years of energy bill savings.
The easiest form of insulation for the DIY enthusiast is mineral fibre or fibreglass matting insulation. Both come in rolls of 600mm or 400mm, which match exactly the distance between ceiling joists in most homes. Lot insulation should be put down to a minimum thickness of 270mm. But bear in mind that loft roll materials will over time settle and become thinner.
Before you begin laying the insulation, clear all rubbish and clutter out then use a board about around 1 inch thick and at least 4 feet long laid across the joists to stand on safely. Remember that the ceiling joists themselves are not load bearing and in between the joists there will be just 12mm of plasterboard which you can easily fall through! Use a decent lamp on a long lead to provide lighting in your loft or consider fitting a roof window at the same time.
Remember that when laying insulation it is very important that your loft is kept well ventilated to prevent condensation forming which will rot roof timbers and cause structural damage. You should have a gap between the underside of the roof and the outside wall (eaves) of at least 25mm wide which should not be covered with insulation.
Many loft installation materials contain small fibres which can irritate the lining of the eyes, mouth or nose, so make sure that you are wearing all the protective clothing including gloves, mask or goggles and disposable overalls. Before you begin sure all cracks and holes in the ceiling are filled and clean between the gaps in the joists thoroughly using a vacuum cleaner.
Start from the eaves remembering to leave the ventilation gap of 25 to 40mm. Work towards the centre remembering to lift all electric cables above the insulation. Build up the insulation in stages to the required thickness, which is currently 270mm and place each layer at 90 degrees to the layer below.
If you don't fancy doing this job yourself, use the "Post a Job" age to gather quotes from reliable and trustworthy loft conversion specialists and other qualified tradesmen in your local area.
Last updated by MyJobQuote on 12th October 2015.